The Women's A.C.T. group will be hosting a Domestic Violence Awareness Month Community Panel Discussion on Monday evening [Oct 29] at the Warwick Seventh-day Adventist Church Hall.
A spokesperson said, "The Women's A.C.T's [Action, Change, Today] mission is to advocate for equality, justice, empowerment and support for women who are survivors of Sexual Assault, Violence and Domestic Abuse in Bermuda.
"According to the U.S National Statistics, one in four women will experience domestic violence in some capacity in their lifetime whether it be physical, emotional, verbal or rape.
"This is a topic that is often subjected to taboo and silence in our community. Bringing light to this subject is necessary in order to provide the appropriate safe havens and supporting programs to those who need it.
"This event hosted by Women's A.C.T is to highlight October as Domestic Violence Awareness Month in Bermuda.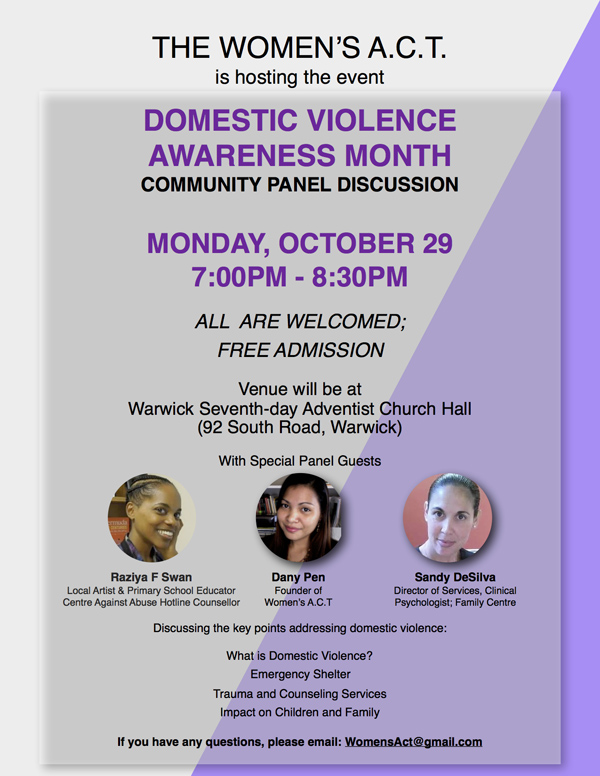 "Domestic Violence Awareness Month [DVAM] was conceived by the U.S National Coalition Against Domestic Violence which evolved from the 'Day of Unity' in October 1981. The intent of the DVAM was to connect advocates across the nation who were working to end violence against women and their children.
"The objective of the event in Bermuda is to bring awareness and education to this issue and to also provide the community of the already available services on island.
"The following key points will be discussed concerning domestic violence:
What is Domestic Violence?
Emergency Shelter
Trauma and Counseling Services
Impact on Children and Family
"The event will feature special panel guests Raziya F. Swan and Dr. Sandy DeSilva; moderated by Dany Pen. We will also have Spanish, Portuguese and Tagalog translators to help with questions and answers at the event.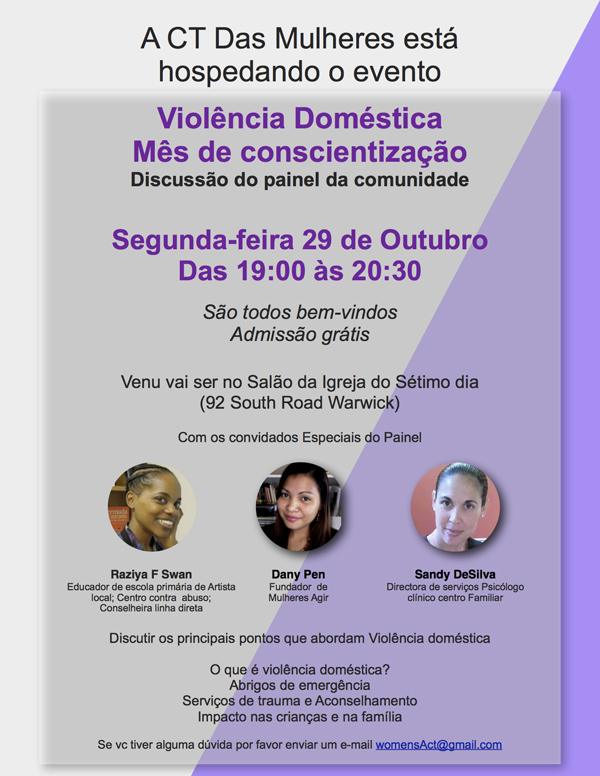 About each panel member:
Dany Pen
"Dany Pen, founder of Women's A.C.T, is also recognized for her on-going international advocacy for women's rights in Bermuda, Canada and the U.S.A. She also currently serves as a Human Rights Commissioner, is an educator and community activist. In 2016, Pen was honored with the "World Builder" award from OCAD University, Canada, which is the highest honors for alumni achievement. The award is bestowed upon individuals who have made substantive humanitarian contributions to their community and culture; individuals who are active in supporting global causes.
Dr Sandy Desilva
"Dr. Sandy De Silva, Psy.D. is a Bermuda Registered Clinical Psychologist and the Director of Services at Family Centre. She aims to ensure a better Bermuda by promoting positive parenting and the delivery of excellent therapeutic services for children and families. She is also an active member of our community having served with the Human Rights Commission, Bermuda Hospitals Board Ethics Committee, the High-Risk Interagency Team, Child Development Programme Interagency Team, Bermuda Psychologists Registration Council, Well Bermuda, the Bermuda Health Council and is currently a Board member of the Bermuda Hospitals Board and Chair of the BHB Board Human Resources Subcommittee.
Raziya F. Swan
"Raziya Swan, Dip.FA, BFA, MEd, CMAA is a professional artist and educator. She is trained in Christian Evangelism, Medical Missionary Evangelism, Medical Administrative Assisting and Abuse Hotline Counseling. Her goal is to empathize with and provide tools for recovery and empowerment after abuse."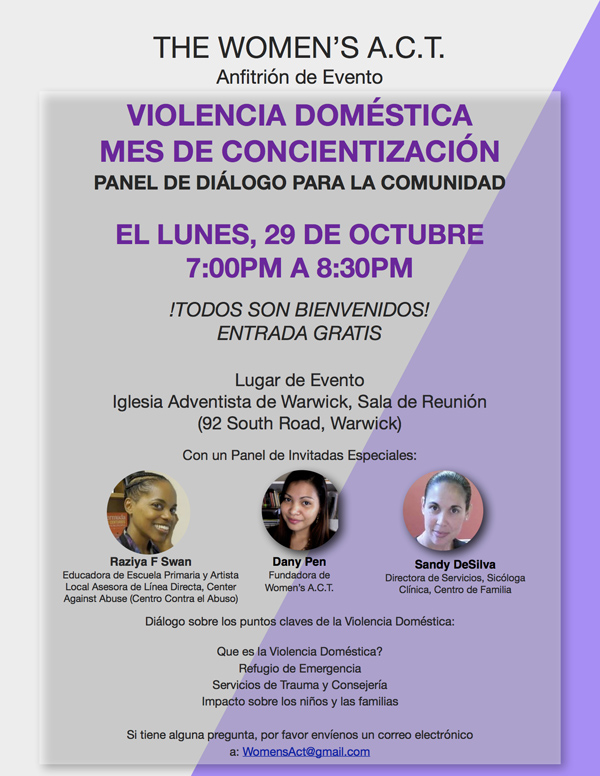 The event will take place on Monday, October 29, 2018 from 7:00pm – 8:30pm at the Warwick Seventh-day Adventist Church Hall, located on 92 South Road in Warwick. All are welcome and admission is free.
"We hope you can join us to support this event and shine a light on the issue of domestic violence. Show your support for domestic violence survivors and raise awareness by wearing purple this month also," the organisation added. "If you have any further questions, please email womensact@gmail.com."
Read More About