New and aspiring entrepreneurs looking to take advantage of Government's latest Payroll Tax Relief Concessions are encouraged to sign up for the Bermuda Economic Development Corporation [BEDC]'s free Lunch & Learn on Wednesday, October 24th, 2018, from 12.30pm until 2pm.
"The event, facilitated by Colina Outerbridge, BEDC's Business Data and Policy Analyst, will offer useful information and advice on how to register a new business with the Office of the Tax Commissioner," the BEDC said.
"It will also educate new entrepreneurs, who established their business after April 1, 2018, about how they can take advantage of Government's payroll tax relief, what the application process is like and what the benefits will be to their bottom line."
Ms. Outerbridge said, "We consider this Lunch & Learn to be a fantastic opportunity to educate new business owners on the steps necessary for them to benefit from Government's recently approved Payroll Tax Relief Concession.
"This relief is available to all first-time entrepreneurs, as well as those operating in the Island's three Economic Empowerment Zones [EEZs], to assist them in creating new Bermudian jobs.
"BEDC understands how challenging it can be for people to leave the security of full-time employment in order to set up their own enterprises on the Island. The goal is that this payroll tax relief would ease the heavy burden on small business owners and help them create savings in their first year of business."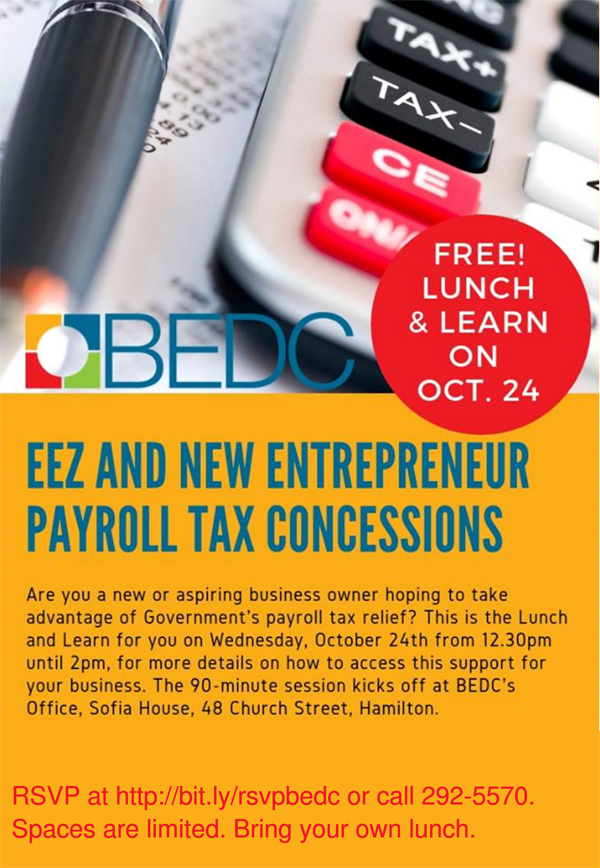 "Officially announced back in July, by Minister of Economic Development and Tourism, Jamahl Simmons, the Payroll Tax Relief has only been utilized by a handful of local businesses to date. The BEDC is hoping to raise awareness so that more new businesses will take advantage of this cost cutting incentive," the BEDC noted.
According to Erica Smith, BEDC's Executive Director, the process to register for the tax relief benefit should take no longer than a week or two to complete. "Once a small business is established, they will need to register with the BEDC and complete some necessary documentation.
"After the BEDC has received all the information it needs, and a site visit of the business' new location is completed, the BEDC team will issue a New Entrepreneurs Payroll Tax Relief Letter within 5 business days.
"This letter will ease business owners from the heavy burden that comes with paying the employer portion of Government's payroll tax on the remuneration paid to themselves [if owner-managed or self-employed] and any employees for up to 4 tax periods, from the start date of the business."
She encouraged people to attend the upcoming lunch and learn session to ask any questions or seek clarity around the legislation and how it impacts them. Only 20 – 25 spaces are available for the event and those who wish to come out are encouraged to reserve their spot early to avoid disappointment. Email info@bedc.bm or call 292-5570.
The 90-minute event will take place at the BEDC office, located at Sofia House, 48 Church Street, Hamilton – participants are asked to bring their own lunch.
Read More About