The Human Rights Commission announced that recruitment is underway for Human Rights Commissioners for the 2019-2021 term.
"Commissioners are independently appointed to serve for 3-year terms and have quasi-judicial authority to adjudicate complaints of discrimination made under the Act. Commissioners also serve as educators and advocates for human rights, inclusion and equality by participating in public education activities," the HRC explained.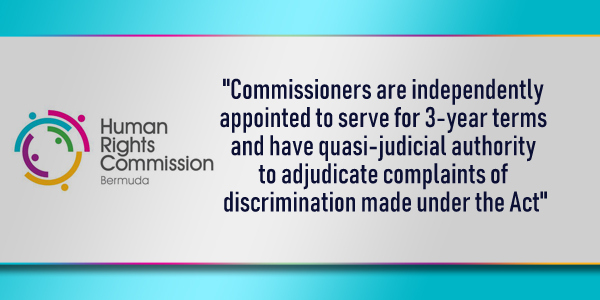 "This is truly an exciting, challenging and important public service role – all persons interested are encouraged to apply. The Human Rights Commission seeks a diverse composition of Commissioners representative of the community, and requires that one-third of the Commissioners to be members of the Bermuda Bar in good standing while two-thirds are to be drawn from the general public.
"The Selection and Appointment Committee, in accordance with Section 13A of the Human Rights Act, 1981 has responsibility to recruit, select and appoint Human Rights Commissioners. Accordingly, the Selection and Appointment Committee invites applications from the general public for persons to serve as Human Rights Commissioners.
"Persons interested in serving in this voluntary capacity may request an application, which outlines the specific duties of the role, from the Office of the Human Rights Commission [both hard copy and electronic applications available].
"The Commission embraces diversity and promotes equality of opportunity and offers reasonable assistance when requested to applicants with disabilities. For more information, contact the office at 295-5859 or email humanrights@gov.bm."
The closing date for applications is Friday, November 30, 2018.
Read More About
Category: All