Michael Weeks is out of Cabinet, Curtis Dickinson and Zane DeSilva are now in Cabinet, and the Ministries have been realigned with changed responsibilities, with the exception of the Ministry of Public Works, which remains unchanged under Minister David Burch.
These changes were announced yesterday by Premier David Burt, who said he is taking "the opportunity to realign some departments to better fit with the policy aims and objectives of the Government."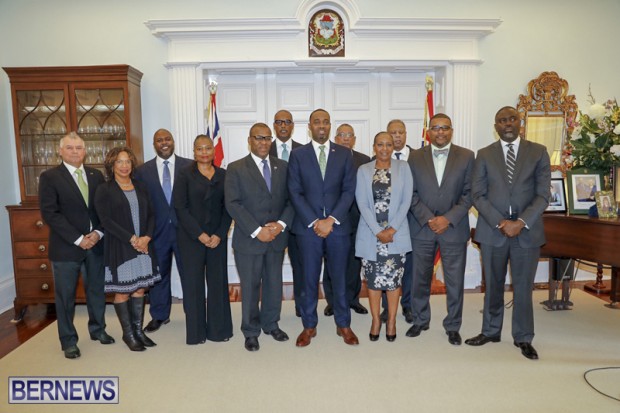 Finance moved from Premier David Burt to Minister Curtis Dickinson, while the Premier's office is now responsible for ICT policy, innovation, information and digital technologies, which effectively means that Premier Burt is assuming responsibility for fintech, which was previously managed by Minister Wayne Caines.
Minister Caines retains the National Security portfolio, and also assumes responsibility for immigration from Minister Walton Brown, who becomes the Minister for the Cabinet Office.
The former Minister for Cabinet Office, Lovitta Foggo, becomes the Minister of Labour, Community Affairs and Sports, while tourism moved from Minister Jamahl Simmons to Minister Zane DeSilva, with Minister DeSilva also taking over transport from Minister Walter Roban.
Jamahl Simmons remains in Cabinet as Minister without Portfolio, focusing on communication and consultation, while Deputy Premier Walter Roban moves to Minister of Home Affairs, which now includes the Department of Energy.
Michael Weeks is now out of Cabinet with his former Ministry of Social Development and Sports no longer existing, with the areas that fell within that Ministry delegated to other Ministries: community affairs and sports now handled by Minister Lovitta Foggo, financial assistance by Minister Kim Wilson, and the Department of National Drug Control and Child & Family Services by Attorney-General Kathy Simmons.
Gaming now falls under the Finance Ministry, Minister Diallo Rabain retains education, and Minister Kim Wilson continues as the Minister of Health, with the Department of Financial Assistance now falling under her portfolio.
Old Cabinet
Premier David Burt: Minister of Finance
Lovitta Foggo: Minister for the Cabinet Office with responsibility for Government Reform
Diallo Rabain: Minister of Education and Workforce Development
Wayne Caines: Minister of National Security with responsibility for fintech
Walter Roban: Minister of Transportation & Regulatory Affairs
Michael Weeks: Minister of Social Development & Sport
Walton Brown: Minister of Home Affairs
Lt/Col David Burch: Minister of Public Works
Jamahl Simmons: Minister of Tourism and Economic Development
Kim Wilson: Minister of Health
Kathy Simmons: Attorney General and Minister of Legal Affairs
New Cabinet
Premier David Burt: Responsibility for ICT policy, innovation, information and digital technologies
Walter Roban: Ministry of Home Affairs, including Department of Energy
Kathy Simmons: Legal Affairs, Department of National Drug Control and Child & Family Services
Lovitta Foggo: Ministry of Labour, Community Affairs and Sports, including Workforce Development
Kim Wilson: Ministry of Health, including Department of Financial Assistance
Wayne Caines: Ministry of National Security, including Department of Immigration
Walton Brown: Minister for the Cabinet Office
Jamahl Simmons: Minister without Portfolio, including communication, consultation
Diallo Rabain: Ministry of Education
David Burch: Ministry of Public Works
Curtis Dickinson: Minister of Finance, which includes gaming
Zane DeSilva: Minister of Tourism & Transport
Responsibilities: What Remained The Same Or Changed
Finance: Moves from David Burt to Curtis Dickinson
Education: Remains under Diallo Rabain
Cabinet Office: Moves from Lovitta Foggo to Walton Brown
National Security: Remains under Wayne Caines
Fintech: Moves from Wayne Caines to David Burt
Transport: Moves from Walter Roban to Zane DeSilva
Gaming: Moves from Jamahl Simmons to Curtis Dickinson
Sports: Moves from Michael Weeks to Lovitta Foggo
Home Affairs: Moves from Walton Brown to Walter Roban
Public Works: Remains under Lt/Col David Burch
Legal Affairs: Remains under Kathy Simmons
Tourism: Moves from Jamahl Simmons to Zane DeSilva
Health: Remains under Kim Wilson
Workforce Development: Moves from Diallo Rabain to Lovitta Foggo
Read More About