[Opinion column written by Michael Dunkley]
When announcing the recent Cabinet changes the Premier lauded the fact that he had consolidated ministries from 11 to 10. He made no mention that with his second cabinet shuffle in 16 months the size of Cabinet has actually grown.
With the growth of Cabinet there are now two Ministers, one titled a "Minister without Portfolio" and another a "Minister for the Cabinet Office", both make $150k per year and have little or no specific responsibility that could not be taken by another Minister.
The Premier has provided little justification for a Minister Without Portfolio and a Minister for the Cabinet Office to support a Premier who now does not have the finance portfolio.
The recently released 'Government Organisational Chart' follows below [PDF here]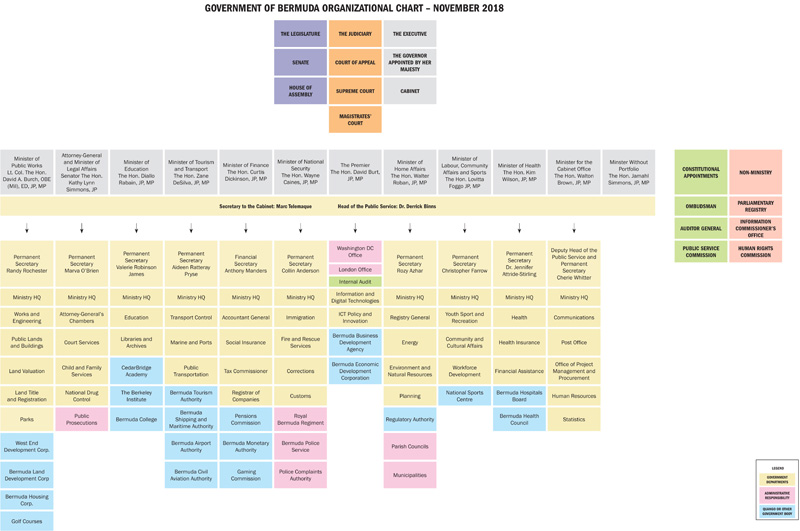 However, the current Premier, as Acting Opposition Leader, stated in May 2016 that "Bermudians want leadership that is accountable and transparent, follows the rules and puts the interests of Bermudians first."
My how things have changed when the shoe is in the other foot! Both of these Ministers have been moved from important Ministries and one can assume it is not because they were doing a good job!
If Premier Burt wishes to practice what he preaches then a lot more accountability and transparency is owed to the Bermudians whom he alleges he puts first. Why were two Ministers moved from a substantive Ministry to costly window dressing?
Why did the Premier believe it appropriate to create these two Ministerial positions? What will they do to provide a return on the taxpayer expense at a time when many Bermudians are struggling to find employment at a livable wage?
Is it because Ministers take a lot of time off? Many concerned Bermudians have asked these and other questions. One asked if it was because the Premier wants to reward their loyalty at taxpayer expense.
Another asked if it could be because the workload is so strenuous and other Ministers can't cope so they need help.
I wonder how the backbench feel. Many have supported the Premier while being paid a third of the salary paid a Minister and also serving on parliamentary committees without compensation. The Premier has in the past often used the two words transparency and accountability but in reality he has failed to practice what he has preached.
I can provide numerous examples like the taxpayer backed $1.2 million payout to a former Premier with little public explanation or answering relevant questions asked from many concerned people. Sadly the trend now appears standard practice.
Whatever reasons the Premier might have for these two Ministerial appointments, until he practices the transparency and accountability he often talked about in Opposition, these two Ministers appear to have received an early Christmas present paid for by beleaguered taxpayers.
- Michael Dunkley is the former Premier and the current MP for Smiths North


20 Most Recent Opinion Columns

Opinion columns reflect the views of the writer, and not those of Bernews Ltd. To submit an Opinion Column/Letter to the Editor, please email info@bernews.com. Bernews welcomes submissions, and while there are no length restrictions, all columns must be signed by the writer's real name.
-
Read More About