[Updating] There is a Cabinet Shuffle being announced at Government House this afternoon [Nov 1], and we will update with further information as able, and in the meantime the live video is below.
Update 1.13pm: Curtis Dickinson has been sworn in and now Zane DeSilva is being sworn in.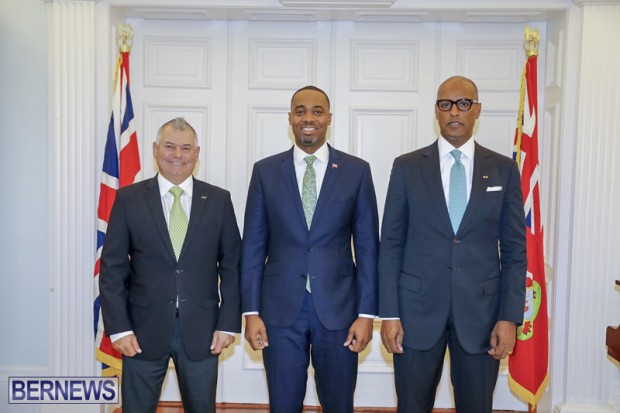 Update 1.18pm: The Premier is now announcing changes of Ministerial responsibilities, we will have full information as later on.
Update 1.41pm: Many of the portfolios were changed, but to start, Curtis Dickinson will take over the Finance Ministry, which was previously held by Premier David Burt, while Zane DeSilva is returning to Cabinet as Minister of Tourism and Transport. The Premier thanked 'former Minister Michael Weeks', who previously held Sports and Social Development.
Update 1.56pm: Information on some more changes – Minister Lovitta Foggo will now be responsible for Labour and Workforce Development, the Department of Energy joins Home Affairs under Minister Walter Roban, Immigration will now come under the Ministry of National Security, while responsibility for ICT and digital technologies moves to the office of the Premier.
Minister Walton Brown now assumes the Minister of the Cabinet Office, Jamahl Simmons will be Minister without Portfolio focusing on communications and consultation, Minister Diallo Rabain will retain Education, and Minister David Burch will continue as Minister of Public Works.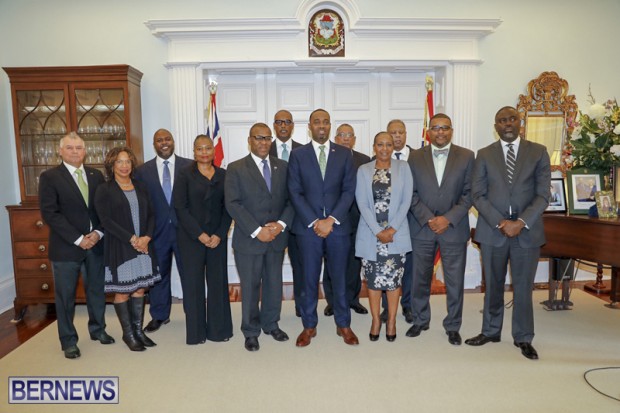 We are transcribing the full text and will update, and provide a 'before and after' of Cabinet positions, as able.
Update: The live broadcast has concluded and the 16-minute replay is below
Update: The Premier's full comments are below
Good afternoon and thank you for coming. Your Excellency, Cabinet and Parliamentary colleagues, Party Executive, family and friends.

In just over a week we will start a new legislative session with the presentation of this Government's second Throne Speech. After almost 16 months in office, we have accomplished much of what we set out to do but there remains plenty of work to be done.

Let me first extend my sincere thanks to former Minister Michael Weeks who brought a valued empathy to the former Ministry of Social Development & Sports. His commitment will continue to serve the country and the Party well.

Today represents an opportunity to approach the tasks ahead with a team in whom the people of Bermuda can continue to have confidence. I am pleased to welcome Minister DeSilva back into the Cabinet and look forward to his characteristic hard work and commitment in any area he serves.

I wish to also thank the Financial Secretary, the Assistant Financial Secretaries and the entire Ministry of Finance team for their support, professionalism and expert advice during my tenure as Minister.

Special thanks go to Junior Minster Wayne Furbert, who has gone above and beyond in his role. I have asked him to remain in the Ministry of Finance for the time being, to assist in the transition of the new Minister and through the upcoming budget cycle.

I am confident that this same team will ably advise and support Minister Dickinson as he assumes responsibility for this most critical of ministries in Government. Curtis is strong addition to the front bench team and brings a wealth of experience to this portfolio.

Concurrently with these additions to the Cabinet, I have also taken the opportunity to realign some departments to better fit with the policy aims and objectives of the Government.

These include:

The Department of National Drug Control and the Department of Child & Family Services will move to the Ministry of Legal Affairs

Minister Lovitta Foggo will now be responsible for Labour and Workforce Development in the Ministry of Labour, Community Affairs & Sports

The Department of Energy joins the Ministry of Home Affairs under Minister Walter Roban

The Department of Financial Assistance moves to the Ministry of Health

The Department of Immigration will now come under the Ministry of National Security

Responsibility for ICT Policy & Innovation and Information and Digital Technologies moves to the office of the Premier within the Cabinet Office

Minister Walton Brown now assumes responsibility as Minister for the Cabinet Office

To reflect the importance of communication, consultation and public engagement in governance in this modern era I have invited Minister Jamahl Simmons to focus on these matters as Minister Without Portfolio

Minister Diallo Rabain will retain responsibility for Education as he focuses on the important task of Education Reform

Minister David Burch will continue as Minister of Public Works and the Ministry will not change

Prior to this change there were 11 Ministries in the Government and with this reconfiguration there will now be 10 Ministries.

One final change of note. As there is a constitutional limit on Minsters and Junior Ministers that can be appointed from the House of Assembly, Junior Minister Tinee Furbert will continue to advocate for the disabled, but will not have the title of Junior Minister. She has done excellent work in this role and I look forward to her continued advice.

This Government set out a progressive agenda in its 2017 Election Platform and having won the mandate of the people, we continue on that path of change towards building a better and fairer Bermuda.
Update November 2, 12.11pm: PLP Chairperson Damon Wade said, "The recent Cabinet Shuffle by the Premier demonstrates the depth of talent and the willingness of each member of Cabinet and the Backbench to operate wherever and whenever the Leader and the Party calls upon them.
"Alongside our growth in Party membership and the successful completion of many of our Platform promises, we have a team that is committed to putting Bermudians first for the next chapter of building a better, fairer Bermuda.
"Creating more jobs, ensuring a more reasonable cost of living, and fixing the challenges facing Bermuda will not be easy, but the PLP team is ready and focused to get the job done. While there is a finite number of Cabinet members, the PLP Team consists of a team of 30, inclusive of backbenchers and Senators, and all will be working for the greater good of Bermuda.
"On behalf of the Progressive Labour Party and our Executive we congratulate the Premier on his Cabinet selection, commend our Parliamentary team for their hard work and sacrifice and look forward to chapter 2 of the PLP building a better, fairer Bermuda."
Read More About