[Updated] Following the passing of former U.S. President George H.W. Bush, the U.S. Consulate in Bermuda is inviting people to leave messages of condolences, with a condolence book to be open from December 3-6 at their location on Middle Road in Devonshire.
In 1990, President Bush visited Bermuda along with Prime Minister Margaret Thatcher to hold a summit conference, where he also took part in a tree planting, as well as the Bermudian tradition of kite flying.
Photo of President Bush in Bermuda, via the US Consulate's Twitter account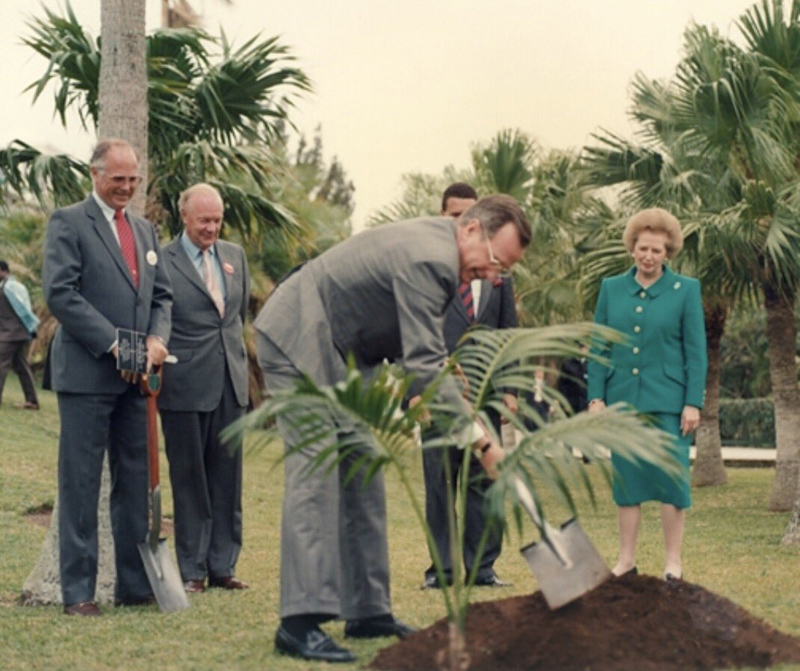 A statement from the the U.S. Consulate in Bermuda said, "It is with great sadness that the U.S. Consulate General shares the news of the death of George Herbert Walker Bush, the forty-first President of the United States, on November 30, 2018.
"President Bush embodied the virtues of public service, selfless dedication, and humility. He was a patriot, and everything he did in life was directed to helping the American people and to building and growing relationships around the world, especially here in Bermuda.
"The U.S. Consulate General remembers President Bush and invites members of the public to leave messages of condolence. A condolence book will be open December 3-6, from 1:00-4:00 p.m., at the U.S. Consulate General, "Crown Hill" 16 Middle Road, Devonshire."
Acting Premier Walter Roban has extended condolences, saying, "On behalf of the Government and people of Bermuda, I extend condolences on the passing of former President, George H.W. Bush.
"As the 41st Commander in Chief, Bermuda acknowledges President Bush's service and contributions to the United States and the global community.
"Many residents will recall when President Bush and British Prime Minister Margaret Thatcher met in Bermuda for the Good Friday Summit in 1990, to discuss events associated with the collapse of the Soviet Union.
"Residents will also fondly remember during that time, that the two leaders engaged in our quintessential Bermudian tradition of kite flying on the Government House grounds. Bermuda was pleased to host this historical occasion.
"Over the next several days, President George H.W. Bush's legacy will be remembered for many things. And among them we will remember his passionate belief of collaborating with domestic and global allies to address the challenges facing our world.
"Bermuda's thoughts are with the Bush family at this sad time," Minister Roban added.
President Bush, the 41st President of the United States and patriarch of a political dynasty, died on Friday in Houston at age 94.
Update 4.00pm: A spokesperson said, "President Donald Trump has issued a proclamation appointing December 5, 2018, as a National Day of Mourning throughout the United States. The U.S. Consulate General in Bermuda will observe this day of homage to the memory of President George H.W. Bush, and, therefore, the Consulate will be closed. All appointments will be rescheduled. For emergenices, our duty officer can be reached at 441-335-3828."
Read More About