Hamilton Princess & Beach Club is commemorating Black History Month by hosting two dinners that will celebrate prominent black Bermudians, Dame Jennifer Smith and Sir John Swan.
A spokesperson said, "Dame Jennifer and Sir John, both former premiers of Bermuda, will each be honoured with a dinner at the hotel, open to the public.
"Guests will have the chance to rub shoulders with the honourees at a short reception and hear them speak about their experiences before sitting down to a three course meal. A portion of the proceeds of the dinners will be donated to charities of Dame Jennifer and Sir John's choice.
"The two menus have been carefully created by the honourees and the Head Chef of Marcus' to reflect the foods that they associate with black Bermudian culture. The dinner will be served family style, so that diners can try everything on offer.
"Dame Jennifer will be honoured on Wednesday, 13th of February and her menu features Bermuda Onion Tart, Grilled Wahoo with Oven Dried Cherry Tomatoes and Black Olives with Bread and Butter Pudding for dessert. Her chosen charity is the Bermuda Heritage Museum.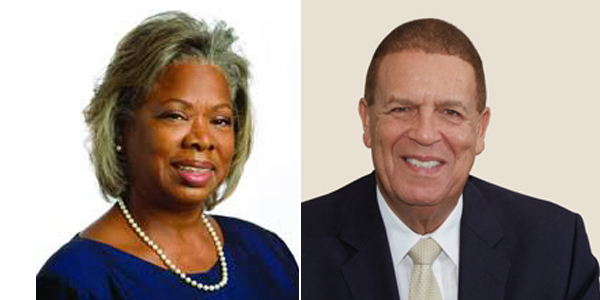 "Sir John's dinner will be held on Saturday, 23rd of February and the menu he has chosen includes Cod Fish Breakfast, Crispy Yard Bird and Good Ol' Apple Pie. His chosen charity is the Salvation Army.
"Both of the dinners will be accompanied with Bermudian cocktails, both classic and contemporary, featuring Gosling's Rum, and wine from Butterfield vineyards.
"The dinners start at 7pm and include a welcome cocktail [non-alcoholic option available], hand passed hors d'oeuvres and three courses. Tickets can be bought from www.PTIX.com and cost $90 per person, plus gratuities, or $130 including wine pairings, plus gratuities.
"For those who are unable to make the dates for the dinners, Marcus' will be offering a special Black History Month menu featuring some of the best dishes, including Sweet Potato Hush Puppies and Short Rib Cottage Pie. This menu will be available through to the end of the month."
Tim Morrison, General Manager of Hamilton Princess & Beach Club, said: "We are excited to be celebrating Black History Month by honouring a couple of great Bermudians. The dinners promise to be nights to remember, with impressive company, interesting insights and a menu that celebrates Bermudian culture."
Dame Jennifer Smith said: "I am looking forward to being hosted at Hamilton Princess & Beach Club for Black History Month. I think this is a wonderful way to celebrate black Bermudian history and culture and I look forward to sharing my experiences."
Sir John Swan said: "I am delighted to be honoured with a dinner at Hamilton Princess & Beach Club in celebration of Black History Month. Too often, the focus of Black History Month is on American history in this time, so this is a nice way for us to bring it home to Bermuda."
Read More About
Category: All, Entertainment, History