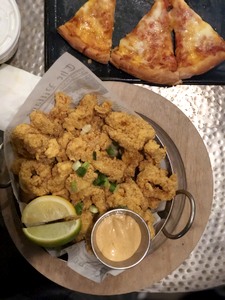 [Written by Mikaela Ian Pearman]
For my final stop for Restaurant Weeks, I decided to head to my first stop from last year – Boundary Sports Bar at the Fairmont Southampton. I love the vibe there and every time I go I love the food. I figured it would be a good way to end my culinary journey.
The menu was similar to last year, so I was given the opportunity to sample a few other dishes as well. Of course, I said yes!
I ended up ordering the restaurant weeks menu along with char grilled wahoo, three cheese mac and cheese and the ooey gooey peanut butter cup for dessert. I'll take you through how the food was.
For starters, I had the On The Greens Salad, which was a nice, light green salad with a lemony vinaigrette. I wanted to get my veggies in early because I knew I would be eating decadent dishes later in the meal.
We also ordered the Firecracker Calamari, which was served with chipotle lime sauce. I'm a calamari lover and order it at most restaurants. This is the best I've had in Bermuda. It was crunchy but not overcooked and the sauce was creamy and spicy. Perfect calamari.
For the mains, we ordered Angler's Catch, which as an open-faced fish sandwich made of fried mahi, curry tartar, devils slaw and avocado. This is a seriously delicious fish sandwich. You get the crispy fish, the tangy slaw, the spiced sauce and the creamy avocado. It has wonderful textures and excellent flavour. I will say I would prefer it not be open faced because it's a bit messy.
We also ordered the Chargrilled Wahoo, which came with chimichurri sauce and mac and cheese. The wahoo was moist and had a great smoky flavour from the grill. The sauce brightened it up and made it super delicious. The mac and cheese was like typical Bermudian mac and cheese – full of cheese and crispy on top – a winner.
For dessert we had the Ooey Gooey Peanut Butter dessert, which was indulgence at its finest. It came in a glass container and the server poured hot chocolate sauce on top before you eat it. The dish itself had chocolate cake, ice cream, marshmallow, peanuts and white chocolate. It's sweet but super savoury at the same time. My chocolate-hater husband loved this dessert, so that says a lot. I enjoyed the different textures and components to it. Will absolutely order it again.
Overall, Boundary was incredible. The food was interesting and not the typical sports bar food. And our server, Korea, was the best. She was excellent at anticipating what we needed before we had a chance to ask her. And she wasn't intrusive. Just all around great service.
If you haven't been to Boundary, I highly recommend heading west to try it out. You won't be disappointed.

This year's Restaurant Weeks ran from January 17 to February 3, with 49 participating restaurants. The three levels of pricing for dinner were $32, $42 and $52, and lunch was also offered for $22. You can view all our coverage of Restaurant Weeks here, the full list of menus here, and all coverage of cuisine here.

Read More About
Category: All, Entertainment, News