The Bermuda Junior Girls National Volleyball Team will be sending three teams to compete in the Tampa United Slam at the end of March. This is a high level, two-day tournament with 180 teams registered, taking place at the Tampa Convention Center.
The Junior Girls program has tripled in size over the last few years and this has allowed the program's age groups to expand. For this tournament, there will be an Under 14, an Under 16 and an Under 18 team competing under the name Paradise Hitters.
"Giving these young athletes the opportunity to compete overseas is extremely valuable and this tournament provides them with an opportunity to gain experience beyond what is available in Bermuda," the BVA said.
Top: Mike Gazzard, Kayley Hamilton, Jocelyn Manuel, Erin Kelly, Anna Marcotte, Olivia Porter, Lisa LeBlanc; Bottom: Hailey Moss, Natalie Gazzard, Kolby Martins, Daniella Stegmann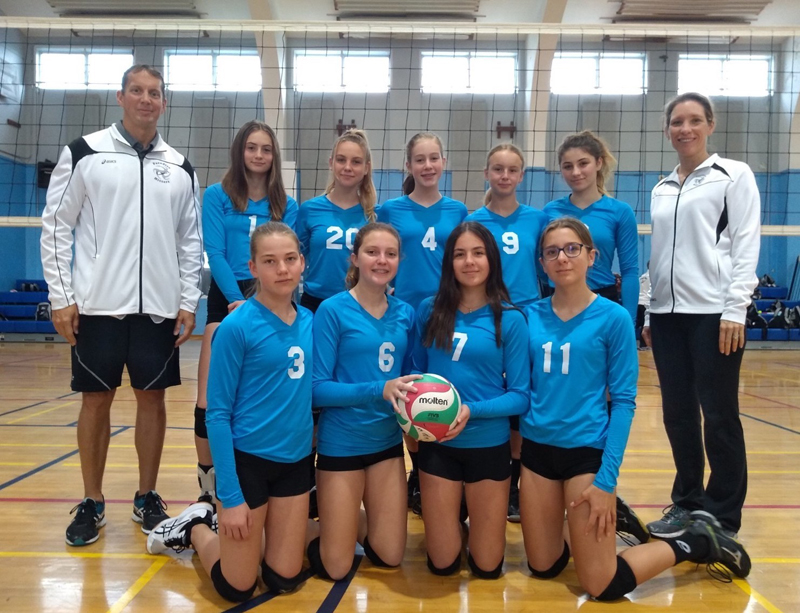 "None of this would be possible without the generous support of our sponsors and dedicated team of coaches and staff. Our amazing sponsors have allowed this program to be accessible to so many new players and have helped provide the opportunities to create seasoned players that have the experience to compete on the global stage. The coaches are so committed to the girls and this program; not only creating talented volleyball players, but strong, confident, team oriented young leaders.
"Paradise Hitters 14" is coached by Head Coaches Mike Gazzard and Lisa LeBlanc. They will compete in the U14 Club division including 24 teams. The players selected for this tournament are: Anna Marcotte, Daniella Stegmann, Erin Kelly, Hailey Moss, Jocelyn Manuel, Kayley Hamilton, Kolby Martins, Natalie Gazzard and Olivia Porter.
Coach Lisa and Coach Mike state, "The Under 14 team has just completed a successful Winter League season. The game experience from the league play has helped them refine the technical aspects of their game, pushing them to the next level. Leading up to the Tampa Slam, we have increased the intensity of our practices and the girls have stepped up to meet this challenge.
"With thanks to our sponsors and fundraising, this will be the 3rd overseas tournament many of the girls have attended. At this young age, the experience of playing at multiple high level competitions is imperative for the fast track improvement required to be successful for that next level. We are confident that this experience, combined with the hard work the girls have put in since the last tournament in Dec, will translate to greater success on the court.
Top: Kaylee Trott, Sophia Stevens, Megan Hands, Morgan Kempe, Layla Kurt, Allison Settle; Bottom: Lindsey Pacheco, Ashley Horseman, Taylor Rego, Zori Seymour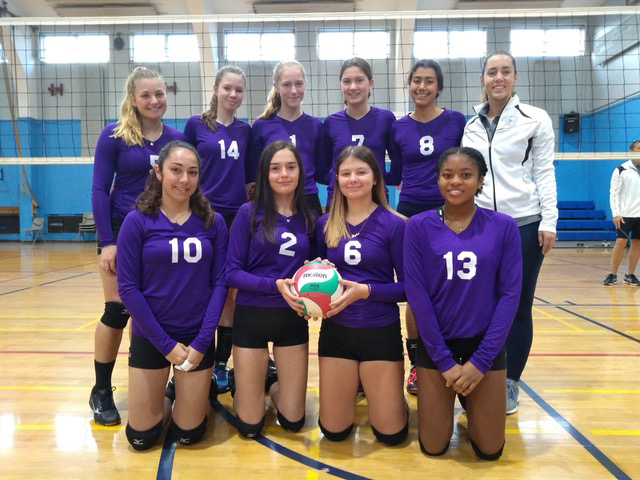 "Paradise Hitters 16" is coached by Head Coach Allison Settle and will compete in the U16 Club division comprised of 29 teams. The players selected for this tournament are: Ashley Horseman, Kaylee Trott, Layla Kurt, Lindsey Pacheco, Megan Hands, Morgan Kempe, Sophia Stevens, Taylor Rego and Zori Seymour.
Coach Allison notes, "We now have a travelling team that all players are experienced in at least one overseas tournament. All the girls are familiar with the high level of play of their North American competitors, so the "shock factor" will not have as much mental impact as it has had in the past. Because of this exposure they have a vision for their individual and team potential. Thanks to our sponsors who help make it possible for these young women to have this vision and goals.
"I think that the coaches, parents, local competitors, and the athletes themselves have witnessed how much the girls have improved, and it is very exciting for the volleyball community. If the team plays with confidence, work as a team, can maintain level heads and a positive attitude, the PH16 could have their best overseas results yet."
Left to Right: Amber Simons, Sy McPeek, Alexa Soldok , Olivia Taylor, Gary LeBlanc; Bottom: Monique Cordiero, Katrina McPhee, Caroline Amaral; Not in Picture: Cailey Longworth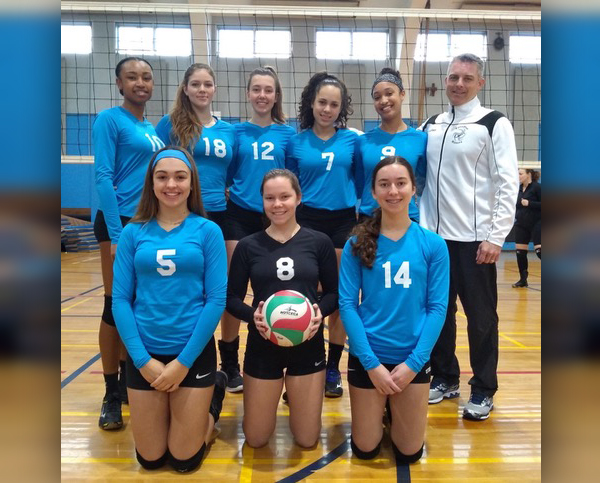 "Paradise Hitters 18" is coached by Head Coach Gary LeBlanc and will compete in the U18 Club division [this division will have Open and Club teams in it]. The players selected for this tournament are: Alexa Saldok, Amber Simons, Cailey Longworth, Caroline Amaral, Katrina McPhee, Kylah Hall, Monique Cordeiro, Olivia Taylor and Sy McPeek.
For this tournament, Coach Gary states, "We have been attending the Tampa United Slam for the last few years and it's always a great experience. The teams that participate in this tournament are very high caliber, which is something that we always look forward to playing against because it pushes us to become better.
"Our girls have trained very hard and we've seen that pay off in our recent second place, overall, finish in the Bermuda Women's Winter League. This is the highest final standing that we've achieved since we started playing in this league several years ago. If we can keep our errors low and play a consistent game, we should do well at the Slam. This is our last big step in preparation for the Bermuda Open, which we will participate in at the beginning of May, here in Bermuda."
The BVA noted, "To check results throughout the event, go here then click on Tampa Slam / Schedule & Results. The BVA will also attempt to livestream as many matches as possible on our Facebook Page. Matches will also be available to watch once the livestream has ended. The success of our livestream will depend on WIFI quality in the Convention Center."

Read More About