The Bermuda Government is currently accepting applications for the 2019 Public Service Bursary Award Scheme.
"The Public Service Bursary Award Scheme provides funding to Bermudians pursuing post-secondary academic qualifications in a discipline identified to meet future needs of Government Departments. This ensures a well-trained cadre of people to fill positions within the Public Service. The bursaries are valued at $10,000 per annum; not exceeding five years," a spokesperson said.
"Applications for the Bursaries can be downloaded here. The closing date for receipt of applications is April 26, 2019.
"The Bursaries are awarded by the Public Service Commission [PSC] to selected applicants enrolled in courses of study at a university, college or other training institution, in order to acquire professional or technical qualifications.
"The award is a contribution towards the student's expenses and not expected to cover all costs. Other expenses, whether living expenses or tuition are the responsibility of the student. This year, individuals studying in relevant fields are being sought to fill the following posts:
Maritime Operations Centre Controller
School Nurse, District Nurse
Dental Surgeon/Officer
Department Comptroller – Ministry of Education
Land Title Officer
Clerk to the Legislature
Deputy Clerk to the Legislature
Assistant Clerk to the Legislature
Safety and Health Coordinator – The Cabinet Office
"To be considered for a Bursary Award, applicants must:
Be Bermudian citizens;
Have completed no less than 5 years of schooling in Bermuda;
Be 40 years of age or under, at date of application;
Have been accepted into an institution of higher learning or currently be undertaking courses leading to a professional, specialist or technical qualification required within the Public Service;
Be in an Undergraduate or Master's Degree programme; and
Be planning a career in the Public Service upon completion of their education.
"Only fully completed Bursary applications, regarding the areas of study specified and received by the deadline, will be considered. Forms should be sent to: The Bursary Coordinator, Department of Human Resources, 3rd Floor, Ingham and Wilkinson Building, 129 Front Street, Hamilton HM 12, to arrive no later than 4:45 p.m. 26 April 2019.
Information about the Public Service Bursary Award Scheme [PDF here]: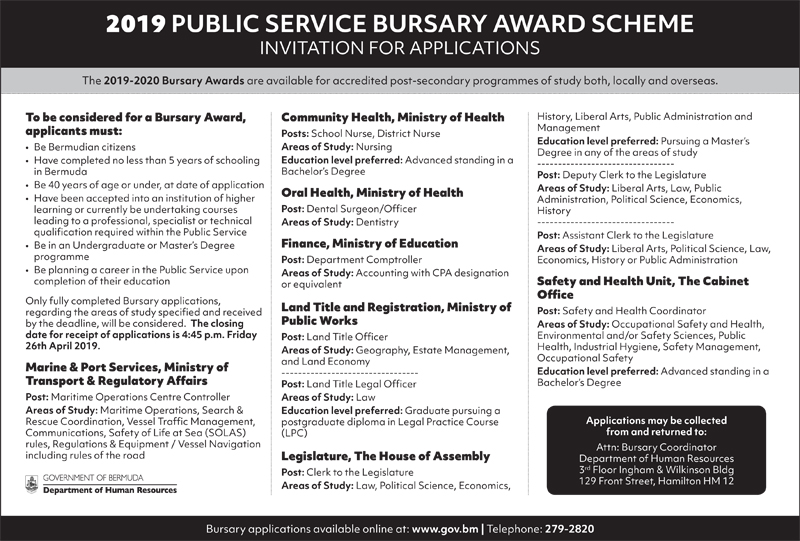 Read More About