[Updated] The track and field portion of the 2019 CARIFTA Games continues today [April 21] at the Truman Bodden Sports Complex in the Cayman Islands, with Bermudian athletes in action.
Nirobi Smith-Mills won gold in the U17 Men's 800 Meters event this evening, winning with a time of 1:57.95. Sancho Smith placed 5th in the same race with a time of 2:00.64. Today's events continue and we will update with results as able.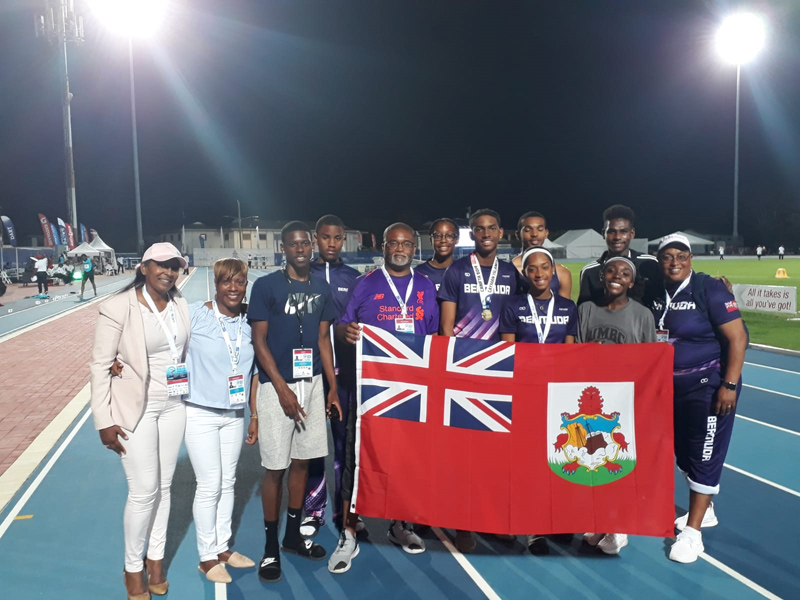 Update 11.30pm: Caitlyn Bobb just missed the podium when she competed in the U17 Women's 200 Meters placing 4th with a time of 24.41 while Ketura Bulford-Trott finished 11th with a time of 25.56 in the preliminaries.
Jezhari Talbot competed in the U17 Women's 800 Meters event placing 8th with a time of 2:26.32. Competing in the U20 Men's Long Jump event, Mikal Dill finished 15th with a jump of 6.30m while Sadiq Nurse placed 16th with a jump of 6.01m. Sancho Smith finished 10th in the U17 Men's High Jump event with his leap of 1.75m.
Bermuda's 2019 Carifta Athletics Team includes Amelia Othman, Caitlyn Bobb, Jezhari Talbot, Ketura Bulford-Trott, Sanaa Rae Morris, Za'Kayza Parsons, Isabelle Dutranoit, Chayse Tanner, Kahzi Sealey, Nathan Armstrong, Nirobi Smith-Mills, Sancho Smith, Clevonte Bean, Johndell Cumberbatch, Ryan Outerbridge, Mikal Dill, Sadiq Nurse and Suresh Black.

Read More About