Tourism & Transport Minister Zane DeSilva officially opened a new Visitor Services Centre in St. George, at 25 York Street on Monday [April 15].
A spokesperson said, "The facility is full of useful visitor information on tourism attractions and events in the east end and island-wide, as well as Bermuda-branded retail items.
"It's staffed by a passionate team of certified tourism ambassadors and is open Monday to Saturday 10am to 4pm."
St. George Town Crier David Frith joined Minister DeSilva, Jakai Franks, operations manager of the island's Visitor Service Centres and Karla Lacey, COO of the Bermuda Tourism Authority, for Monday's ribbon cutting ceremony.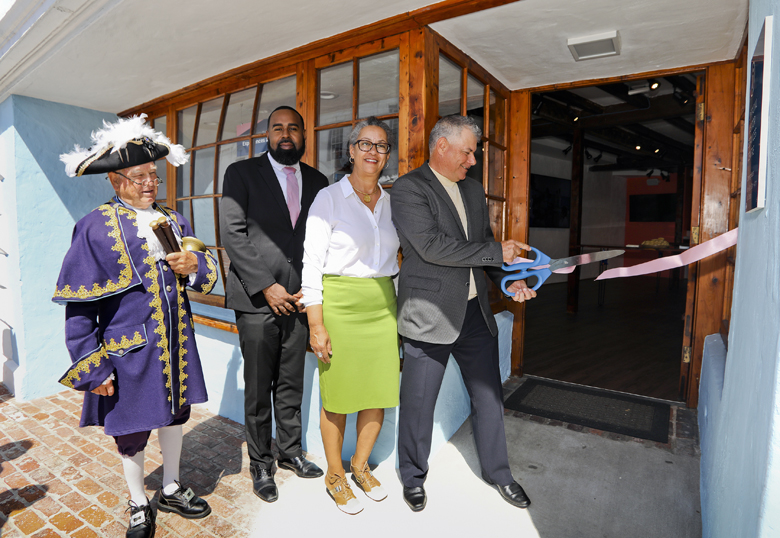 Minister DeSilva said, "Today marks the official opening of the new St. George's Visitor Services Centre.
"I would like to express my sincere appreciation to all those involved in making this happen. Without your contributions, this would not have been possible.
"St. Georges is Bermuda's first capital and home of Discovery Bay Beach, known locally as Fort St. Catherine Beach, where the first colonists landed ashore. Stemming from that landing, and held within these 2.5 square miles, lives a rich vibrant history that led to St. Georges receiving the distinction of becoming a UNESCO World Heritage Site.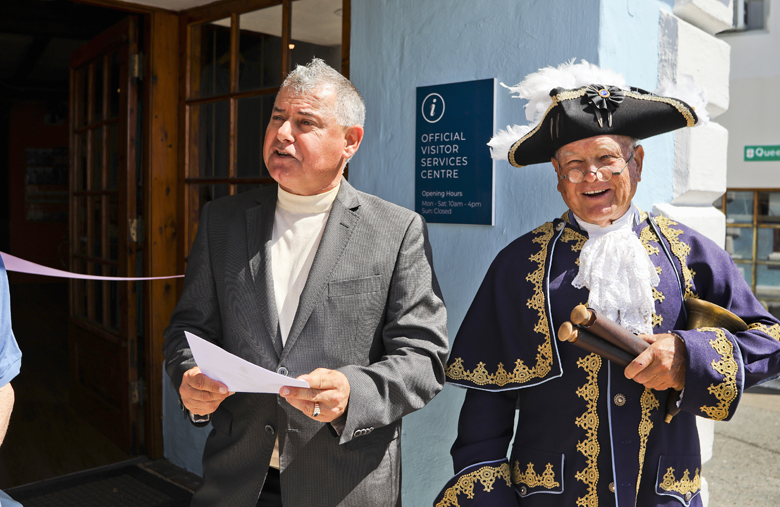 "St. Georges is also one of the best places in Bermuda to spend the day wandering through the town, shopping at locally owned businesses, visiting the beach, and mingling with the locals.
"One of the biggest challenges that has faced the Town of St. Georges, is how to share the wealth of information and activities in and about the Old Towne with our visitors.
"As part of the Bermuda Tourism Authority's strategic approach to improve visitor satisfaction and provide a seamless information resource, it immediately became clear that a new visitor information and services centre was needed for St. Georges. We needed a location with the necessary technology and features, while maintaining the Old Towne's architectural charm. We needed a location that was more aligned with our younger, fresher Bermuda brand.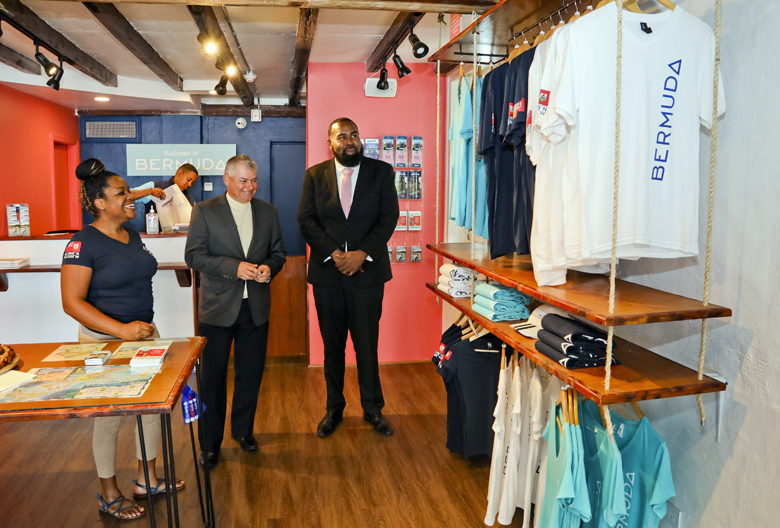 "To that end, I am pleased to present to you the new Visitor Services Centre or VSC. Our visitors now have a central location in the heart of St. Georges, to learn about the history of St. Georges and to plan and book their personalized Bermuda experience. The new VSC will encourage visitor spending and enhance awareness of the incredible experiences available in the east end and across Bermuda.
"Available in the new VSC is video advertising, online booking and touch screen kiosks that provide our visitors the technology tools to seamlessly connect and access information about Bermuda.
"The opening of this VSC is of the upmost importance to people and businesses in the Town of St. Georges and Bermuda, as it provides a place where our visitors can discover all that is on offer and make purchases or reservations with the touch of a button. This personalization and ability to connect with local vendors drives greater visitor spending.
"Since the opening of the Dockyard Visitor Services Centre, visitor satisfaction levels has seen a marked improvement.
"It is anticipated that with the opening of this new St. George's location, The Old Town will have the same positive experience.
"Our visitors are important to us, and the addition of this new Visitor Service Center will further enhance our service offerings in St. George's, leading to improved visitor satisfaction levels, repeat visits to Bermuda and will support our tourism industry on a continued path of growth."

Read More About