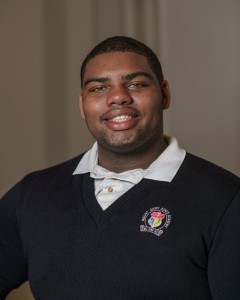 In the third in a series of profiles of the young men competing in this year's Alpha Beautillion, we spotlight Jehkio Bean-Lightbourne from Mount Saint Agnes Academy.
Born 16th June 2001, Jehkio Bean-Lightbourne is a Mount Saint Agnes Academy Senior. As a participant of the 2018-2019 Alpha Beautillion, Jehkio displays strong leadership qualities in his school and community. He is greatly involved in his church, Cornerstone Bible Fellowship, and his school as he frequently participates in charity and community events for them both.
In school, Jehkio has been involved in Yearbook Club, Concert Set Design, Art Club as well as being one of the initial members and spokesman for his school's French club, The French Café. Alongside these clubs, he is the president of the National Honors Society.
At church, Jehkio serves in a plethora of ministries such as One Voice One Way Kids Choir, Puppet Ministry, Mime Ministry, Teen Greeter and his church's Sunday school dismissal performance group. He has also been worship leader, a camp counselor, game management and program staff of his church's annual children's camp.
Growing up, Jehkio was always busy with activities such as karate and drumming. He received two certificates of completion in drum and rhythmic understanding given by the New York Drum Collective on two different occasions and acted as an assistant drum teacher for a year teaching young children the basics of drumming.
In 2015, Jehkio was selected along with five others to study French abroad in Cannes through the L'Alliance Française des Bermudes where he was able to expand his knowledge of French living, culture and language while also learning independence and responsibility skills.
Jehkio has displayed a great passion and talent in the field of art. He was a nominee for the 2019 Outstanding Teen Award in the visual arts category, and has won awards such as the 2018 Annual Mirrors and Masterworks Art Competition, receiving first prize. He has also won the February-April 2019 DNA Creative Shoppe quarter annual art competition. He has lent his artistic skills to different charity events by volunteering as a face painter. He is a hard working student with a great sense of faith and promising plans for the future.
Jehkio plans to study at Nova Scotia College of Art and Design to obtain a bachelors in Fine Arts and grow to become an animator and storyboard artist.

The Alpha Beautillion show is the culmination of a 6 month program. The end of this program consists of a ceremony where top high school male students demonstrate their oratorical ability, talent and community service activities as they compete for scholarships. A bursary prize of $5,000 is awarded to the top male while smaller monetary awards are given to all other participants.
The 18th annual Alpha Beautillion will be held on Sunday June 2nd at the Ruth Seaton James Auditorium, with regular tickets costing $25, patron tickets costing $50, and VIP costing $75 [includes canapes and refreshments].
Tickets are available at bdatix.bm. For all our coverage of the Alpha Beautillion click here.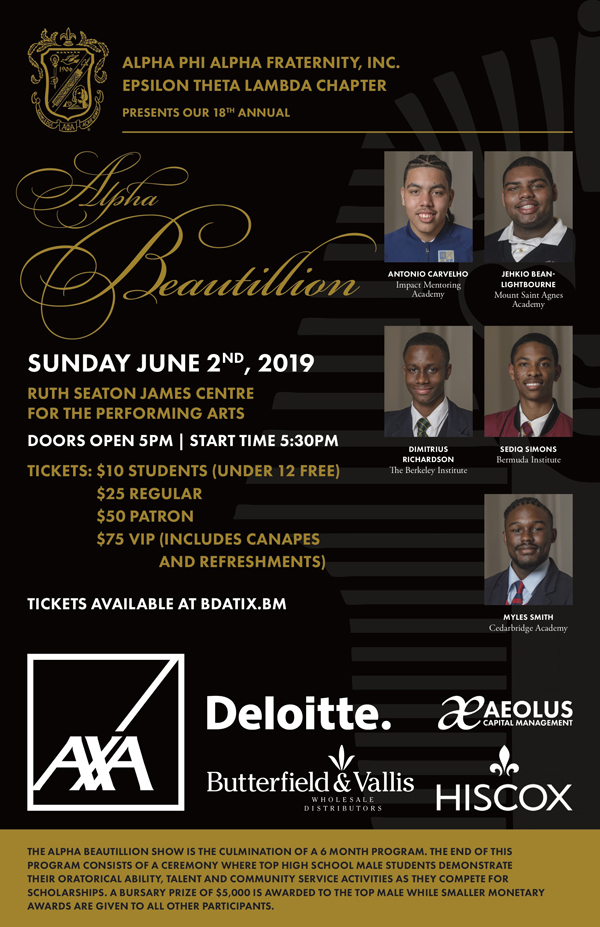 Read More About