HSBC Bank Bermuda is advising that effective on Monday, July 1st they will be making various fee adjustments.
In an email sent to customers, the Bank said, "At HSBC, we recognize the importance of keeping you informed when it comes to your banking; notifying you about upcoming fee changes is an important part of this.
"Please be advised that effective 1 July 2019, we will be making fee adjustments to the following fees for Retail customers:
Statement Savings Monthly Maintenance Fee
Cashier's Cheques ordered in branch
Foreign Drafts ordered in branch
Wires ordered in branch
Credit Card Annual Fees
Credit Card Late Payment Fee
Safe Deposit Box Annual Rental Fees
"Please visit www.hsbc.bm/fees to learn more or visit one of our branches for a copy of the 2019 Fee and Charges Comparison Guide.
"Want to minimize your bank fees? Take advantage of our Personal Internet Banking platform and Mobile Banking app to reduce some of your service costs, including:
Processing wires online
Ordering drafts online
Receiving e-statements"
The 2019 Fees and Charges Comparison Guide from HSBC's website [PDF here]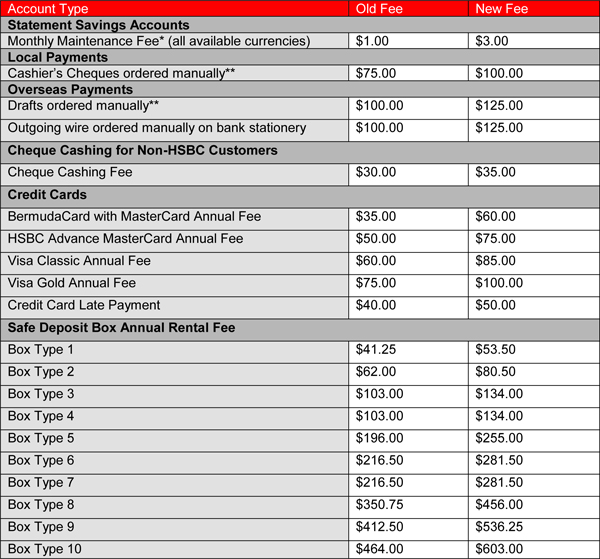 *This fee change does not apply to Premier customers and Seniors, if Seniors maintain a $100 average minimum balance, otherwise will be charged monthly.
**This fee increase does not apply to Seniors.
Read More About