The Bermuda Economic Development Corporation [BEDC] will host the Fail Fast, Pivot Quickly, Bounce Back seminar to help entrepreneurs learn how to "fail fast, pivot quickly and bounce back after failure."
The seminar will be held at the Bermuda Underwater Exploration Institute [BUEI] on Wednesday, July 17th, 2019 from 8:30am – 11:00am.
"Failure is often looked at as the end and at BEDC we are working to dispel that myth. We want to teach entrepreneurs that failure is just another step in the path towards building a successful business," a spokesperson said.
"The Fail Fast, Pivot Quickly, Bounce Back Seminar will give entrepreneurs insight on what it is like to fail, teach them how to learn from failure and provide them with firsthand experiences that outline what it takes to turn that failure into future success.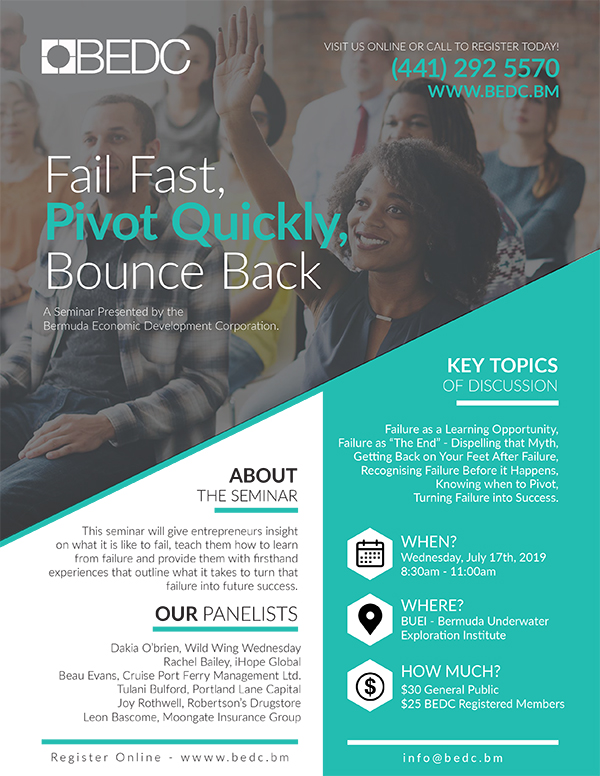 "A panel of small business owners & fellow entrepreneurs that have experienced failure and have used their experience to foster success will share their own stories with attendees.
"Panelists include, Dakia O'Brien, owner of Wild Wing Wednesday, Rachel Bailey owner of iHope Global, Beau Evans, owner of Cruise Port Ferry Management Ltd., Tulani Bulford, owner of Portland Lane Capital, Joy Rothwell, Owner of Robertson's Drugstore and Leon Bascome, owner of Moongate Insurance Group. Entrepreneurs will be encouraged and given practical ways to turn things around in their business – fostering understanding, progression, and growth through failure.
"Key topics of discussion will include, Failure as a Learning Opportunity, Failure as "The End" – Dispelling that Myth, Getting Back on Your Feet After Failure, Recognizing Failure Before it Happens, Knowing when to Pivot, and Turning Failure into Success. Attendees are also encouraged to come with their own questions or discussion points, as there will be an open question and answer discussion period reserved for the end of the seminar.
"Who should attend this seminar? Everyone! If you have failed in your business and don't know how to move forward, this seminar is for you. If you are looking to start your own business but the fear of failure is holding you back, you need to come to this seminar too! During the seminar panellists will dive into failure from many aspects that we believe will resonate with all entrepreneurs. Therefore, we encourage as many entrepreneurs, future entrepreneurs, current business owners, and others to participate as possible."
To register for this seminar, please call 292-5570, email info@bedc.bm or log on to www.bedc.bm. Registration is $30 for the general public and $25 for BEDC registered members. Your fee will include a light breakfast.
Read More About