Footy Promotions announced that they will be hosting the Samba Futsal Clinic Challenge from Thursday [Aug 8] to Sunday [Aug 11].
A spokesperson said, "This clinic will be under the direction of Brazilian Native, Denison Cabral, the President and Director of coaching at the Denison Cabral Futsal Academy [DCFA].
"The Samba Futsal Clinic Challenge will be open to three age groups: 4-7 years old, 8-11 years old, 12-16 years old. This clinic will be hosted at the BAA Gymnasium and is open to boys and girls."
Vinzie Zuill, President of Footy Promotions / Footy Force Futsal, says "In partnership with Denison Cabral, we have been offering the Samba Futsal Clinic for over 5 years. Previously through this clinic, local players have been impressed scouts from the UK, played with DCFA in Maryland and most recently selected for the Top 12 Experience in Barcelona.
"This year, we are introducing the futsal challenge, which will see players winning at each session in different categories. In addition, one player will be selected by Denison to train and play with DCFA in Maryland. DCFA was also the host of the Falcao tour, so it is exciting times for them. Overall, this clinic is a great opportunity for players to develop through futsal as Denison shares his expertise and brings great energy."
Denison Cabral [DCFA] said, "We are extremely excited about another futsal clinic in the island. Every year we recognize the progress in the sport on every participant and that's positive for everyone. Footy Force is responsible for many positive results and accomplishments from the programs that they run in the island and we are honored to be working with them another year."
To register players for the Samba Futsal Clinic Challenge or for more information, please visit here or email footypromotions@gmail.com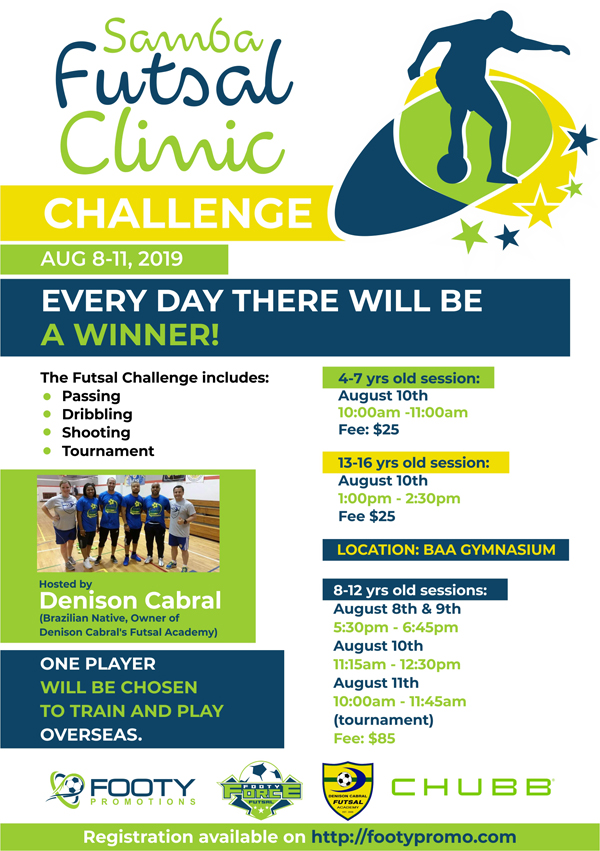 Read More About