[Written by Don Burgess]
Jamel Hardtman grew up a 'pond dog' and never imagined that he would become an 'ice pond dog' as how often does a Bermudian end up working for a professional hockey club?
Mr Hardtman is an account executive for event sales for the Florida Panthers NHL team. He was made redundant by his previous job in 2018, and he put his resume on the job site Indeed in September.
He told Bernews, "It's kind of crazy. Indeed sent me an email saying my skill matches with this position and, if I'd like to apply, just press 'yes.' So I pressed 'yes.' It's not like I went looking for the job."
After two interviews they hired him on October 10, but he couldn't start until December 10.
"This has been a phenomenal opportunity," Mr Hardtman said. "For some people, it may have been a dream job. For me, it was a job I never even considered but has become a dream to have this opportunity. It's just been an awesome experience on how they have welcomed me from the top down."
The Panthers play at the BB&T Center in Sunrise, Florida. The arena seats 19,250 for hockey, but 22,457 fans when it is set up with a center stage for concerts and other events. That makes it the fifth-largest indoor arena in the United States.
Mr Hardtman admitted he doesn't know as much about hockey as he does other sports like football or basketball, but he's quickly learning.
"I've become a fan since I've been here and it's great," he told Bernews.
Mr Hardtman works on the concerts and events side of sales. As he points out, there are only 41 regular-season home games for the Panthers, so the club has another 324 days the BB&T Center would be empty if they didn't hold any other events there.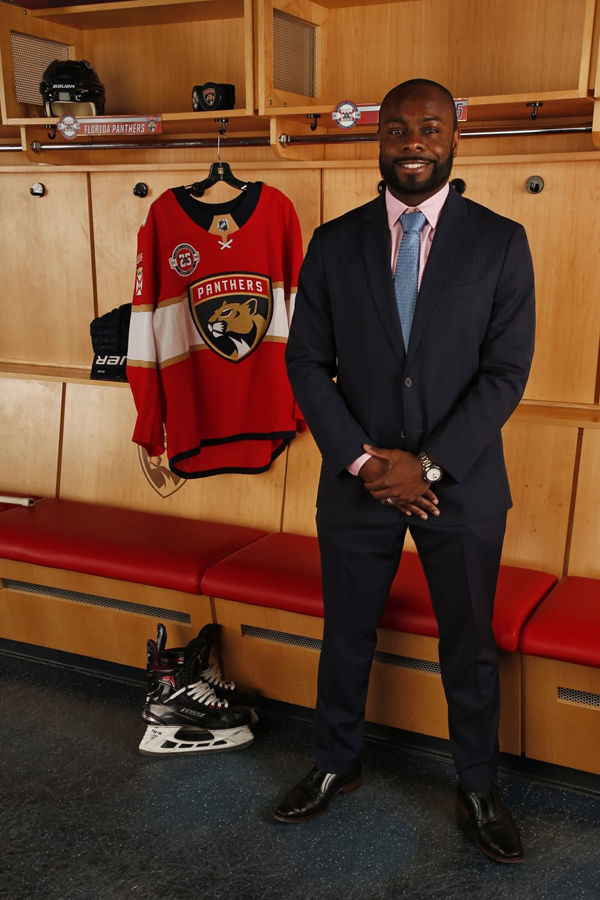 He said "one of the biggest was when we had Michelle Obama back in May. What was interesting about that is there are a lot of Bermudians who come here for hockey games, but for Michelle Obama, that was the most Bermudians we have had at one event."
Other events he has helped with include Elton John, Backstreet Boys, Cirque de Soleil as well as Queen featuring Adam Lambert.
Mr Hardtman said his highlight in the first year was selling an all-inclusive suite to a company.
"That's pretty much the biggest contract you can get," he said. "It takes a lot of patience and hard work. They get a full season of every hockey game and every concert and event. It's an honour that they trust you enough to buy into that. That's not only the biggest moments for this team but in my career."
He described his work for the Panthers this way, "I'm a pond dog from Marsh Folly, Bermuda. You don't see Bermudians ending up working for professional sports teams outside of Bermuda, let alone a hockey team.
"When I see what this organization is, and what they've accomplished and what they're about to accomplish, I hope I can inspire others to not just think outside the box, but remove the box and seek opportunities that you may not know exist."
Read More About