[Written by Don Burgess]
Rosa's has raised more than $1,000 to help send Tokia Russell's son to a football scouting combine in Sweden.
Mr. Russell, 38, one of Bermuda's best footballers, was involved in a traffic accident near Bostock Hill at the end of June and was pronounced dead at the scene by a doctor.
Lindsay Durham, Rosa's manager, said she saw on Facebook that Tanya Darrell was holding a potluck to raise funds for Tokia's son, Tokia Enrique Russell Jr.
"We saw it and because he's a rising star in Bermuda, and a national symbol is the Bermuda onion, so we sold Bloomin' Onions and we gave 100% of what we sold went to Enrique's trip to Sweden because he is a blooming star for Bermuda."
Tanya said: "It means a lot to see the amount of support for Enrique and this trip. It's just amazing. I just can't thank everybody enough. When Lindsay called, it just blew my mind — I was in tears. I was in shock at such a nice gesture.
"I called Enrique to let him know that something on the menu was going to be dedicated to him."
Enrique, 16, who plays for PHC Zebras, was a bit teary-eyed.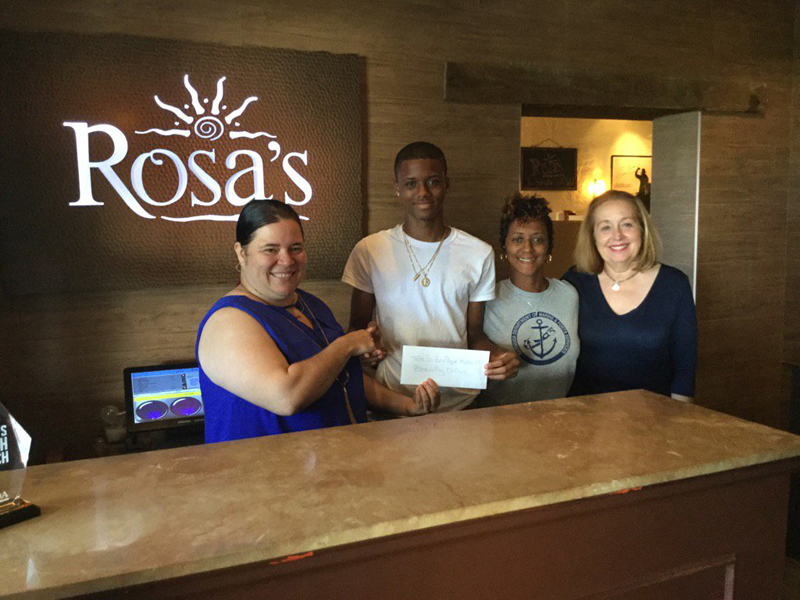 "It's nice to know that everyone can support me and everyone can help me now in this terrible time. It helps knowing that I have a lot of support around me. It's helped me raise enough money to go on this trip and to help my and my daddy's goal to go professional."
Enrique left on Wednesday and will be in Sweden until the end of the month attending an invitation-only football combine, which will be seen by a multitude of scouts. Enrique's skills were noticed at a football camp in Texas, which earned him the nod to go to Sweden.
Ms. Durham said: "I just believe in helping other people that need help. Anything I see that touches my heart, I go to Pam [Quarterly, owner of the Bermuda Restaurants group]. We only had six days to do this but we were able to raise $1,024.50."
In addition, Ms. Durham said that over the next year, Rosa's will donate 20% of all sales of Bloomin' Onions over the next year to further support Enrique and his dreams.
Ms. Quarterly added: "It's great to help someone who has such aspirations in sports and we want to support Bermudians. This is about our corporate philosophy.
"It's been a long haul for the last seven years economically for a lot of Bermudians. Our economy has taken a lot of hits and Rosa's and this company survives on the support of the local community. Our obligation is to have a social responsibility to the community. We have to be working and giving all the time."
Ms. Durham thanked the Bermuda community, which has rallied around helping Enrique in this endeavor and purchasing the Daddy's Girl drink which helped raise more than $10,000 for Randy Edwards to get a kidney transplant.
Read More About