Some of the people of the Bahamas have offered their thanks and gratitude for the delivery of donations to the beleaguered island following the destructive passing of Hurricane Dorian.
After a call was made on September 6 for people to donate goods for the hurricane-ravaged island, the Seventh Day Adventist Church on King Street was filled with new items, with some tonnes of goods donated, ranging from building supplies and cleaning supplies to cases of water, food, diapers, and much more.
Thank you from the Bahamas:
Bermuda volunteers and the Royal Navy combined forces to transport and load tonnes of aid onto the HMS Protector on September 8 following the outpouring of support.
Local truckers volunteered their time to transport the goods to the ship on Front Street, with lines of trucks seen waiting to drop off the supplies; and the HMS Protector arrived in Nassau on September 12 to deliver the much-needed supplies.
Donations loaded onto the ship in Bermuda: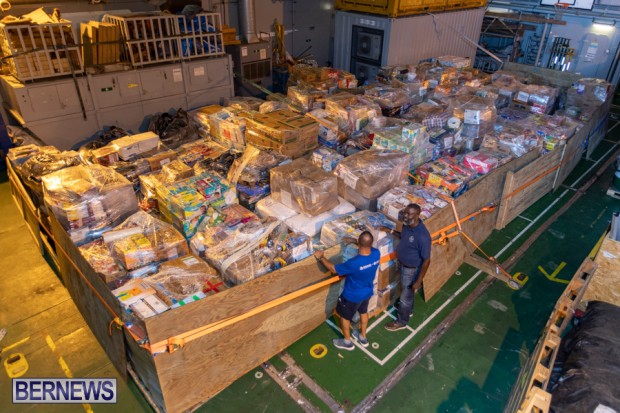 Local residents have also donated money towards the relief effort, with over $187,000 donated to the Bermuda Red Cross.
While Bermuda is still cleaning up from Hurricane Humberto while also preparing for the expected arrival of Tropical Storm Jerry tomorrow evening, we have not faced anything like the destruction in the Bahamas, where the infrastructure was severely damaged, and the official death toll stands at 52, with 1,300 people still reported as missing two weeks after the hurricane.

Read More About