Students at the Berkeley Institute have relaunched the virtual company Leisure in The Triangle as part of the Virtual Enterprise International [VEI] program.
A spokesperson said, "The Virtual Enterprise International program started in 2016. The program, which brings the workplace into the classroom, allows students to run their own simulated virtual business over the course of the school year.
"The company has departments and positions which you typically would find within a business, from executives all the way down to associates.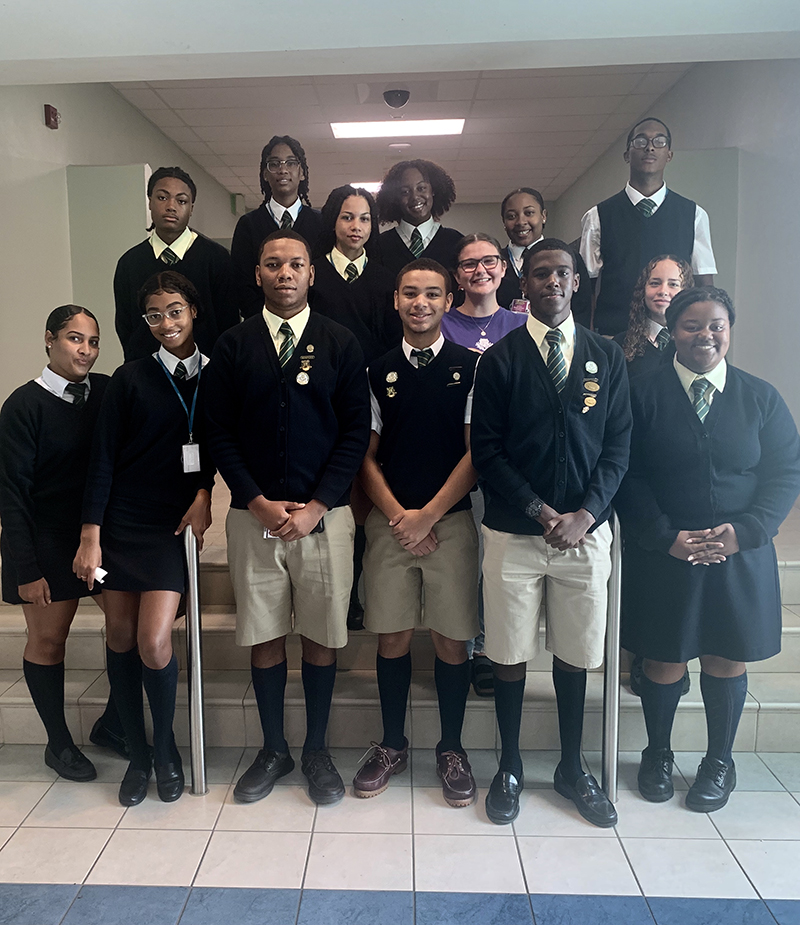 "The group of students must come up with a virtual product or service which they must be able to sell and turn a profit. With guidance from mentors and an in school facilitator, the students are not in this alone.
"For the 2019-20 class, the students continued the company 'Leisure in The Triangle' from the year before. The company will get a face lift which includes new company branding, updated products, and new staff."
CEO Andreaz Glasgow said, "Leisure in The Triangle is on the path of success and is on track to exceed projected goals again. We are implementing new products and observing a continued commitment to the community.
"We have a new team of passionate young Bermudians ready to give our customers a taste of Bermuda without having to travel here."
COO Robert Thomas said, "Our company combines trendy clothing, fragrances, and accessories with a Bermudaful twist. Our products allow us to offer something different that not many people can sell. We not only sell our island but we infuse our culture and lifestyle in every product."
The spokesperson said, "While the company is in its second year, the staff of Leisure in The Triangle are eager and excited to run their own business. Traveling to international conferences and trade shows, the students are also asking anyone who may want to support to check out their donation page here or our HSBC account.
"Facilitated by teacher Mrs. Dawn Nichols-Marshall in conjunction with numerous corporate partners such as Bacardi and BEDC, the VEI programme is affording students with a unique opportunity to learn from senior business leaders in Bermuda.
"The students of Leisure in The Triangle would like to thank the community and its partners in advance for the amazing opportunity presented to them. In addition, they would like everyone to stay tuned for future updates. Anyone who may be interested in contributing to the program outside of our external links and account should email littbermuda@gmail.com or call 441-292-4752 [extension 5011].
"The New Executive and Vice Presidents for the 2019-2020 VEI Programme are:
1. "Andreaz Glasgow – Chief Executive Officer
2. "Robert Thomas – Chief Operating Officer
3. "Jair Eve – Chief Financial Officer
4. "Aaliyah Lee – V.P. Human Resources
5. "Keri McKeown – V.P. Marketing and Sales
6. "Etreu Adonai – V.P. Technology and Operations
7. "Chen Harrison – V.P. Accounts & Finance
8. "Jasmine Simons – V.P. of Design

Read More About