[Written by Dale Butler]
The CD arrival of Bermuda's "First Lady of Gospel" a few months ago was widely received and appreciated with the excellent selection of songs and their delivery. Long a staple at weddings, funerals and VIP events, Toni had also performed with excellence in numerous plays by Atlantic Publishing House and for Her Majesty Queen Elizabeth II and the Duke of Edinburgh as part of the celebrations of Bermuda's 400th anniversary.
With a long list of performing accomplishments, this young lady started her early career at The First Church of God on Angle Street. She is humble, dedicated and committed to reaching the mountain top with every song. Her debut album and official launch proved it.
On Saturday, November 23, under the distinguished patronage of Senator Anthony Richardson and Mrs Holly Richardson, she was the star of an evening of song presented by The Marsden First United Methodist Church led by Rev. Dr. Joseph F. Whalen Jr. and Mrs. Heather Whalen.
The tone of the event held at The Bethel AME Church, where Rev. Ruth Van Lowe is host pastor, was set by steel pan maestro Paul W. Smith at the patrons reception, which was beautifully decorated. I commend the church for its technical staff who did a good job with sound, lighting and video and had three young dynamic men as ushers, including Jhashun Minks, Hercheo Minks and Seth Hardtman.
The line up of outstanding musicians in the programme indicated that we were going to be in for a first class concert worthy of any international gospel/jazz premiere and this turned out to be true. MC Wendell Dill was in fine form with pace, jokes and presentations, which the audience appreciated. As the Marsden First United Band 3DT started, they left no stones unturned.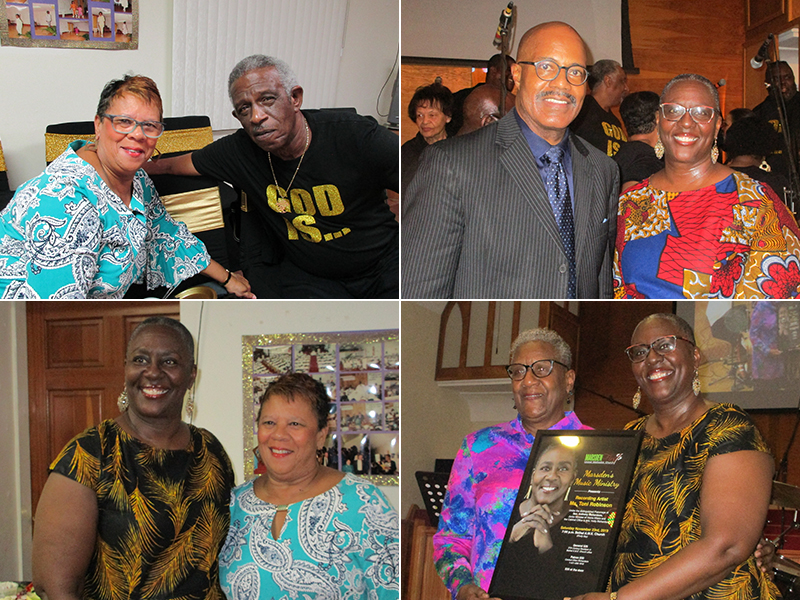 "While Dennis Francis on bass, Derrick Simmons on lead guitar and Toni Cox on drums are known for their starship performances in the world of jazz, they made it very obvious that they did not need music sheets whether Toni sang traditional, reggae or jazz versions of gospel; they were exceptional and it was only left to Darryl Simons, "the little preacher" on keyboards to exert his authority as music director along with Zayne Bean on keyboards to let us know that they were going to ensure that we had a truly professional presentation of music. Outstanding!
"God is…" was the title of Toni's CD and of this sold out concert, which was blessed by her home pastor, Rev. Harold Lamb of "The Evening Light Tabernacle." He laid the foundation when he said, "Oh sing unto the Lord."
The band's introduction, for the Marsden First United Combined Choir members who entered in black and gold, was the start of a 20 minute medley: "Our father you are holy; Praise him; Jesus is worthy, Let's just praise the Lord; I just can't stop praising his name and Praise him, Praise him, Jesus our Saviour."
With great orchestration, drum solos, acapella, Cordell Warner on soprano saxophone, audience clapping and dancing, the time flew by and not one choir member was out of breath. Nine male singers complimented the twelve women and the church was rocking. The first quarter was so vibrant that they needed a break. This enabled E.C. Connection to come on and do a creative version of "Oh danny boy."
Cordell on alto saxophone sounded fresh and he really touched the audience with the warmth of his playing and Elton Richardson completed the song with his beautiful voice that held the audience in his hands only to receive a second song, "What a wonderful world" where he changed the words to a religious message. At first I did not like this new/modern arrangement. How could you possibly change that classic, but it soon grew on me, and the audience and I commend him for being brave enough to be so creative.
I have no doubt it will become a regular part of his repertoire.
Three young ladies from Pastor Dean Smith's church, The Open Door Assembly, danced to "No sweeter name" by Yolanda Adams and they were also well received. At this stage the audience was hungry for Toni and she appeared in a beautiful African motif of gold and black. Accompanied by the JRAT Band who had the inimitable Raymond George on keyboards, the incomparable Amoti Nyabonga on bass and young star Jordan Lambe on drums, they introduced so many beautiful rhythms and new versions that were loved by the audience.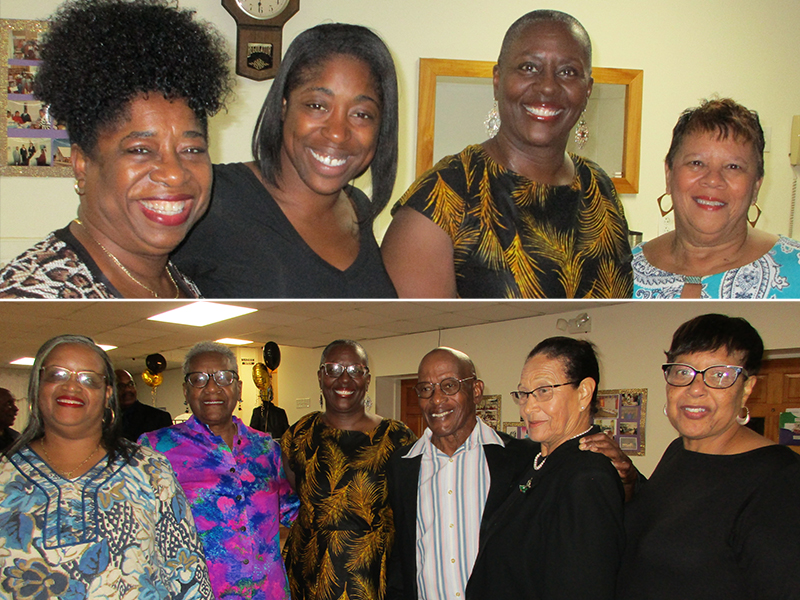 They allowed Toni to reach every level in her voice as she majestically touched our hearts as she delivered: "Great is thy faithfulness; a jazz version of 'Blessed Assurance' when she sounded like Ella Fitzgerald; 'Christ is all to me,' when drummer Jordan was allowed to shine; the traditional 'We come this far by faith' with a new version and a jumpy beat for 'I will trust in the Lord."
When she announced she was going to do my favourite "I want Jesus to walk with me" I was almost in tears. But I had to put my traditional clothes in the closet as yet another version of this serious spiritual was changed and widely received as we felt we were on a journey. She had broken the mould and superiority established by singer Roberta Flack with that song.
Toni was now the new star with a new version. Doing "Oh Lord My God," another traditional hymn, provided another opportunity for her to do it to a jazz beat and what a surprise it was with hearing an Al Harris, Harmony Hall, piano intro, with Celeste Robinson images in my mind as a singer. The audience stood and gave a loud applause of appreciation.
It was then left to the MC to make presentations to the distinguished patron; Toni's mother Mrs. Eula Robinson and Toni's main organiser Jennifer Waldron Butterfield. Toni then returned in another African print and sang "In times of sorrow feelings of pain" which was followed by "Going up Yonder" which put me on my feet with the audience. We sang our hearts out and at one point it looked like we would stay for church the next morning.
Oh what a night! Congratulations to the organisers, the musicians, dancers and choir. This was truly a night when Toni Robinson took us up yonder and confirmed that she is a superstar for which an international annual gospel concert should be organised. Thank you Toni for blessing us with your talent. You are so gifted and your voice touches us with every note. "O, Lord my God" is our cry and we left blessed.
- Dale Butler is the author of "Music on the Rock" and collects oral histories of senior Bermudians.

20 Most Recent Opinion Columns

Opinion columns reflect the views of the writer, and not those of Bernews Ltd. To submit an Opinion Column/Letter to the Editor, please email info@bernews.com. Bernews welcomes submissions, and while there are no length restrictions, all columns must be signed by the writer's real name.
-

Read More About
Category: All, Entertainment, Music, News