Nine young squash players represented Bermuda at the Canadian Junior Open [CJO] in Niagara-on-the-Lake from December 6 to December 10.
A spokesperson said, "In a pool of 250 of the top squash players from 20 countries, William Frith, Ethan Rosorea, Isabella White, Andrew Cox, Owen Rosorea, Nicholas Southern, Taylor Carrick, Alex Southern and Anaya Smith took to the courts proudly wearing their country's name on the back of their shirts. For four of our players, this was their first taste of squash overseas."
Ethan Rosorea, Alex Southern, Nicholas Southern, Owen Rosorea, Anaya Smith, William Frith, Isabella White, Taylor Carrick, Andrew Cox: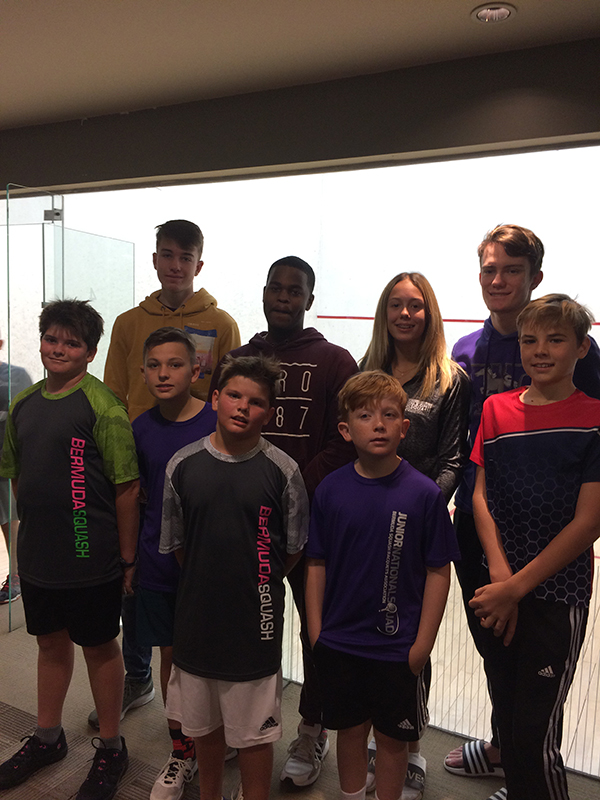 "Owen Rosorea got the team off to a good start, winning his first round match against Felipe Guardia of Costa Rica 8/11, 11/8, 11/5, 11/9. Competing at the CJO for the second time, 10 year-old Owen proved again that he can hold his own in the Boys Under 13 event, which is the youngest age category at the tournament.
"Going down to Caleb Hickox of Canada 3-0 in round 2, Owen found himself facing Ethan Rosorea in the Consolation Round. The brothers thrilled spectators with their show of comraderie and sportsmanship. After two games that went to a tie-breaker at 10-all, Ethan edged out Owen 11/6, 12/10, 8/11, 12/10.
"Ethan progressed to Consolation round 3 losing to Paulo Ordonez of Mexico 3-1. Ethan finished the tournament with a position of 25-32 in the BU13 age group."
Isabella White, William Frith, Nicholas Southern, Owen Rosorea, Ethan Rosorea: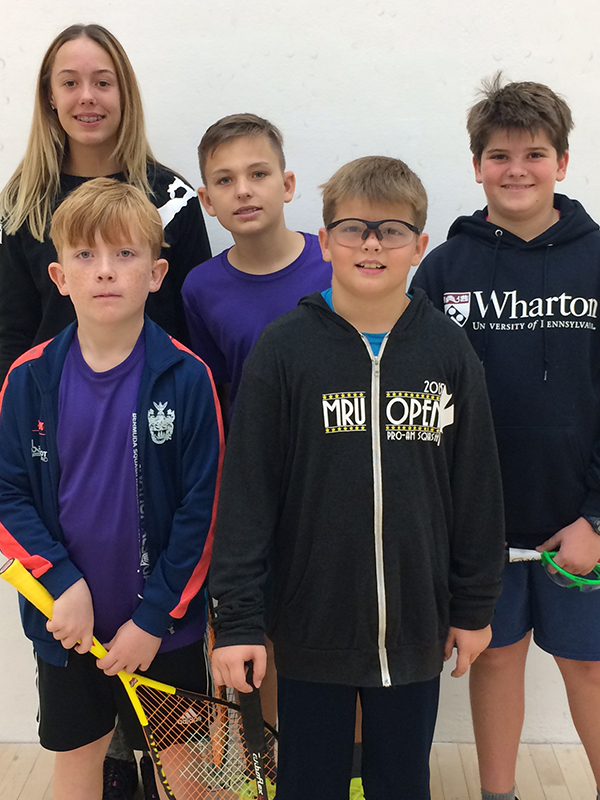 "William Frith, at 9 years old, was no doubt the youngest in the tournament and playing in the BU13 group. Meeting boys 2 or 3 years older than himself in his 3 matches, he showed no sign of nerves as he took part in his first international tournament. Playing against competitors from Mexico and Canada, Frith steadily increased the number of points won showing plenty of promise for the future.
"Competing for the second time at the Canadian Junior Open, Andrew Cox met Canadian players for each of his three BU13 matches. Starting with a bye, Cox dropped his second round match to Ethan Jain 4/11, 11/13, 3/11. He then met Keshav Vyas in the consolation round who dominated the first two games.
"Down 7/11, 7/11 Cox returned to the court determined to turn the match around. Taking the third game 11/9, he kept the pressure on Vyas – answering great shots with equal racquet skills. Vyas fought hard but Cox held him off at 12/10 in the fourth.
"With his opponent resting his forehead against the glass wall at the back of the court trying to compose himself at 10/7, Cox closed out the fifth game with a massive cross court winner. Cox finished the tournament at 21-24."
Anaya Smith of Bermuda, David Pitcairn of the Cayman Islands: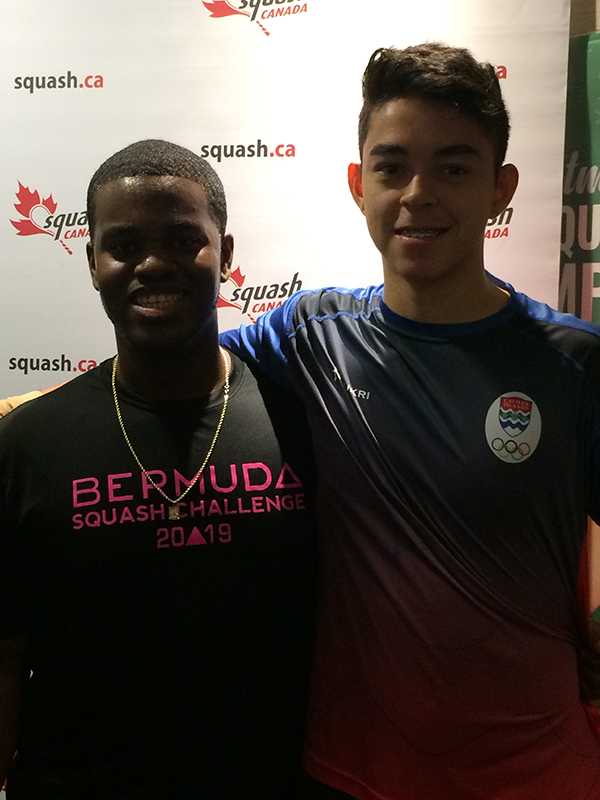 "The volume of cheering from Bermuda teammates and parents at the Cox / Vyas match was taken a notch higher when Anaya Smith met long time friend and CASA adversary David Pitcairn of the Cayman Islands. In his second BU19 match of the tournament, Smith battled it out with Pitcairn for 4 games – with Smith nailing more than a dozen of his signature, low percentage kill shots – hitting the front wall barely an inch above the tin.
"As with other matches that featured Bermuda, Cayman, Barbados, Guyana and Trinidad – islanders supported islanders and a large crowd of spectators called out encouragement to both players. Pitcairn held out to Smith's onslaught – winning 11/9, 8/11, 12/10, 11/7.
"Later the same day, Smith was back on court. Up 2 love in a strong start, Smith found his opponent Canadian Ahmed Sabrah fighting back hard to push the match to 5 sets – 11/5, 14/12, 9/11, 12/14, 11/9. Smith secured the win but noted that Sabrah was by far the fastest player he had ever played."
Andrew Cox, Anaya Smith, Taylor Carrick: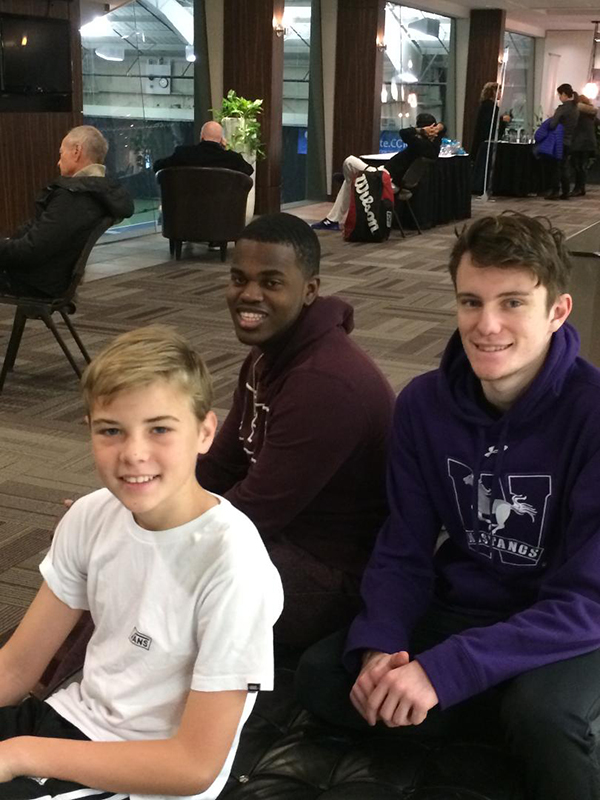 "Nicholas Southern settled in well at his first overseas tournament, winning his first round BU13 match against Niam Tejani of Canada 11/8, 12/10, 11/7. Nicholas went on to play two more Canadians – each time approaching his match with a steady confidence. Older brother, Alex Southern, also made his inaugural appearance representing Bermuda on the international junior circuit. Getting to grips with the standard of play, the size of the squash facility, number of participants/coaches etc, Alex struggled a little to settle in during his first BU17 match against Andrew Herring of Canada.
"Having won the first game 11/9, he wobbled in the second game with a score of 3/11. He regrouped to put up a fight in the third game, narrowly losing 11/13. Unfortunately Herring came in fast and strong to take the fourth game 11/3 and close out the match. Alex is just finishing his first term at Uppingham School in the UK which has a strong squash program.
"With this tournament under their belts, he and Nicholas will no doubt have a better idea of what to expect as they play for Bermuda in the future."
Owen Rosorea: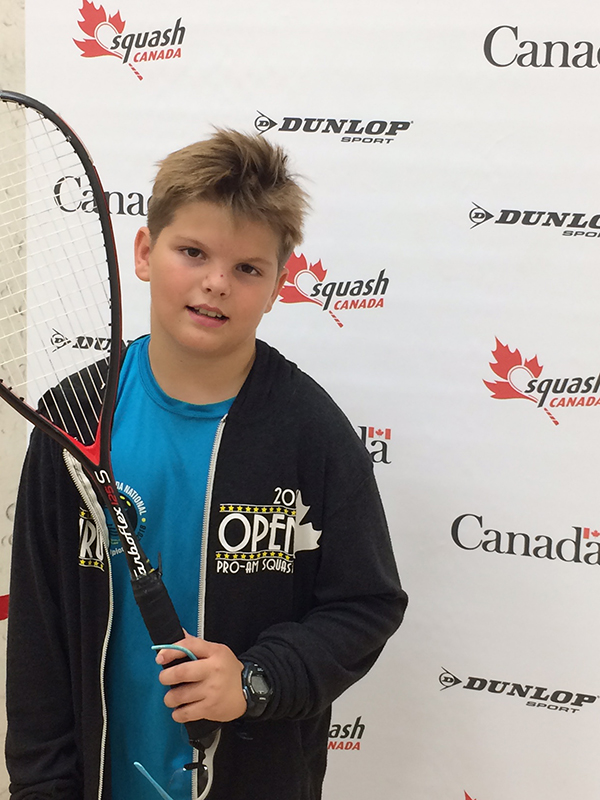 "Isabella White – another first time international tournament participant – played Keira Rawlins of Canada in her first round match, going down 5/11, 2/11, 10/12. Getting her footing in the competition, she moved on to meet Canadian Rachael Liu – securing a 3-1 win in a text book / clean game – 11/5, 8/11, 14/12, 11/7. Taking her third match to 4, she fought hard but went down to Jenna Askari of Canada. White finished at a very respectable position of 25/32 in BU15 with her sights now set higher for her next overseas tournament.
"CJO veteran Taylor Carrick, with a lofty seeding of 5/8, had a lot riding on this year's tournament. Following a bye in his first round, Carrick won his second round match against Rodrigo Parra del Riego Noriega of Peru 11/4, 12/14, 11/7, 11/9. Moving on to meet his opponent in the round of 16 – Martin Leon also of Peru – the stakes were high for both players anxious to make the BU19 quarter-finals. A drawn out 5 set battle ensued with emotions running high and a tense battle for the T leading to numerous contentious referee decisions.
"After an hour-long match, Carrick narrowly missed the opportunity to move on to the quarter finals – going down 7/11, 11/8, 14/12, 12/14, 7/11 to Leon. Having left everything on court in his match with Leon, Carrick then lost 3-0 to Jose Reyes of Mexico to finish 13/16. Carrick will next play in the British Junior Squash Open 2nd – 6th January."
Isabella White: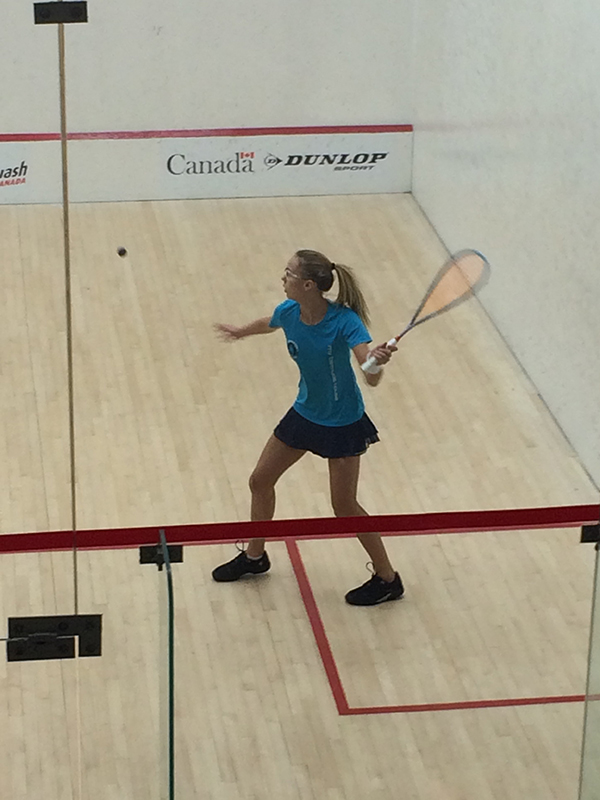 "Taylor Carrick and Anaya Smith provided court-side coaching in Canada to the younger members of the Bermuda National Squad during the tournament – along with parent/player Anthony White.
"With seasoned players Abigail Brewer, Charlotte Toogood, Charlie Riker and Matthew Elliott unable to attend this year, Bermuda was unrepresented in a number of age group categories. Having competed at the Canadian Junior Open 6 times each, Taylor Carrick and Anaya Smith will have aged out of the junior circuit ahead of next year's tournament. But Bermuda's up and coming young squash players demonstrated at this tournament that they are well positioned to keep our flag flying at this prestigious international event."

Read More About