PechaKucha Bermuda is hosting its 28th Edition tonight [Dec 5], starting at 7.30pm at the Spanish Point Boat Club, with speakers set to include Davika Hill, Cushi Ming, Heather Nicholds, Stratton Hatfield, and Chelsea Andrew-Lawrence.
A spokesperson said, "Pecha Kucha Bermuda is hosting its 28th Edition on Thursday, December 5th, 2019 – presentations starting at 7:30pm at the Spanish Point Boat Club, with speakers set to include Davika Hill, Cushi Ming, Heather Nicholds, Stratton Hatfield, and Chelsea Andrew-Lawrence.
"PechaKucha is a presentation format, which speakers can talk on a topic of their choice in an effective and entertaining way. Presentations are concise and fast-paced, as it all has to fit within 6 minutes and 40 seconds. This stylistic form features 20 slides with each appearing for only 20 seconds.
"As always, the night features an eclectic group from all walks of life coming together to share their passion, ideas, and what moves them.
Poster by Makim Ori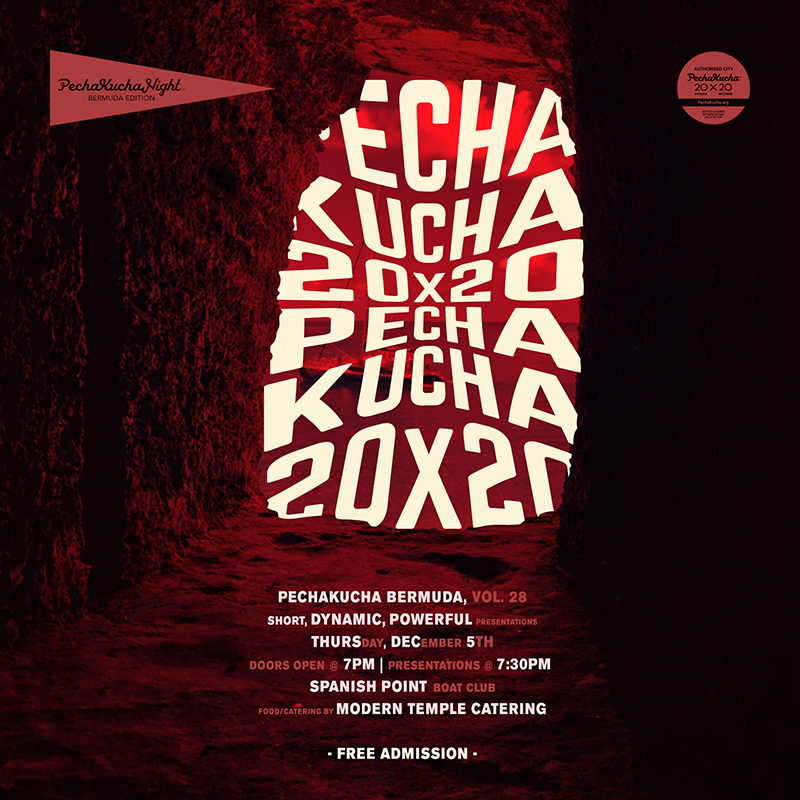 "Davika Hill is an artist, writer and entrepreneur who will be sharing with us an intimate experience on anxiety and depression, and how to overcome such obstacles that are so pervasive in our society. Mental health issues need to be in conversations to help eliminate the stigma that has long been carried with them. Davika is actively seeking ways to deal with it on her own journey while encouraging others to practice self-love, care and patience they extend to others, and to themselves.
"Cushi Ming is prepared to enlighten and connect us to the spiritual realm by discussing his personal experiences on Ayahuasca retreats and shamanic medicines. Cushi is a certified life coach who has studied the laws of spirituality and the universe. He has developed a unique understanding to life and has integrated his learning to his practice. Come have a 'Conscious Conversation' with him this evening and find out more.
"Heather Nicholds will be giving us some food for thought. 'How a few simple changes can help our planet – and our health' is a presentation on her journey to live more sustainably. Heather is an active environmentalist who elects for a vegan based diet but is also a chocolate lover. She will show us how incorporating some different food choices and finding easy alternatives to our daily products can make a positive impact for both our bodies and the environment.
"Stratton Hatfield has just returned to Bermuda after completing a 12 month masters degree in sustainability, entrepreneurship and design. 'Sustainability, it's more than just reducing plastic straw use' will showcase Stratton's new wealth of knowledge and how Bermuda can implement changes to its environmental strategies. Come learn about how sustainability is interconnected and relates to improving our social, economic and natural environments.
"Chelsea Andrew-Lawrence will be taking the stage to talk about her experience of living with Bipolar and her role as an advocator on greater education, acceptance and awareness of mental health in the local community. 'Brilliantly Bipolar' is not only about how one lives with mental health challenges, but how to thrive and lead a fulfilling life.
"Each presentation will be followed by a three-minute question and answer session. So bring your open minds, open hearts, and energy for an invigorating night of presentations.
"PechaKucha is a volunteer organization and the event is free and open to the public. People are encouraged to come to Spanish Point Boat Club for 7pm to enjoy plant-based dinners catered by Modern Temple. We encourage our patrons to bring reusable dishware and cutlery to reduce waste and live more sustainably. Drinks are also available for purchase.
"Donations are welcome to help give back to those that make the night possible.
"If you've been thinking about presenting or volunteering, Pecha Kucha is hosted four times a year. Email us at: pechakuchabermuda@gmail.com
"Follow us on Instagram.
"Visit our website to see a list of past events and presenters."
Read More About
Category: All, Entertainment