Two RBR soldiers have passed out from the British Army's elite Royal Military Academy.
Now Ci're Bean and Andrew Wallace will rejoin the Regiment at Warwick Camp as 2nd Lieutenants in charge of other soldiers after they completed the eight week Army Reserve training course at the RMA, known as Sandhurst.
2nd Lt Bean, a former Lance Corporal, said: "It was an amazing experience – very intense, but extremely interesting."
The 21-year-old from Sandys, who runs his own firm Payakid, which places at-risk youngsters with employers, added: "We got to meet and work with a lot of people and learnt a lot of new things.
"It was just great to get that exposure."
Bermuda soldiers Ci're Bean and Andrew Wallace with their Sandhurst colleagues after a gruelling trek that involved wading along a icy cold river in England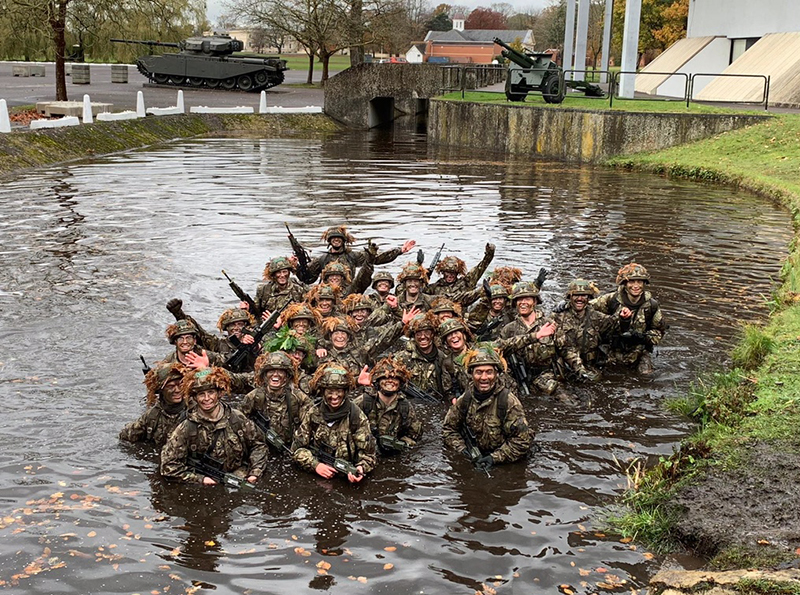 He added: "It was extremely cold – we were operating in minus three temperatures and coming from Bermuda, you don't experience that. It was my first time in the UK."
But 2nd Lt Bean, posted to the RBR's A Company, the specialists in infantry tactics and public order duties, said: "I definitely enjoyed it. It was a once in a lifetime experience.
"I would never have got the chance to do something like that if I hadn't joined the Regiment – I would definitely recommend the RBR. It offers a lot of opportunities.
"No matter what walk of life you come from, there is something for you."
2nd Lt Bean was an award-winning L/Cpl instructor at the February Recruit Camp, where now 2nd Lt Wallace got his first taste of RBR life as a new Private.
2nd Lt Wallace, 25, from Paget, spent three years in the Officer Training Corps while he studied for a degree in military history at Kent University in the UK.
He said he had applied for a commission early in his RBR career because his prior experience meant he had covered a lot of the basics of soldiering and he wanted a bigger challenge.
2nd Lt Wallace added the Sandhurst course was a gruelling mix of classroom and field work.
The curatorial assistant at the National Museum of Bermuda said: "There was just so much information. You just have to grab it when you can and hold it tight.
"It was the longest time I've ever been away from home and the longest time I've done anything military. And you have lessons from about 6.30am to nine at night."
But 2nd Lt Wallace, now a Platoon Commander in the RBR's humanitarian aid and disaster relief B Company, said: "It lived up to expectations. I went in there thinking it would probably be the hardest thing I've ever done and I left thinking that."
But he said it was good for the RBR that its officers were trained at an institution with an international reputation.
He said: "It's putting Bermuda out there. I met a lot of people on that course and if I end up running into them on a deployment, we will have that instant connection.
"For the Regiment, the fact that they send people away to an institution held in such high regard, people recognise that and it's very valuable."
2nd Lt Wallace said his military training had boosted his efficiency at work and in his personal life.
He explained: "For example, it's one thing to go into a grocery store and spend 30 or 40 minutes wandering around. Planning in advance and getting it done in a few minutes is something else.
"Time efficiency has been the best lesson. It's learning how to manage your time and get the most out of it. And you can use that time productively elsewhere."
He added that the RBR, who physical trainers are also British Army qualified, could get unfit recruits to the standards required faster than people might think.
2nd Lt Wallace added: "I have no regrets about joining. It's something I wanted to do for a long time and I'm glad I did."
The two will be confirmed in their new ranks if they are successful at the Commissioning and Promotions board and their appointments are confirmed by Governor John Rankin, the RBR Commander-in-Chief.

Read More About