[Updated with video] The Bermuda Olympic Association [BOA] has announced the winner of its recent Team Bermuda Logo Competition.
"The "Longtail Circle" logo submitted by Bermudian illustrator and graphic designer Frederick "Lee" Ingram received the largest number of votes among the shortlisted designs that were put to the public for their consideration, and was the inspiration for the final design revealed by the BOA at a special reception at the Bermuda National Gallery today," a spokesperson said.
"On 14 January 2020, the BOA invited submissions from Bermudian graphic designers, both professionals and students, based locally and overseas. A total of 82 designs were received from 39 designers. Five designs were shortlisted and displayed online and at the Bermuda National Gallery during the middle two weeks of February, giving the public the opportunity to review the designs and vote for their favourite.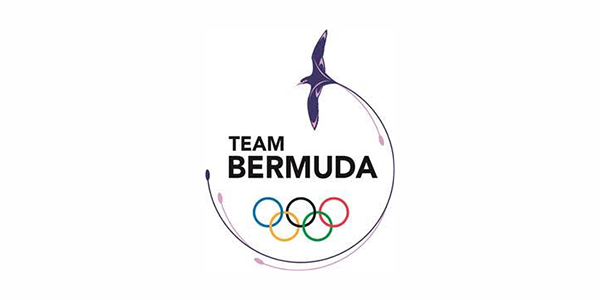 "Mr. Ingram's design, which features a longtail drawn in the national team colours of deep blue and Bermuda pink, encircling "Team Bermuda" text and Olympic Rings received just over 30% of the nearly 1,600 votes cast.
"The winning design was submitted to the International Olympic Committee, which reviewed it and tweaked it slightly for conformance with IOC brand standards. The final design will be used as a commercial logo to complement the official National Olympic Committee emblem, appearing on BOA sponsorship materials, and on athletes' non-competition and non-ceremonial kit at major international sports festivals."
Brenda Dale, BOA Vice President said, "We were very pleased with the response from designers and the public to our competition. We received a large number of high quality designs, and our contest generated a good deal of interest in the community, with many people taking the time to visit the National Gallery or vote online.
"We are more than pleased with the winning design. It is beautifully drawn, and the beloved Bermuda longtail featured in the emblem metaphorically represents our athletes soaring to new heights. We will be proud to feature the new commercial emblem on our sponsorship materials, fan wear and merchandise, and on our team's non-competition kit at the upcoming Games".
"We thank and congratulate Mr. Ingram, and all the designers who participated."
"In addition to bragging rights, Mr. Ingram receives a $1,000 travel voucher and the right to use the winning design in his portfolio to promote his design services."

Read More About
Category: All, News, Sports, technology, Videos