[Updated with video] Police are on scene in the Parson's Road area in Pembroke this evening, and there are multiple police officers as well as crime scene tape are visible at the junction of Deepdale Road.
Police have confirmed that there was a shooting and one man has been taken to hospital. Further details are limited at this time, however we will update as able.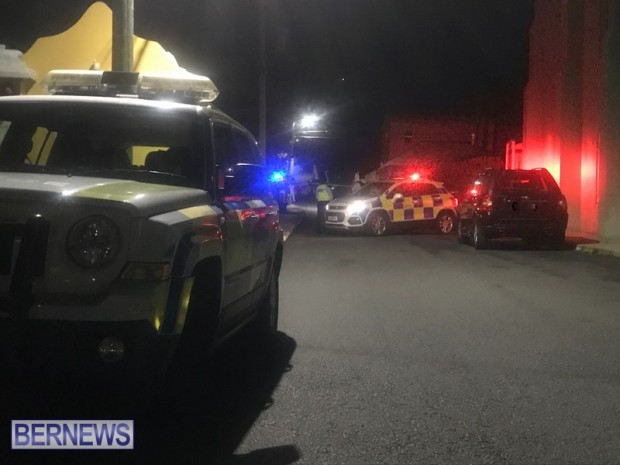 Update 2.22am: A police spokesperson said, "A thirty-five year old man was taken to hospital with a gunshot wound to his left arm, following a firearms incident in Pembroke Parish.
"The incident occurred at around 11:00pm on Tuesday 24th March, at the junction of Two Way Deepdale and Parsons Road.
"The victim was conveyed to the King Edward the Seventh Memorial Hospital via ambulance for treatment to his injuries which are not considered to be life threatening.
"Quick action by police officers resulted in a person of interest in connection with this incident being taken into custody. That person is now assisting police with their inquiries.
Update 12.47pm: Police Commissioner Stephen Corbishley press conference
"Anyone with information on this latest firearms incident is asked to contact Detective Chief Inspector Arthur Glasford, or Detective Sergeant Jason Smith, of the Serious Crime Unit, on 247-1174 or 247-1128 respectively.
"Alternatively, persons wishing to provide information anonymously, may do so by calling the independent and confidential Crime Stoppers number, 800-8477."
Read More About