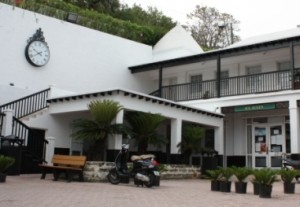 Just before 4am today [May 8], a 22 year old was shot outside of Ice Queen in Paget. He was taken to King Edward Memorial Hospital, were he is being treated for what we are told are non life threatening injuries.
Bernews understands that a fight broke out, and one participant pulled out a gun and shot the victim.
This is the second shooting this week, following the shooting murder of George Lynch only 3 days prior.
During the press conference two days ago relating to the murder, the Commissioner of Police Michael DeSilva acknowledged that the Police were aware of a possibility of escalation, and would be taking proactive measures, including ensuring a high level of Police on the streets over the next coming time.
Update 5:30pm, Police release official statement below:
Around 3:50am today, Police received a report of a confirmed firearm incident in the vicinity of Ice Queen in Paget.

The victim, a 22 year old Warwick man, was taken to KEMH for treatment of a gunshot wound to his torso. His injury is not believed to be life threatening at this time.

The male suspect is described as 5'8" to 6' tall of slim build. He made good his escape on a motorcycle heading towards the City of Hamilton. Detectives have spoken to a number of witnesses who have given accounts of what happened. However, investigators still need to speak with anyone who has not yet spoken to the Police.
Ice Queen was the same spot in which Tekle Zion Mallory was stabbed to death in front of dozens of onlookers in 2001. This is also the second shooting in Paget Parish this year, following the shooting of a 16 yr old at party being held at the Bermuda College on March 13th.
Police are appealing for witnesses or anyone with any information to contact police on 2950011 or the confidential crimestoppers number 1-800-8477. You can also use the Crimestoppers website to send a tip anonymously.
Bermuda has had in excess of 40 confirmed gun incidents already this year:
Gun Incidents in May 2010 include:
40 yr old George Lynch was shot and killed on May 5 [link]
Gun Incidents in April 2010 include:
Kimwandae Walker murdered at kite flying celebration in front of dozens of people on April 2 [link]
Shooting at RAA Club leaves 18 yr Shawn Williams hospitalized on April 3 [link]
Drive by shooting at Dandy Town leaves 2 people hospitalized on April 5 [link]
Gun incidents in March 2010 include:
Gun Incidents in February 2010 include:
A 24-year-old Sandys man was shot in the right hand in the Scotts Hill, Somerset area on Wed, Feb 3
On Feb 13 Nathan Darrell, 23, was non fatally shot three times in Kitchener Close, Sandys. 31 year old Quincy Brangman has been charged
A 28 year old Pembroke man shot in St. Monica's Road, Feb 21
Gun Incidents in January 2010 include:
Perry Puckerin shot and killed in Hamilton Parish on Sun, Jan 3
A man was shot in the leg in the St. John's Road Pembroke area on Sun, Jan 10
Read More About