Northlands Social Studies Teacher, Tanika White, is a huge fan of the Annual Ag Show. The event not only gives her a chance to honour the Island's arts and culture, but also lets her teach the Island's history in a fun and engaging way to students.
Ms. White tells us why everyone– young and old – should get involved in the 2020 festivities, taking place from Thursday, April 23 to Saturday, April 25.
Tanika White a social studies teacher at Northlands Primary shares her love of the Ag Show with primary school students. Pictured here are children in P1 holding up their exhibition ribbons.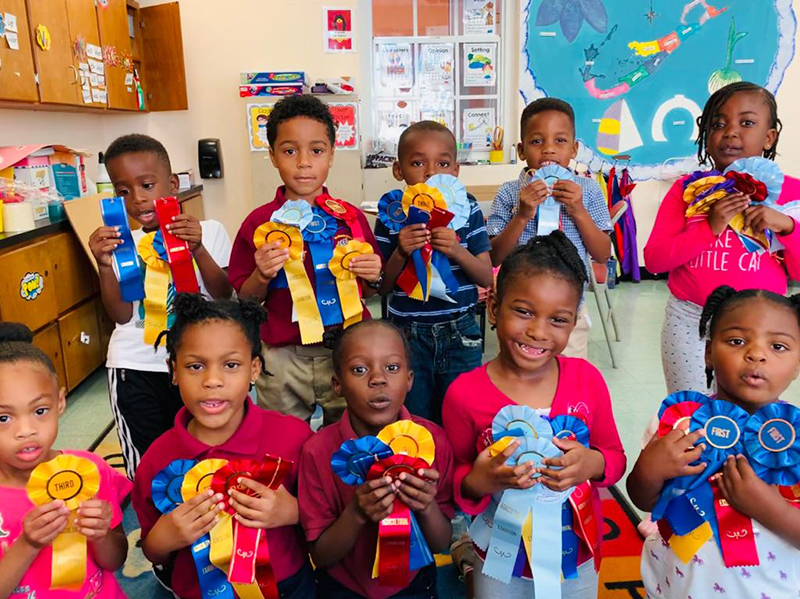 Q: What does the Ag Show mean to you personally? Why did you decide to get involved?
A: I really love this event! I've been going since I can remember and to me it's about appreciation for the arts, agriculture and getting together in a safe and fun filled environment. As a social studies teacher leader, the exhibition ties in to the curriculum as well as science, so it's a win win! In the classroom, we teach students why we have the Exhibition and who's responsible for its inception [Governor William Reid- aka the good governor. Reid Street was named after him and he was the one who introduced the Exhibition to Bermuda].
To me, this event is about giving students hands on experience that will enhance their learning. It's also about spending time with your family and students outside the traditional learning method. It derived from a man who came to Bermuda and taught Bermudians how to take care of themselves through Agriculture [growing their own food]; he then took it a step further with the Exhibition so Bermudians could show off their talents [the plants they grow and animals they raise].
Q: What role do you play in the annual event?
A: I'm the Social Studies Teacher leader but took it over from another great leader at Northlands, Dionne Tuzo. She started the trend of participating in the Ag Show and I've kept it going. As a school we create and grow plants, hats, and bake with the kids to enter goods. This is a whole school effort which involves parental support. If you come to the school leading up to the exhibition you'll see flowers, plants and herbs all around the school growing.
What is the biggest reward in taking part? Are there any challenges?
The biggest reward is working together as colleagues and mentoring the students, using our talents to create art and agriculture. As the saying goes: 'Tell me and I forget. Teach me and I remember. Involve me and I learn.' This is powerful when working with kids. There are always challenges – like if the plants don't grow in time, taking all the exhibits to the exhibition, tagging them, collecting them and just working on them when we have time constraints to teach. However, the rewards are greater.
What is your greatest memory of taking part in the Ag Show?
My greatest memories is our school choir singing at the exhibition as well as winning the primary school division the past few years.
What would you say to encourage residents to take part and get involved in the 2020 event?
I would definitely say get involved to the residents of Bermuda. Many children do not know how to create like those of the past. They need us to show them so the Bermudian traditions can continue i.e. kite making, making jams, growing etc.

Read More About
Category: All, Entertainment, News