Party People Entertainment, Code Red, and NOVA Mas International said they will not take part in the Bermuda Carnival 2020 Parade of Bands due to the Covid-19 pandemic, and will have a 'Costume Carry Forward System,' which will allow them to portray their 2020 themes in 2021.
Party People Ent posted an announcement online, saying, "The Covid-19 pandemic continues to have a major and undeniable impact globally. As stated in our latest communications, we the bands: Party People Ent, Code Red, and NOVA Mas International [collectively, "the Bands"] have been monitoring the current situation closely. The Bands have specifically focused on how we could mitigate any risk to you, our loyal masqueraders, while still providing you with the safest and best possible reveler/road experience.
"There is a high level of uncertainty that exists globally and most assuredly within the Carnival Community. After multiple consultations with our stakeholders and the Government of Bermuda, the Bands have made the hard decision to no longer participate in the Bermuda Carnival 2020 Parade of Bands [BC2020], In addition, this decision will also apply to our respective BC2020 signature events, Euphoria, Mimosa and Mai Tai Island. This decision is essential for the safety and wellbeing of our masqueraders.
"In accordance with best practices internationally, the Bands have decided to implement a "Costume Carry Forward [CCF] System" which will allow us to portray our 2020 themes [unchanged] next year, in 2021. As such, all initial deposits and payments will be carried over to 2021. Please contact your respective band identified herein for any questions/queries that you may have in relation to the information detailed above.
"Again, we thank you for your continued support during these difficult times. Please stay safe, healthy and continue to practice social distancing [where possible]."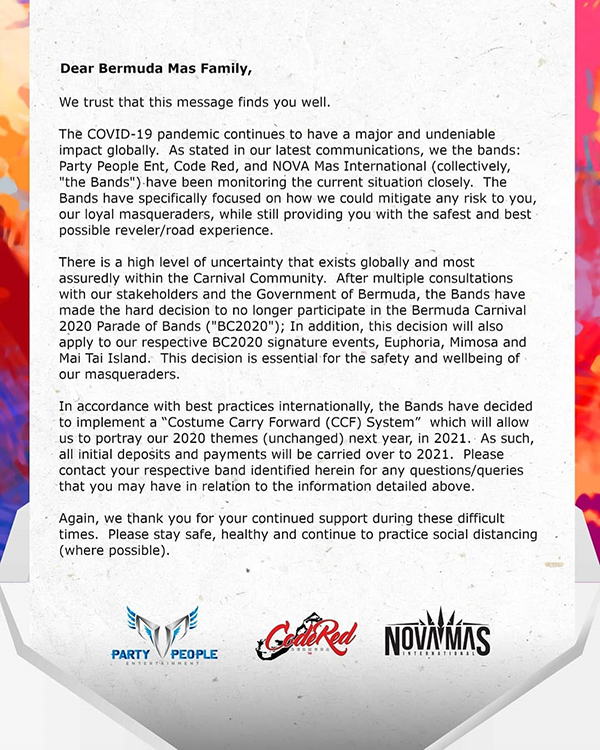 As the island and world deals with the Covid-19 pandemic, we are doing our best to provide timely and accurate information, and you can find more information on the links below.
Read More About
Category: All, Entertainment