Northshore Medical & Aesthetics Center [NMAC] remains open for virtual consultations with no copay during the Bermuda Government's 'shelter in place' mandate.
A spokesperson said, "Northshore Medical & Aesthetics Center [NMAC] is informing the community that they will be open for business during the Bermuda Government's 'shelter in place' mandate.
"NMAC will be available for virtual consultations between 8:15AM – 5:30PM so patients can still be seen for general consultations as well as for those who are seeking information and treatment for the novel coronavirus disease also known as Covid-19.
"Additionally, to assist the community during these unprecedented times, there will be no copay for virtual consultations for patients with valid insurance coverage.
"NMAC believes that it is vital for patients to be effectively managed, are not exposed to major gaps in health management amid this global pandemic and assist in ensuring emergency room visits and hospitalizations are kept to a minimum.
"Therefore, NMAC is moving physical consultations to virtual consultations."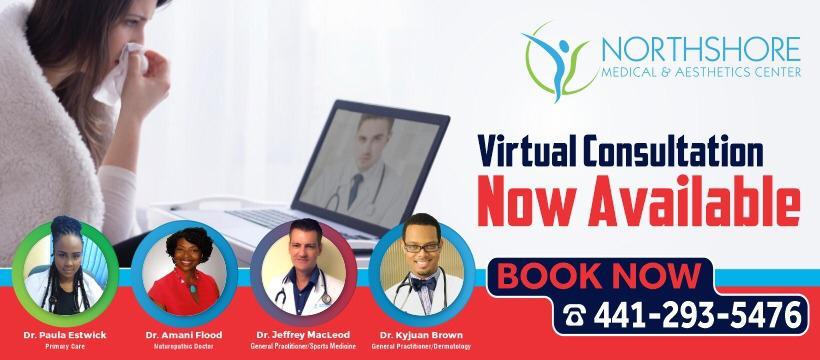 "If a patient is requiring medication refills, lab and/or diagnostic results reviewed, experiencing Covid-19 symptoms [dry cough, fever, shortness of breath or any cold like symptoms] or have general health questions, NMAC is encouraging patients to contact the office on 293-5476 to schedule a virtual consultation with a physician.
"The practice will be accepting limited physical consultations on an as needed basis. It is imperative that patients contact the office to schedule a virtual consultation to be cleared by the physician prior to your arrival. Additionally, if patients have pre-scheduled physical consultations, contact the office to determine if your appointment is eligible for a virtual consultation.
"NMAC's number one priority is the health and well-being of all its patients and staff members and will take every precautionary measure to ensure that is safe guarded. Contact the office with all questions, they are here to serve you the community."

As the island and world deals with the Covid-19 pandemic, we are doing our best to provide timely and accurate information, and you can find more information on the links below.
Officials are urging everyone to please follow all guidance like washing your hands, adhering to self quarantine if relevant, and practicing social distancing, and they have asked that if it is not urgent, a necessity or work, to please stay home to prevent the spread of the coronavirus.
Read More About