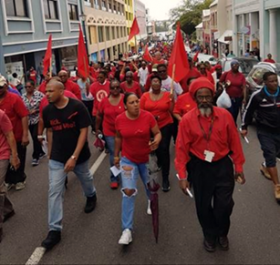 [Written by President Bro. Donald Lottimore]
While we are unable to celebrate International Workers' Day like we have typically done in the past due to the pandemic, it is important that we take the time to recognise the contribution that Bermuda's workers make.
Special thanks are extended to our essential workers including those who are providing residents with vital health care services.
These workers are on the front line and are literally putting their own health at risk in order to serve. We owe them a debt of gratitude for the sacrifices that they and their families are making on our behalf.
Bermuda has dealt with our fair share of national crisis in the past, however, none in our lifetime compares to the impact of the Covid-19 pandemic. While Bermuda is resilient and has managed to weather many storms, history has shown us that it is typically the worker who is forced to bear a disproportionate portion of the burden; it is the worker who takes the cut in effort to protect businesses' bottom line.
Unions will play a vital role in advocating on behalf of their members over the next few months to ensure that any concessions agreed to are fair.
This year's International Workers' Day provides us with an opportunity to reflect on what we want Bermuda to look like post-Covid-19.
The pandemic has forced us to radically change the way we work and function, and as we begin to cautiously transition back to work, collectively we need to seriously contemplate our next steps.
We cannot afford to go back to business as usual; it was our commitment to the status quo which left us economically vulnerable to the ravages of this pandemic.
Is Bermuda ready to take a stance that society should be run for people and not for profit?
It is the BTUC's strong belief that the only way Bermuda will survive this crisis is through effective collaboration. It is not enough to celebrate labour on International Workers' Day; we want and deserve a more equitable Bermuda.
The Unions must be invited to be at the table when Government and business representatives begin discussions about the re-building of our recovery and the adoption of future social protection measures.
With the precarious situation Bermuda faces now and in the immediate future as a result of the outbreak of Covid-19, it is incumbent on all trade unionists to renew their commitment to the protection and empowerment of all workers.
A new world awaits us; we decide our future.

20 Most Recent Opinion Columns

Opinion columns reflect the views of the writer, and not those of Bernews Ltd. To submit an Opinion Column/Letter to the Editor, please email info@bernews.com. Bernews welcomes submissions, and while there are no length restrictions, all columns must be signed by the writer's real name.
-

As the island and world deals with the Covid-19 pandemic, we are doing our best to provide timely and accurate information, and you can find more information on the links below.
Read More About