"Stop the Disconnect" — a virtual discussion on violence against women in Bermuda — will be held on Sunday [June 14] at 8.00pm.
A spokesperson said, "Echoing the words of Tawana Tannock, Managing Director, of Skuld Mutual Protection and Indemnity Association [BDA] Ltd, 'The murder of Anna Skeeters, the most extreme act of domestic violence before the term exited was the catalyst for the creation of the first Bermuda Police Service in 1879 and today should still serve as a reminder that when a gap in the services provided in the criminal justice system becomes evident it should be a catalyst to advocate for change.'
"In our most recent, and unfortunate times we still see violent crimes committed against our women, a clear disconnect, and growing concern of the space between the Bermuda Police Service, our judicial system, and the justice that they deserve.
"This Sunday June 14th 2020 at 8:00pm sharp, Dani Pen founder of The Women's ACT and Robyn Swan founder of Move Bermuda Forward would like to invite members of the public to and evening of discussion on matters pertaining to our judicial system and its impact on female victims of violence in Bermuda.
"This meeting will take place in a Zoom room meeting: 750 0647 3841 Password: STOPBDA. Participants are encouraged to share their experiences, concerns, and solutions, with the objective of our groups submitting a letter to the Commissioner of Police."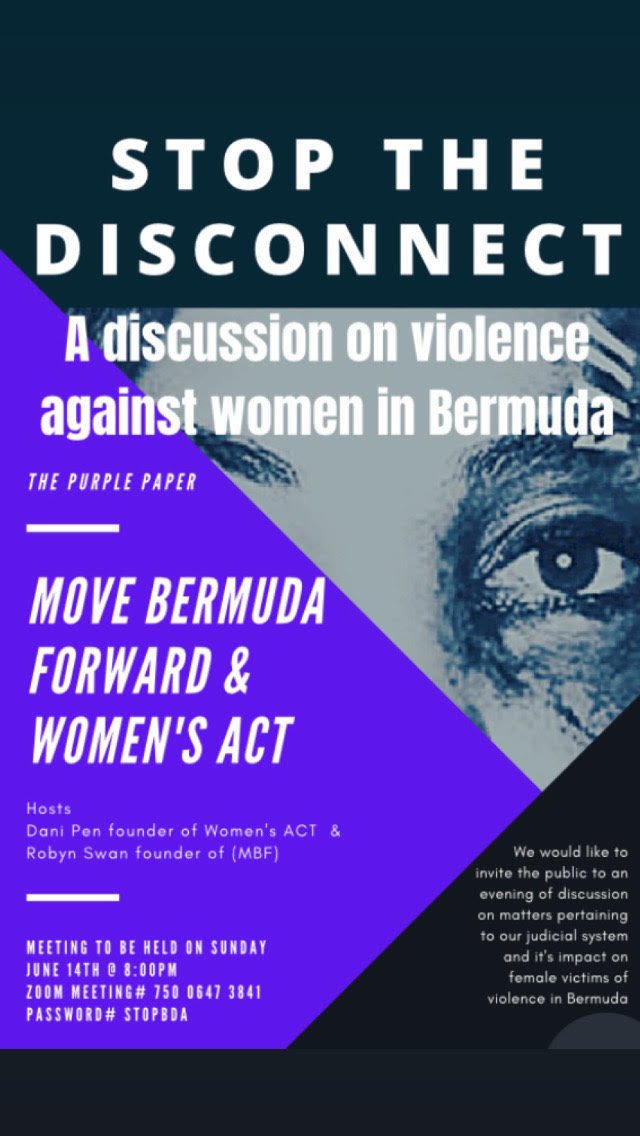 Read More About