On Saturday, June 27th, the Bermuda Economic Development Corporation [BEDC] celebrated Bermuda's Micro, Small and Medium-Sized Enterprises island wide for International Micro, Small and Medium-sized Enterprise [MSME] Day.
International MSME Day was created to spread awareness and highlight these businesses that play a vital role in stimulating economic growth and provide employment for vulnerable groups in all communities.
The BEDC launched initiatives to highlight our island's MSMEs including transforming the BEDC Instagram channel into a live virtual experience. Live interviews featured businesses that have done an exceptional job at changing their traditional business model to adapt to the challenges that the COVID-19 pandemic has brought.
Danielle Paynter, owner of the NAB App – a local business focused on showcasing the islands offerings in hopes of stimulating a larger local spend – partnered with BEDC as a host and influencer for the day.
She said, "MSME Day was a great opportunity to learn more about the businesses in our community and connect with the owners and entrepreneurs that are pursuing their dreams and sharing their passions with residents of Bermuda.
"These people are risking the security of working in a traditional role to help add to the vibrancy of the island, create jobs for others, and we need to support them in order to ensure the sustainability of our economy."
The BEDC added, "Those that tuned in experienced live tours of the locations, got to know the business owners, and learned about a few feature products and promotions that the businesses are running.
"To inspire the community to #ShopBermuda, and #ChooseBDA, the BEDC also launched a Shop, Share & Support social media campaign. Leading up to MSME Day, the BEDC encouraged the community to Shop, Share & Support local businesses for a chance to win $500 to spend at any local business, and help the business that they patronized to win $500 as well.
"The public was asked to shop, snap a photo or their purchase, share their picture on Instagram, tag @bedcbda and the business where the purchase was made.
"Shoppers were also encouraged to get their friends and family involved by tagging others and encouraging them to shop local as well. The winner of the contest was announced late afternoon on the day with Andrea Franklin randomly selected as the winner and recipient of the $500 prize.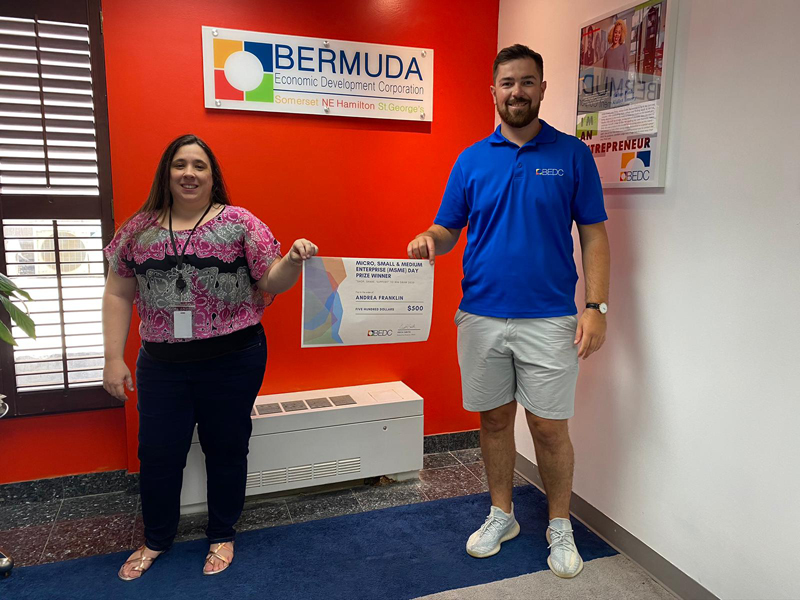 "It was so exciting to learn that I won the competition! I only learned about the promotion by chance and made a concerted effort to shop at small businesses for items I needed. I think this contest was a fantastic idea and would definitely support in the future," Ms Franklin said.
The business that Ms Franklin patronized, Pizza House Bermuda, also won $500 as a result.
Operations manager, L. Anthony Butterfield said, "It's a great idea to stimulate spending and we look forward to participating next time," and he added that Pizza House will be graciously donating their $500 prize money to PALS.
"MSME Day was created to shine a light on and bring awareness to small businesses that together make a huge impact on the economy," says Ray Lambert, Director of Micro, Small & Medium Enterprises at BEDC.
"These businesses are sometimes overlooked because of their size but they are at the heart of the community. They are enriched with the culture of Bermuda, the smiling faces of local employees and the hard work of dedicated owners. These businesses should be celebrated; not just on MSME Day but every day."
For more information about MSME Day and how you can continue to support small and medium businesses, you can contact the Bermuda Economic Development Corporation at 292-5570, visit online at www.bedc.bm or send an email at info@bedc.bm.
Read More About