FC Bascome Bermuda [FCBB] will be holding Under 15 and Under 13 open tryouts on Sunday, July 5th at Goose Gosling field [BAA].
A spokesperson said, "Bascome Football Company are holding open tryouts on Sunday 5th July at Goose Gosling field [BAA] for players wishing to join FC Bascome Bermuda Pre-Academy and Academy Programs.
"Try out times for age groups for 2020-2021 season are: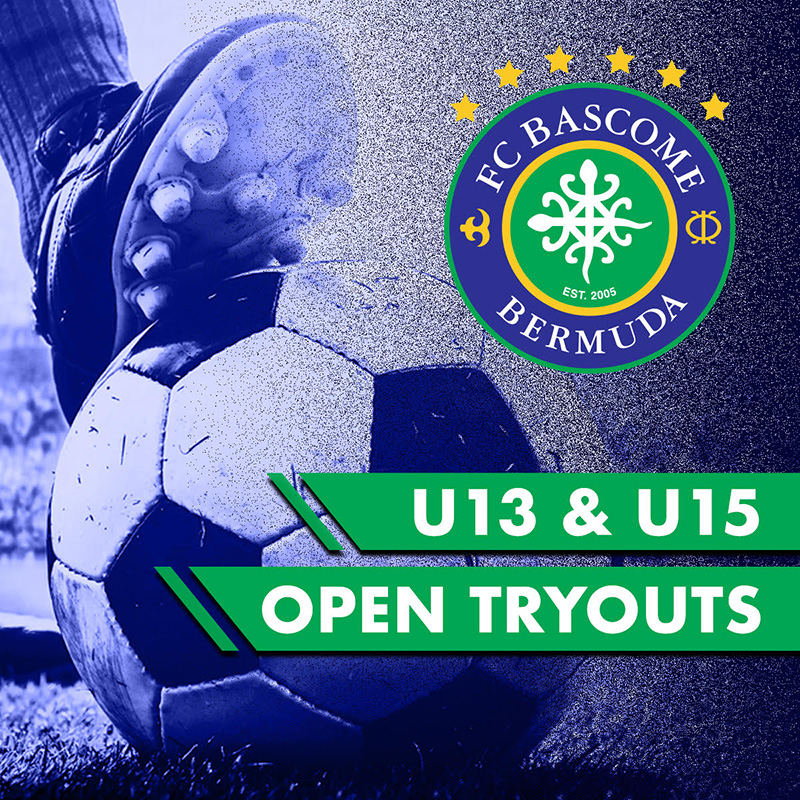 "Our academy programs are created for the committed and focused players to provide them with tools to help them develop both on and off the field. Apart from football training at the highest level, we will engage the players in leadership development to allow them to make better choices in life/ planning their future. Our focus is very much on creating pathways for the players who aspire to compete in higher leagues outside of Bermuda, leveraging scholarships opportunities to furthering their education, setting them up to be able to compete for positions on the USL2 FC Bascome team, and hopefully go on to represent Bermuda.
"This is a critical age in their development, and the purpose of our program is to create a positive learning environment that will challenge them to be able to live their dreams in the future, a dream that must be pursued on the international stage.
"Our Coaches are seeking players that are committed to the game, who believe in our objectives and who continuously demonstrate a willingness to learn.
"The Academy Program is a feeder program for the FC Bascome ULS Youth Academy and USL2 team.
"Players will be invited to a further session on Friday 10th July at Goose Gosling field [BAA] at the following times:
"In order to establish squads before the BFA transfer deadline.
"Please email bascomeoffice@gmail.com if interested in attending the tryout and a registration link will be forwarded. All players must be registered prior to attending tryouts on Sunday 5th July.
"Further information on the Academy programs is available on www.fcbascomebermuda.com.


Read More About