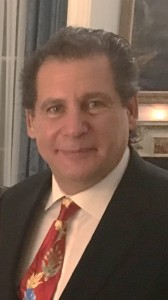 Newly appointed U.S. Consul General to Bermuda Lee Rizzuto has arrived on the island.
A spokesperson said, "Newly appointed U.S. Consul General to Bermuda Lee Rizzuto arrived in Bermuda and assumed his duties on July 16 – succeeding former Consul General Constance M. Dierman who left the island in June.
"As Principal Officer, Mr. Rizzuto will lead a team whose mission is to protect U.S. citizens in Bermuda and deepen the strong economic and cultural ties between the United States and Bermuda."
In describing his background, the U.S. Consulate said, "Mr. Rizzuto is past Chairman of the Professional Beauty Association [PBA]. He was Director of North American Beauty Events LLC from 2005-2018, the producer of Cosmoprof NA – Americas largest B2B Beauty Show – as well as the creator and publisher of 'Style Source Magazine,' which became the global leader in beauty industry publications.
"For over 30 years he helped build his family's business, Conair, into one of the largest private companies in the United States and introduced over 1,000 new products. At Conair, with offices in Asia, Europe, Australia, and Latin America, he was Senior Vice President for Professional Global Business Units.
"He increased sales from $25 million to $300 million within the Pro Group and was credited with over 25 U.S. patents. Mr. Rizzuto attended Arizona State University with a marketing major and has publicly served as Fire Commissioner and on several civic and cultural boards."
The appointment of Mr Rizzuto has caused some controversy, with the Social Justice Bermuda group holding protests outside the U.S. Consulate last month, and also launching a petition against his appointment.
Read More About