Last week the National Museum of Bermuda [NMB] closed out their most successful online fundraiser to date. 'Sheep-scape, Keepsake' asked community members, supporters, and friends of NMB to help name the Museum's resident sheep by making a donation.
Advancement Officer Katie Bennett said: "During the Museum's temporary closure, our resident sheep took over the Museum's social media, posting daily logs that brought attention to the Museum's new digital offerings and education programmes while providing a bit of levity. They were so popular, we promoted them from landscapers to fundraisers!"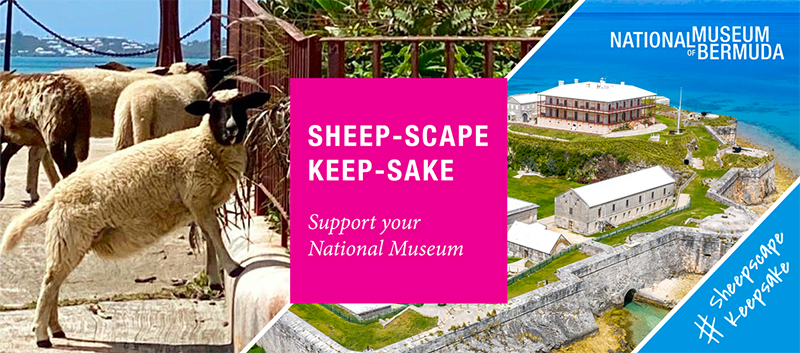 A spokesperson said, "Over the past four months, Museum staff provided educational resources through 'At Home with History' [a new digital programme offering educational and fun activities for all ages]; collaborated with the Bermuda's Department of Education to create school resources for immediate, remote learning; tripled digital offerings to provide historical context and perspective; and launched "United Together: Sharing Bermuda's COVID-19 Pandemic Stories', a community crowdsourced project to document this historic time.
"Donations to 'Sheep-scape/Keep-sake' are supporting NMB's active digital expansion and continued educational programming. They also helped the Museum re-open on June 16th.:
Ms. Bennett said: "Thank you to all who donated to NMB and helped us name our flock. We exceeded our goal by 40% and could not have done that without the support of our community and friends."
The named sheep are: Malabar, Daisy, Onyx, Prickly Pear, Cedar, Huge Bo Peep, Lamb Chop, Darling, Walsingham, Irresistible, Lighthouse, Vince, Olivia, and Lili. You can view the named flock here.
As a non-government and non-profit organisation, NMB relies on donations to carry out its work. In 2020, annual fund donations directly support free admission for local students and school groups and all children under 16, NMB's education department, the maintenance of the Museum's historic buildings and grounds, NMB's dedicated staff and the Museum's collection of 80,000+ objects that help them tell Bermuda's unique story. With reduced admissions and venue hire due to the COVID-19 pandemic, each donation and visit fund the critical work of the National Museum of Bermuda.
"If you would like to support NMB, visit here [US and UK tax payers can find further information on how to donate on that page]. The Museum is open every day from 10am – 5pm [last admission 4pm]. Visitors are encouraged to pre-purchase tickets: www.nmb.bm," a spokesperson added.

Read More About
Category: All, Entertainment, History