The Bermuda Business Development Agency [BDA] has joined forces with the team from Intelligent Insurer and Bermuda Re+ILS to host a special webinar later this month with key representatives from the Bermuda government, the Bermuda Monetary Authority [BMA] and industry to discuss the island's international business sector through and beyond the global pandemic.
A spokesperson said, "The webinar will focus on the jurisdiction's response to Covid-19, how it has remained open for business and insights into what the future holds. Bermuda's Finance Minister, the Hon. Curtis L. Dickinson JP, MP, will join the free, 90-minute webinar, scheduled 11 am [ADT] Wednesday, July 22.
"In addition to providing an assessment of the critical role Bermuda's leading industries play in supporting the global economy, the Minister will focus on the island's evidence-based response to Covid-19, including the government's decision to designate financial services as essential, and his perspective on the challenges that remain and the opportunities that are emerging as the world adjusts to a new normal.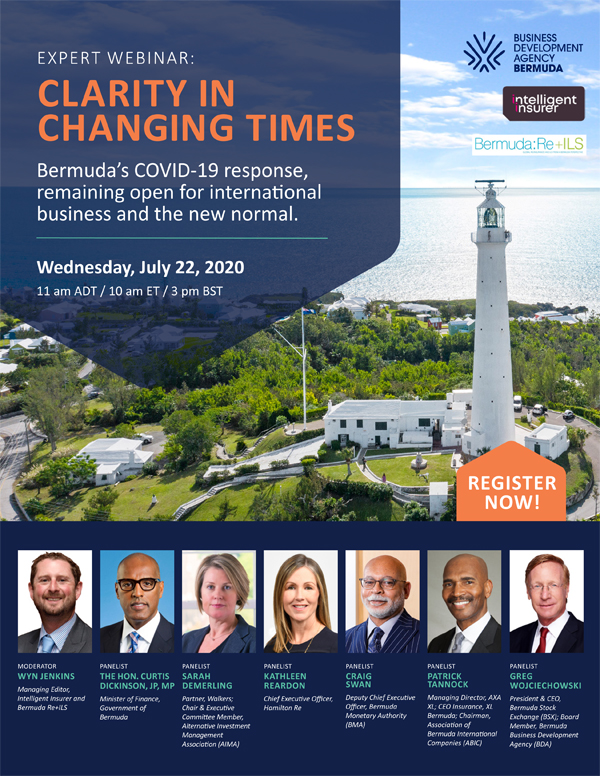 "Aimed at C-suite executives, insurers, reinsurers, brokers, investors and advisors in key international markets, the panel of experts will cover the key questions currently being asked by industry players interested in Bermuda as a world-leading financial jurisdiction.
"Webinar panellists include:
Craig Swan, Deputy Chief Executive Officer, Bermuda Monetary Authority [BMA]
Kathleen Reardon, Chief Executive Officer, Hamilton Re, Ltd.
Patrick Tannock, Managing Director AXA XL, CEO Insurance XL Bermuda Ltd; Chairman of the Association of Bermuda International Companies [ABIC]
Sarah Demerling, Partner, Walkers Bermuda; Chair & Executive Committee Member, Alternative Investment Management Association [AIMA] Bermuda
Greg Wojciechowski, President & CEO, Bermuda Stock Exchange; Board Member, BDA
"During periods of huge systemic pressure such as this, business continuity is vital. Despite the challenges presented, Bermuda is open for business and has been throughout the pandemic. As we now move into the final phase of reopening our economy, this webinar is an excellent opportunity to continue to update our partners on the steps we have taken, the ongoing challenges as we see them and the emerging economic opportunities, including Bermuda's historic role in helping to address newly understood risks. I am pleased that we are able to continue to share insights and have these important discussions together with the team at Newton Media and the international readership they serve," said Roland Andy Burrows, CEO of the BDA.
Wyn Jenkins, Managing Editor of Intelligent Insurer and Bermuda Re+ILS, said: "We are delighted to be partnering with the BDA and Bermuda to host a dynamic discussion and debate around the important role Bermuda and its economy play in the stability and resilience of many other sectors and markets globally, especially, of course, risk transfer. In such uncertain times, people want assurance and stability, which is exactly what Bermuda can offer, and has been offering, throughout the challenges the world has faced."
"To join the webinar, please register here."
Read More About