[Updated] The Premier has just announced that a General Election will be held on October 1st, 2020.
Premier David Burt today stated, "In accordance with the Bermuda Constitution the Governor has accepted my advice to hold a General Election on October 1st.
"The prospect of a series of bye-elections does not represent the best use of the public purse at this time but a General Election by which the people of Bermuda will safely cast their votes will allow us as a community to devote our efforts to the rebuilding of our economy and the creation of greater opportunity for Bermudians who have shown strength and commitment to each other during this challenging period."
The Premier tweeted the letter below saying, "Earlier today I delivered this letter to His Excellency the Governor and he has accepted my advice to dissolve the Legislature in advance of a General Election to be held on October 1, 2020."
The last General Election was held in July 2017, with the PLP winning 24-12.
The letter to the Governor: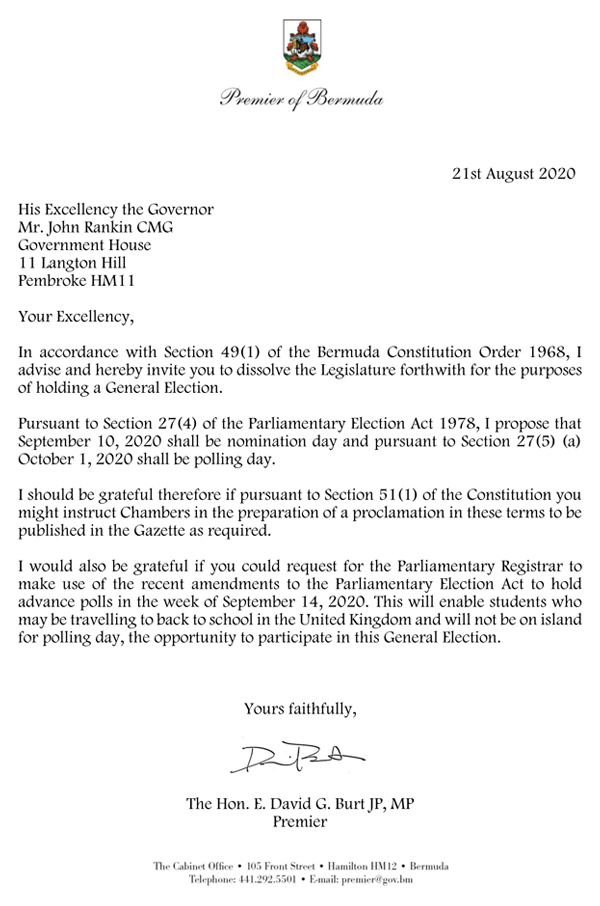 Update 12.05pm: In a statement issued by the PLP, Premier and PLP Party Leader David Burt said, "With the government entering its fourth year, I had to make an important economic choice.
"Do we spend hundreds of thousands of dollars on 3, 4, 5 or more by-elections and then have to pay for a general election? Or, is it more financially prudent to just go ahead and call a general election and allow those MPs who wish to retire the opportunity to do so? I chose the option that saves Bermudian taxpayers money.
"I also thought about the 20 months of bickering that a series of by-elections would bring. Instead of subjecting Bermudians to months of division, I found it prudent to call a general election that would allow the government chosen by the people to focus squarely on our economic recovery and make tough choices.
"I chose to get on with it. The truth is, tough times lie ahead. And, the government needs the backing of the people to make the hard decisions today that will benefit all Bermudians in the long run.
"On October 1st, Bermudians will choose who they want to lead us through these trying times and the economic recovery.
"We ably led us through to the new normal and now we seek your support to rebuild the economy in a way that works for all Bermudians, and not just the rich and powerful who have always had it all.
"Bermuda and the world have changed since the last election. These times require capable, steady and proven leadership – leadership that cares for Bermudians, is focused on ably managing the coronavirus and our economic recovery, providing affordable health care, and phasing out middle schools. We need strong leadership, solid plans for the future, and vision to see us through to better times.
"It is in difficult times like these that we ask for your support, because we are working to keep our promises and we are working every day to put Bermudians like you first.
"The deadline to register to vote to participate in the election will be August 29th. Nomination day will be September 10th. Election Day will be Thursday, October 1st."
Update 2.41pm: OBA Leader Craig Cannonier said, "After complaining about spending $30,000 on a by-election, the Premier now wants to spend over $1m on a general election.
"We are wasting $1m just as the Premier has asked hard working civil servants to take a pay cut and is threatening to make enforced cuts on workers who served this country on the Covid frontline.
"The number of active cases of Covid is now in double digits – the pandemic is not over. It seems the Premier is prepared to jeopardise people's health by holding a general election just so that he can deflect from an economy that is dying on its feet.
"This is not a man who cares about the people.
"This is not necessary now. With more than two years left before an election has to be called and a 25-11 majority – do the job you are meant to do, fix the economy.
"This serves no-one's benefit but the Premier's. This is a man, who by his actions, has demonstrated that he is simply self-serving."
Update 3.21pm: BNV Brief with Premier David Burt about the General Election announcement
Update 3.55pm: BNV Brief with OBA Leader Craig Cannonier about the General Election announcement
Update 4.38pm: A PLP spokesperson said, "The PLP have entered its 4th year in office. As a country we would have had to have a general election in a handful of months. With Mr. Cannonier's announcement of multiple retirements from his party, we could either:
1] pay for 3, 4 or 5 by-elections and a general election soon after or we;
2] pay for a general election.
"The latter is what saves the Bermudian taxpayer money.
"It also saves Bermudians from bickering. We can have by-election after by-election and then a general election, or, we can just get on with it and have a general election.
"The fact of the matter is, Oppositions should want a general election. Oppositions should be prepared for a general election. The PLP would have loved a general election before the OBA had an opportunity to harm Bermudians with the bad airport deal, Morgan's Point or the pepper spraying of seniors.
"This election is about leadership and it is clear that while the PLP offers strong leadership capable of calmly addressing the unexpected, stands firm in the face of adversity and does not lose its composure at the first sign of trouble."
Read More About