[Written by Mikaela Ian Pearman]
Summertime in Bermuda is all about incredible experiences. From boat days with friends to beach picnics with families and everything in between, summer is the season in Bermuda.
It's also the perfect time for dining on the beach and what better location than the Hamilton Princess Beach Club. After opening at the start of the summer for guests only for lunch, the fabulous beach club is finally open for dinner offering a Texas-style Barbecue on Friday nights and an Island Barbecue on Saturday nights.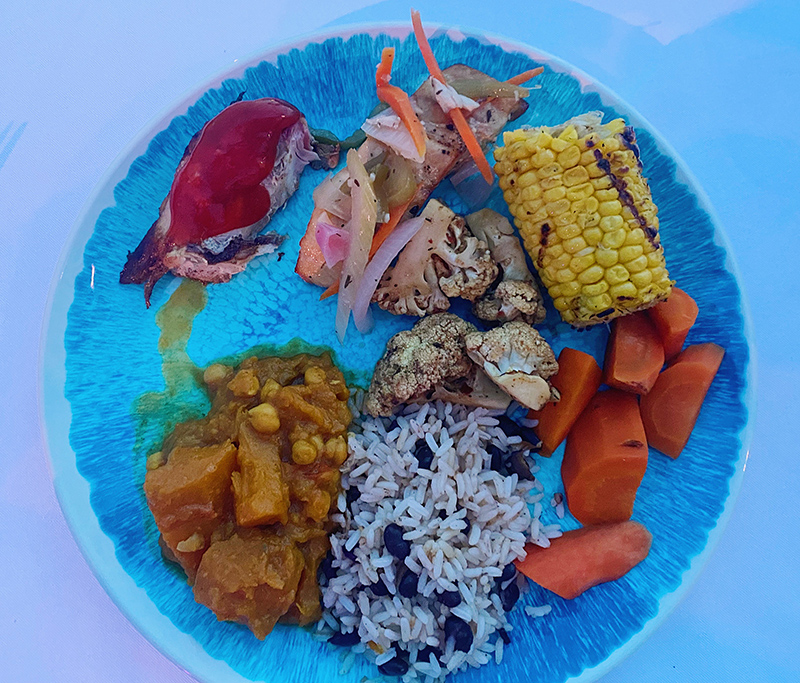 I had the pleasure of attending the Island Barbecue on Saturday night and it was absolutely what I needed after a stressful couple of weeks. On arrival, my guest and I were given a shot size version of the house Sangria with a garnish of pineapple. It was a great way to start what was a wonderful evening.
After the sample of Sangria, we were escorted over to the Tiki Bar for a pre-dinner drink. Twisted Spoon owner Stefan Gitschner was on hand to mix up craft cocktails. As many of you know, I typically order a glass of rosé as it's my favourite thing to drink in the summer, but I figured that would be foolish when I could have a craft cocktail whipped up for me.
Stefan asked me what liquor I preferred, and I decided to go with tequila, something I don't drink often but always enjoy when I do. And I ended up with a sublime cocktail – Casamigos Tequila, Aeperol, mango and lime. It was easily the best cocktail I've had all summer as it was tart, refreshing and easy to sip.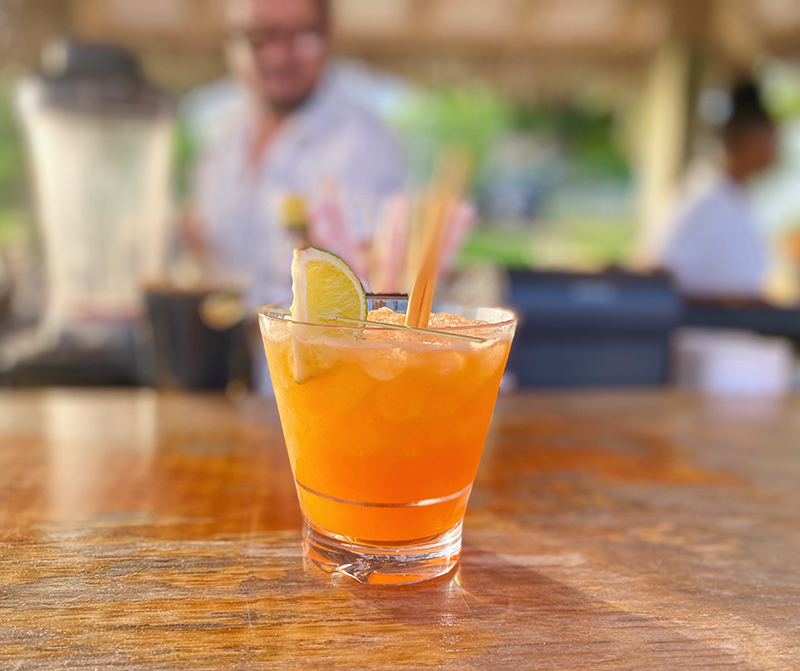 After cocktails, we headed over to our table, which I was surprised to see faced the beach. It truly was relaxing. Prestige, the band fronted by Town Crier Ed Christopher performed a mix of reggae, old school and calyposo hits.
But on to the food. The spread was laid out buffet-style and everything I ate was delicious. For the appetizers, I enjoyed Tuna Ceviche, Ackee + Coconut Ceviche, Watermelon Caprese and Guacamole + Black Bean Salsa with house made tortilla chips.
The standout was the Ackee + Coconut Ceviche with sweet potato, radish, corn and Coco Leche de Tigre. I've never had anything like it and I'd happily eat much more of this ceviche. The local catch ceviche was also excellent, and I also really enjoyed the Watermelon Caprese.
For the mains, I enjoyed Escovitch Snapper, Fire Pit Jerk Chicken, Steamed Carrots, Grilled Corn, Pumpkin + Chickpea Curry, Coconut Rice + Black Beans and Jerk Cauliflower. Before I get into how incredible the food was, let me say this – Chef Richard Zuill did an incredible job creating a menu that was delicious but also relatively healthy. Nothing was fried, greasy or heavy and it was refreshing to see.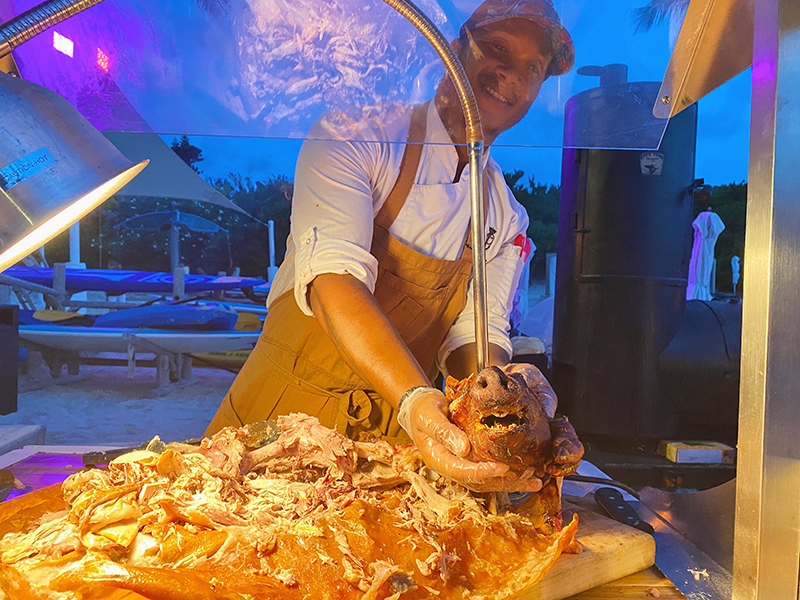 My favourite was the Pumpkin + Chickpea curry – super satisfying and savory while not being heavy at all. The spices, especially the ginger, were wonderful. Another standout was the Escovitch Snapper, which was grilled, not fried. It had great flavour and was cooked perfectly.
I also enjoyed the coconut rice and the jerk cauliflower. It was great to see so many vegetarian options that weren't pasta or a salad. I told Chef Richard that I did miss mac and cheese and he told me to come on the Friday night if I wanted to have some.
For dessert, I enjoyed Coconut Tres Leche Cake, Ginger Rum Cake and Key Lime Tarts. The tarts were my faovurite as they were super tangy, creamy and sweet at the same time.
Overall, I thoroughly enjoyed my evening at the Hamilton Princess Beach Club. If you haven't been this summer, you are definitely missing out on a great atmosphere, fabulous drinks, delicious food and a fun vibe. Go make a reservation for this weekend!

Read More About
Category: All, Entertainment, News