Bermuda's first annual rum festival is set to be staged at the Royal Naval Dockyard this weekend, Saturday [Aug 15] and Sunday [Aug 16], to celebrate International Rum Day.
Goslings Limited and West End Development Corporation [WEDCO] have teamed up with Dockyard businesses to create Goslings Rum inspired offerings, while also lining up an array of live entertainment and giant lawn games.
Stephanie Rodill, WEDCO's Marketing and Events Manager said, "We were thrilled when Andrew Holmes, Bermuda Brand Director of Gosling's Export [Bermuda] Limited, approached us to create a rum festival.
"This festival is perfectly aligned with International Rum Day, which is Sunday, August 16th, 2020, and not only celebrates the superior rum products produced by Goslings, which Bermuda has become known for internationally, but it also celebrates and highlights the creativity and innovativeness of the Dockyard community. Our businesses have taken a well-known and well-loved product and used it to create something entirely new,"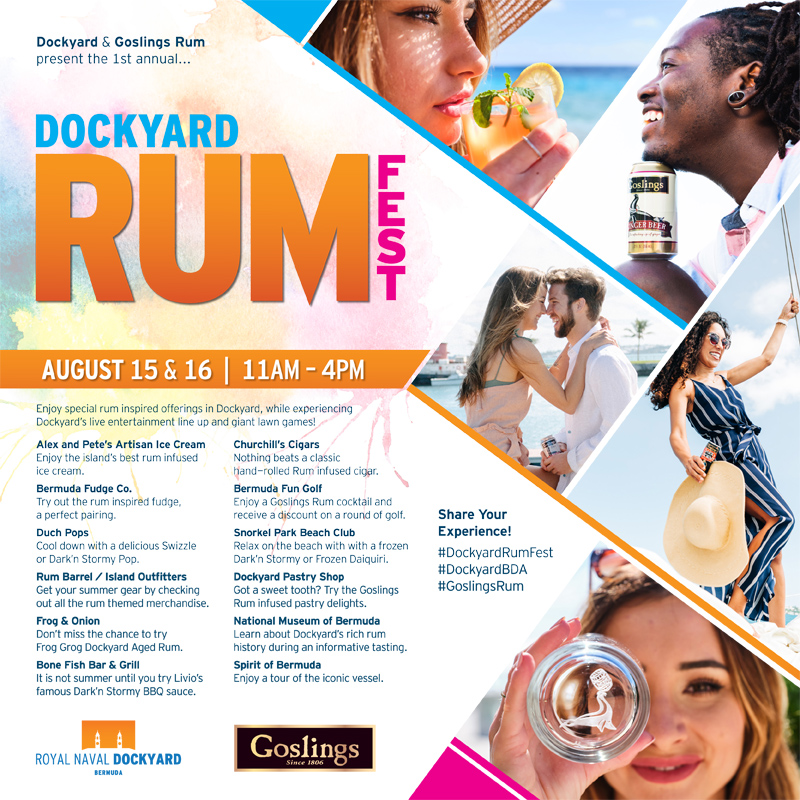 She added: "Although the festival is based around rum inspired offerings, there are activities and entertainment for the entire family to enjoy should our guests wish to create a full family day experience.
"Dockyard has a multitude of retail outlets, activities and experiences open and within walking distance of each other, which makes it the perfect one stop shop for a weekend outing. With her wide-open spaces, it also presents a very convenient environment to have fun, while still observing COVID-19 guidelines."
Andrew Holmes, Goslings Export Bermuda Brand Director, said: "We're very excited to be teaming up with WEDCO for this venture. We understand the trying times our industry partners are faced with.
"It is our hope by supporting this special event it will not only drive traffic to the West End establishments but also allow them to showcase Goslings Rum in their very own rum infused creations. Although we are celebrating International Rum Day worldwide, this is a family friendly event. Dockyard is full of rich history and offers exciting outdoor activities for everyone to enjoy."
The spokesperson added, "Among those taking part are Alex & Pete's Bermuda Artisan Ice Cream with its Gosling rum-infused ice cream; the Bermuda Fudge Company with its rum-inspired fudge; Duch Pops with its Dark 'n Stormy Pops; Frog And Onion Pub with their Frog Grog; Bone Fish Bar & Grill with their delicious Dark'n Stormy BBQ sauce; Rum Barrel and Island Outfitters with their Goslings Rum merchandise; Churchill's Ltd with hand-rolled rum-infused cigars; Bermuda Fun Golf; Snorkel Park Beach Club; The Dockyard Pastry Shop with a rum infused pastry; and the Spirit of Bermuda, who will be offering something special, but you will have to come to the Rum Festival to find out what that is!
"The National Museum of Bermuda will even be participating in the festival with a Goslings Rum tasting at 2:30pm on Sunday, August 16, 2020, where guests will also learn about Dockyard's rich rum history. Tickets for this tasting can be purchase on Sunday at the Museum for $25 per person. The offering will be capped at 25 persons and tickets are sold on a first come, first served basis.
"Live entertainment starts on the Friday night prior to the Festival with Randy Lambert at Café Amici from 5:30pm to 9:00pm and a family-friendly movie on the giant screen in the Victualling Yard at 8:30pm. The first day of the festival will see performances by Wayne Davis from 1pm to 4pm and Mike Hind from 5pm to 8pm in the Victualling Yard; while B&J band will be performing at Bone Fish Bar & Grill from 1:30pm to 5pm. Day 2 of the festival will enjoy entertainment by Randy Lambert at Bone Fish Bar & Grill from 1pm to 5pm.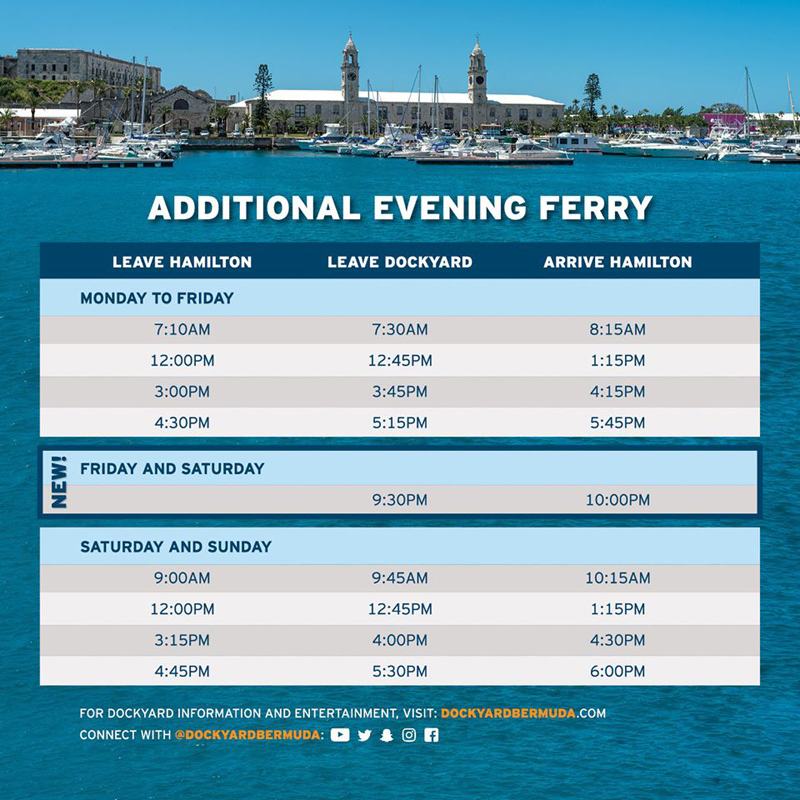 "The public may come to Dockyard for the festival via private vehicle or public transportation, noting that should attendees wish to use the ferry to come up to Dockyard, there is now a late night ferry that can take guests back to Hamilton at 9:30pm on both Friday night and Saturday night.
"Attendees may also arrive via private boat if desired. Dockyard has a Visitor Courtesy Dock located in the Camber for boats 30ft and under. Boats are permitted to use the Visitor Courtesy Dock for 3 hours for free. Additional pay docking is available for overflow, for longer durations and for boats under 120ft at the Pier 41 Marina.
"Attendees can make a reservation with Pier 41 for docking in advance, they can radio or call the dockmaster when approaching Dockyard or they can check in at the Dock Shop. The Dockmaster can be reached via phone at 705.4141 or 238.4141, via email at info@pier41.bm or via radio call at Pier 41 Marina – VHF Channel 16."
Ms Rodill added: "This weekend promises to be an inspired one and we hope everyone comes out to support the efforts of the participating Dockyard community members.
"While in the area, attendees can also take advantage of our other businesses who have opened as well, such as Dolphin Quest, Island Tour Centre, Longtail Floating Water Park, Jon Faulkner Gallery, Makin' Waves, The Clocktower Mall, FryDay's Trampoline Park, Woodys Restaurant and Bar, The Bermuda Arts Centre at Dockyard, The Bermuda Craft Market, The Bermuda Transport Museum, Anchor Restaurant, Locked on the Rock and so on.
"And don't forget, should attendees wish to make an entire staycation experience out of the Rum Festival weekend, they can book in at Prince Alfred Terrace Vacation [Staycation] Rentals.
"We value our relationship with each of our Dockyard community members and Goslings and want to extend a sincere thank you for putting forth the effort required to bring this festival to fruition and for the continued commitment to Dockyard's growth and excellence. We hope this Rum Festival will be the first of many rum festivals to come, each year growing on the creativity and innovation of the previous year."
"The event will take place on Saturday and Sunday, August 15 and 16, from 11am to 4pm. For more information, the public may visit dockyardbermuda.com/events."
Read More About
Category: All, Entertainment