Troy Anderson was officially welcomed to the Bermuda Weather Service [BWS] as a full Meteorological Forecaster.
A spokesperson said, "Troy Anderson, the first Bermudian forecaster to qualify in over a decade, was officially welcomed to the Bermuda Weather Service [BWS] as a full Meteorological Forecaster, after completing on-the-job training at BWS and a rigorous course at the UK Met Office College.
"In a brief ceremony following a tour of BWS, Minister of Transport, the Hon. Neville Tyrell, JP, MP, Minister National Security, the Hon. Renee Ming, JP, MP, Bermuda Airport Authority Chairman Lawrence Scott JP, MP and Airport Authority CEO Lester Nelson congratulated Troy on his major achievement.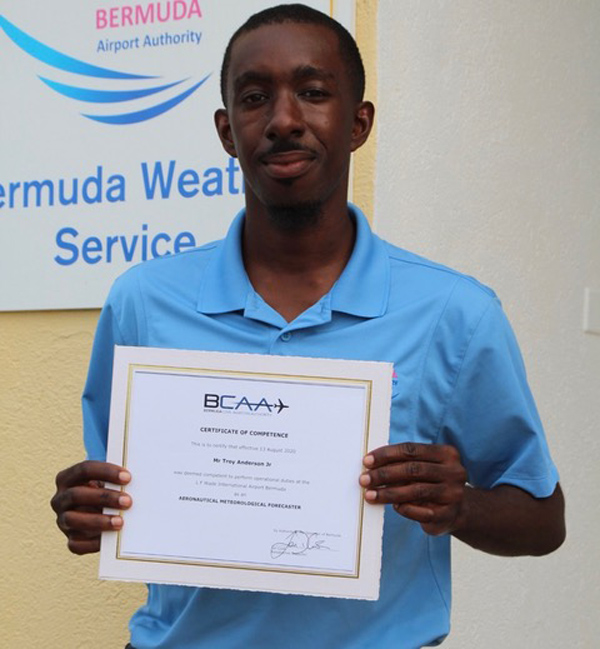 "A graduate of Bermuda Institute, Troy studied at Florida International University and has a Bachelor's Degree in Geosciences [Atmospheric Sciences track], with a Minor in International Relations.
"His graduate trainee programme with the Bermuda Airport Authority included training with BWS' team of operational forecasters and successfully completing the Operational Meteorologist Foundation Course at the UK Met Office College, covering aviation, marine and public weather forecasting.
"Troy's time in England was cut short by the onset the Covid-19 pandemic when the College had to shut down operations. Before the shelter-in-place began locally, the Airport Authority brought Troy back to Bermuda to finish his course work and be assessed remotely."
"Troy is dual certified as both a forecaster and meteorological technician [observer]. He received his first qualification as an observer last summer after training with the BWS observation team.
"Troy completed his Meteorological Forecaster qualification just in time for the height of the currently very active Atlantic hurricane season. Last year, he was on-site and training at BWS when Bermuda experienced Hurricane Humberto. He produced a number of social media videos highlighting important aspects of the storm for the public," Dr. Guishard said.
Describing his lifelong interest in weather, Mr Anderson said, "I was eight-years old when Hurricane Fabian hit Bermuda. Shortly after, my mother took me to visit BWS and I've been hooked on weather ever since. Dr. Mark Guishard, BWS Director has been a mentor to me for many years for which I am very grateful. I enjoy both forecasting and breaking down the science of atmospheric conditions. I love what I do."
Read More About