Warwick Academy is celebrating their "most successful University/College acceptance in recent history where 98% of their graduates achieved their first choice."
A spokesperson said, "Each year students will apply and rank in order of preference a range of tertiary options from around the world. In this most pleasing of results 54 of the 55 graduates achieved their top choice after a summer of upheaval.
"The 55 graduates in the Class of 2020 also achieved 100% pass rates across the IB Diploma, IB Individual Subjects and BTEC Programmes. In doing so they surpassed the worldwide pass rate of 79%.
"In addition, 35% of students achieved an excellent 35 or more points. Whilst these are outstanding and headline grabbing results in themselves, the work done by the students alongside the careers team at the school resulted in this exceptional University/College first choice acceptance rate.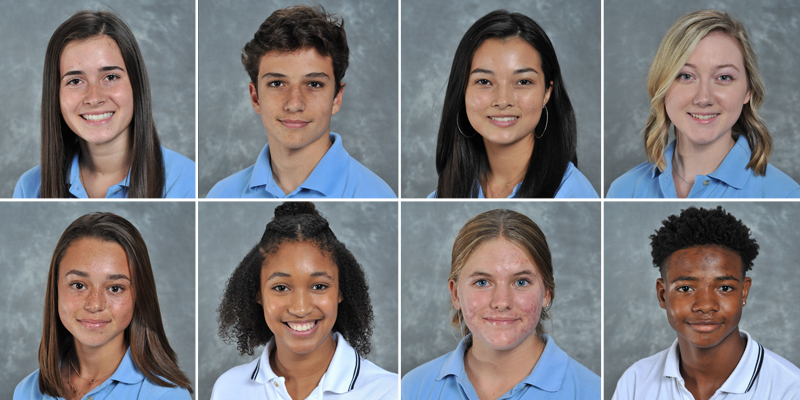 Principal Mr. Dave Horan said: "After a most challenging year where international examinations were cancelled and examination Boards made backtracks and U-turns this is an outstanding result from the Class of 2020.
"Whilst examination results are hugely important we also focus on other key measures. Are our students getting into the University, College or career option that is the very best for them; are they leaving Warwick Academy as well-adjusted young adults who can contribute to the society they find themselves in; and are they leaving with the skills to be effective decision makers.
"Looking at their success in navigating the Covid-19 examination environment, the resilience they have shown throughout 2020 and now their admission to wonderful tertiary institutions around the world, we believe we have hit the mark. I am very proud of all of them and this announcement celebrates all 55 of them and their achievements after a very difficult 6 months."
"The three pathways that students can follow in the Sixth Form at Warwick Academy are allowing for flexibility and more accurate opportunities for students to ensure they get to their very best University, College or career option. Along with a broadened careers team the school is seeing the results of what is a carefully planned process.
"Amongst those taking the IB Diploma and scoring over 35 points are the following destinations:
Anna Francoeur with 41 points heads to the University of Florida, USA and is undeclared
Jordan Etemadi – 40 points – McGill University, Canada – Economics
Kathryn Mason – 39 points – University of Edinburgh, UK – Accounting & Finance
Christina Costello – 37 points – Fordham University, USA – Business
Kayode George – 37 points – Ryerson University, Canada – Film
Sophia Marsh – 36 points – Queens University, Canada – Commerce
Jaeshri Romeo – 36 points – University of British Columbia, Canada – Undeclared
Nadia Attride-Ramella – 35 points – University of Edinburgh, UK – Civil Engineering
Ellie Cordeiro – 35 points – after a gap year – Queens University, Canada – Business
Saxon Davis – 35 points – University of British Columbia, Canada – General Science
Alexys Murray – 35 points – University of Bristol, UK – Biomedical Science
Logan Soares – 35 points – University of Southampton, UK – Marine Biology
Ethan Sousa – 35 points – University of Cardiff, UK – Mechanical Engineering
Shani Tucker – 35 points – University of Southampton, UK – Biomedical Science
"For those taking IB Individual Subjects and scoring over 30 points are the following destinations:
Alexandra Mullholland with 32 points heads to Elon University, USA to study Psychology
Ariel Taylor – 31 points – University of Brighton, UK – Psychology
Kylah Hall – 31 points – Word of Life Bible Institute, USA – Bible Studies
"For those taking the BTEC Programme and achieving a Distinction or higher are the following destinations:
Holly Wakely with a double Distinction heads to Bond University, Australia after a gap year to study Hospitality
Taj Lowery – Distinction – High Point University, USA – Undeclared
"Further destinations achieved by the Class of 2020 include:
Canada: 2 students to Queens University [Psychology, Arts & Education], Brescia University [Criminology], 5 to Dalhousie University [Commerce, Computer Science, Sociology, Business Management x 2], 2 to Ryerson University [Communications, Journalism], Ontario Tech University [Auto Engineering], Brock University [Criminology], Sheridan University [Art] and York University [Kinesiology]
United Kingdom: University of Reading [Human Geography], Bournemouth University [Psychology] University of Art in Bournemouth [Art], 2 to University of Essex [Youth & Childhood Studies, Business Management], 2 to University of the West of England [Cyber Security, Biomedical Science], University of Southampton [Business Management], Middlesex University [3D Animation & Gaming], 3 to University of Kent [Law x 2, History], University of Cardiff [Law] and University of Exeter [History & International Relations]
USA: Rollins College [Undeclared] and Georgia State University [Undeclared]
Bermuda: 5 to Bermuda College [Science, Film, Architecture, Arts x 2]
"It would be remiss of the school not to thank all the staff involved with the Class of 2020 and their parents for their support this past academic year."

Read More About