[Written by Dale Butler]
There were so many pluses about this event that it can only be given the title par excellence from the initial greeting by General Manager Rehanna Palumbo, who has a reputation for friendliness and standards, to the heavenly and pristine paradise setting of Coco Reef, where the live music and dinner showcase took place around the pool with a surprise crescendo at the end.
No doubt the hotel view is what the BTA needs to promote, along with about six other outdoor Bermuda venues that really have an atmosphere of romance and peace that even impressionist artists and graphic artists might never capture; even a photograph is a brief snap shot.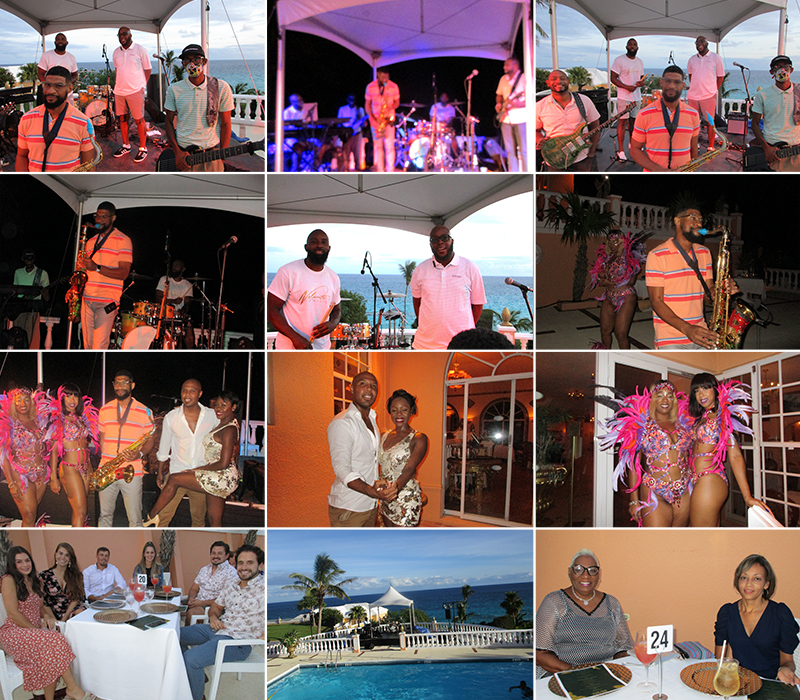 The patrons were right, "This was the night" [Kool and the Gang] that was full of "Hot Buttered Soul" [Isaac Hayes] that let the Tino Martinez Quintet develop a broad based repertoire of ska and reggae that delighted everyone once they started promptly at 7.00pm.
I am pleased to note, and to hear from others, that local musicians are determined to keep standards high and find creative venues to perform during this Covid-19 period.
Introductions and performance notes were given by the energetic, inimitable, and accomplished "Mr. Personality" Roddy Nesbitt Jr. [Rowdy Piper] throughout the night, and while he only sang a few lines when on stage, he demonstrated he has a promising voice.
Contrary to the last time I heard the band, they added "Step Right Up," a Bermuda Strollers tune recognizing this former popular band. After all, this is Bermuda, and I feel sure they will continue to add a taste of Bermuda, as indeed was done with the menu and drinks. The welcoming Rum Spritter cocktail was a perfect example of a bright red Bermuda sunset.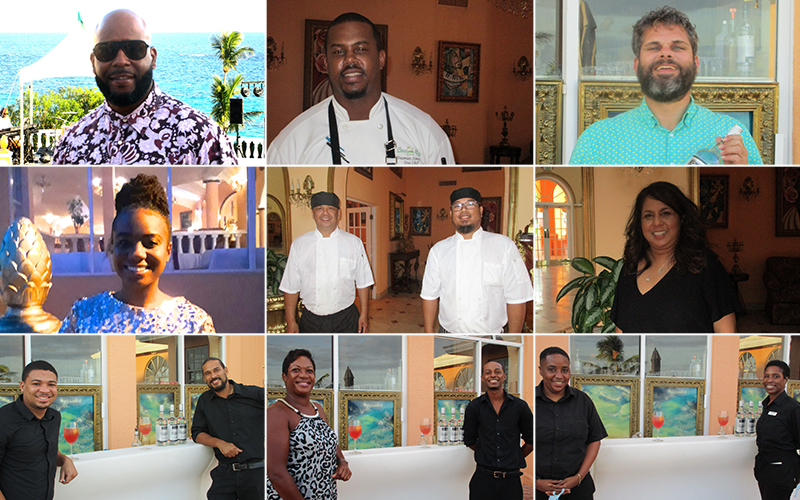 The musicians are all outstanding and never missed a beat. How they can enjoy themselves on every tune and stay disciplined was beyond belief. The crowd loved them. Tino, playing his saxophone, walking through this sold-out event, was well received.
This time band members – Ramond George, Dino Richie, Troy Washington, and Torrey Tacklyn – demonstrated that they have Billboard potential and will one day produce their own CD for distribution, I am sure. This time they decided to have some solos in the songs, clearly demonstrating their skills. Here are just a few of their non-stop repertoire:
Freedom Sound by The Skatalites
Soca Tattie by Bryon Lee & The Dragonaires
Soca Seduction by Alison Hinds
Queen Majesty by The Techniques
I Shot the Sherrif and Jammin' by Bob Marley and the Wailers
I attended this event with mouthwatering expectations because of the vivid descriptions of the food given by young Sous Chef Daamian Simmons, a graduate of the Bermuda College who had also interned overseas.
At age 17 he was prompted by his mom to follow his passion for cooking. With stints at the Hamilton Princess, and later South Carolina, he was determined to be well-rounded in the kitchen and have a variety of skills. Bermuda hotels, like the Reefs, came in for a lot of praise for the opportunities given to him to learn a great deal.
Unfortunately, tragedy struck within weeks when both his parents died and it took a while for him to get back on his feet, but he did. As difficult as it might seem to us to produce such a menu and get it all on the table fresh, it was a task he enjoyed and did well with his small team consisting of Ben Villarante Jr, Mark Anthony Anola, and Raul Valdez.
Here are the menu, drinks and service grades I awarded:
Appetizers:
Local lobster Ceviche [A]
Zucchini Fritters with garlic sauce
Cocktail: Passion Fruit Rum Punch: [A++]
Mains:
Pistacho Crusted Rack of Lamb with rosemary rum peppercorn jus: [A+]
Cilantro & lime marinated local fish or Sweet Potato Gnocchi
Cocktail: Pepper Rum Colins or Loquat Daiquiri [A++]
Sides: A dish for two [A++]
Truffle Macaroni and cheese with Panko Crust
Whipped sweet potato mash
Toasted local squash with tarragon, butter & garlic
Sauteed greens and caramelized onions
Dessert:
White chocolate pudding [A++]
Vegan Apple Crisp
Cocktail: Banana Rum old fashioned [A++]
[Grades are based on what I ate but I did get feedback from guests who had other dishes and they were also delighted]
An all Bermudian ancillary staff were also excellent with their greetings, friendliness and services as follows:
Goslings Brand Director [Bartender]: Andrew Holmes [A+++]
Waiters: Kyle Dill, Delente Frost was excellent at our table, Mavis Matthew & Dajon Richardson [A+++]
Jack of all trades: Keisha Nesbitt [A+++]
Sales Manager: Patrice Williams: [A+++]
Producing these shows is never easy. Leanna Lambert the Marketing and Communications Co-ordinator at Goslings for two and a half years earned five stars for organising the event with the hotel.
Just when we thought it was all over, and the only thing to make this the best event ever would be fireworks, she did even better when locals Derek Musson and Salma Smith, graduates of Clave Dance and Sea Breeze Salsa for over 10 years, suddenly appeared and gave a breathless dance performance to the sound of "Chan Chan", which complimented the numerous pieces of Cuban art which award winning hotelier and owner John Jefferies has acquired in his entrance foyer.
The audience loved it and just when they were expressing their delight with loud applause Tralita Anderson and Charda Simons appeared in Carnival dress as the Party People Masquerade. What a double crescendo we experienced.
It was an evening like no other that met the world standards established by Gene Steede and the late Don and Elsbeth Gibson. The only thing left would have been fireworks, but they would have been redundant with such a talent-filled night that ended around 10.15pm. Nobody left as DJ Earshawn DeShields came on with a great selection of songs.
We enjoyed every single minute of the evening and the entire crew of organizers need to be commended for bringing life back into Bermuda in an extraordinary way by reinforcing the five things you must do before you die:
Enjoy the cooking of Daamian Simmons and staff
Hear the Tino Martinez Quintet
Enjoy some of those Gosling cocktails
Enjoy a bottle of wine from the hotels excellent wine list
Enjoy Coco Reef service Thursdays to Sundays
- Dale Butler is the author of "Music on the Rock" and many other books

Read More About
Category: All, Entertainment, Music, News