[Opinion column written by Agathe Holowatinc]
In North America, September and October are the months in which walnuts are harvested and, for many reasons, these have long been my absolute favourite nut!
Did you know that walnuts are often alluded to as the "king" of nuts? Dr. Mercola writes:
'Oftentimes, the simplest foods are best for your health, and this is certainly the case for nuts, in which Mother Nature has crafted a nearly perfect package of protein, healthy fats, fiber, plant sterols, antioxidants, and many vitamins and minerals. Among nuts, the case may be made that walnuts are king, as research shows they may boost your health in a number of ways at very easy-to-achieve doses.'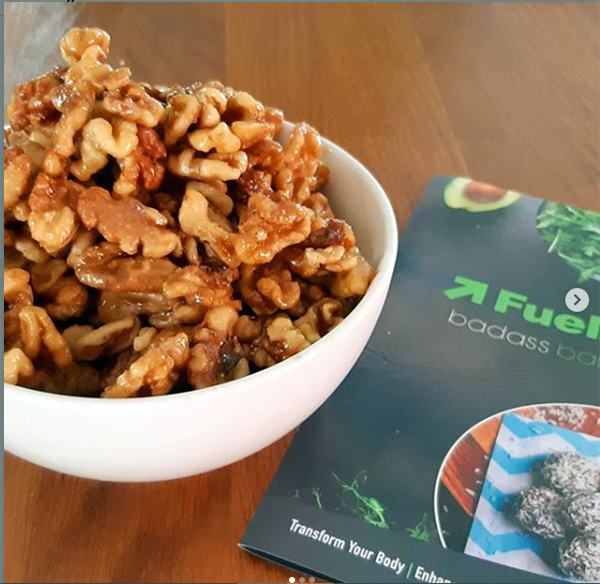 Walnuts are healthy because of their high concentration of nutrients.
Walnuts are rich in powerful antioxidants that fight free radicals – the culprits that cause aging. So these amazing nuts have some serious anti-aging properties! The concentration of antioxidants is highest in the papery skin of the walnut, so it's important to consume it. Some researchers have called the powerful antioxidants found in walnuts "remarkable."
Walnuts are a super plant source of Omega-3s [essential fatty acids] – significantly higher than any other nut. These boost mood, fight depression, improve brain function, enhance skin health, and help with so many processes in your body that you really do not want to miss out.
In addition to the antioxidants and Omega-3s, walnuts contain iron, selenium, calcium, zinc, folate, melatonin, vitamin E and some B vitamins. They're a nutrient powerhouse!
Because of specific phytonutrients and the high amounts of polyunsaturated fats found in walnuts, they are very good for brain health and brain function. Which is easy to remember because they look like little brains.
Walnuts have been found to be excellent in helping people feel full and can contribute to healthy weight loss. They also have compounds that burn belly fat.
Walnuts have certain fats and nutrients that improve sperm quality and support reproductive health in men.
Consuming walnuts can enrich the gut microbiome and increase certain good bacteria strains. This boosts immunity and mood, digestion and absorption of nutrients.
Walnuts are a great anti-inflammatory food. They are good for heart health and also have cancer-fighting properties.
There are even more health benefits, but I wanted to list some of the major ones; quite the list, right?!
They're also so delicious, raw or roasted! Although the highest level of health benefits comes from eating these nuts raw, roasting them once in a while is a nice way to switch things up, and they're still a nutrition powerhouse.
As a treat, I'm going to share one of my favourite walnut recipes. It's a total crowd-pleaser. Kid love it too! Sea salt and maple roasted walnuts are a 'real food' snack. Put these into little clear gift bags for friends or colleagues, toss them on a salad, or pack them in your kid's lunch bag for school or your carry-on for a long flight as they will sustain you.
Be warned: they're addictive, so watch out! Maybe have someone else portion control them for you [not kidding – trust me on this].
Sea Salt & Maple Roasted Walnuts Recipe – Serves 4
Ingredients:
2 cups walnuts, halved
1 Tbsp coconut oil or avocado oil
½ cup organic maple syrup
1 tsp Celtic sea salt
1 tsp maple or date sugar [optional]
Directions:
Preheat oven to 400 to 415 degrees. Rub first three ingredients together and put into a baking dish. Bake for 10-12 minutes until golden brown. Remove from oven and sprinkle with salt to taste, and maple sugar [optional]. Let cool. Place into a glass container and refrigerate to keep the walnuts crisp and fresh.
Spread the love; feel free to share this message with someone you care about.
Stay safe and healthy everyone!
"Get FUELLED today for a healthier and happier tomorrow!"
If you enjoyed this post and would like to receive this kind of information regularly, sign up for my weekly e-newsletter to get these updates delivered right to your inbox.
- Agathe Holowatinc is a Certified Integrative Nutrition Health Coach, co-founder and director at FUELLED Bermuda Ltd., published author, health food private chef and health industry entrepreneur. She is a passionate advocate of real food, holistic approaches to health and communicating big ideas in a simple way. Visit fuelledlife.com or call or WhatsApp on 532-0426.

20 Most Recent Opinion Columns

Opinion columns reflect the views of the writer, and not those of Bernews Ltd. To submit an Opinion Column/Letter to the Editor, please email info@bernews.com. Bernews welcomes submissions, and while there are no length restrictions, all columns must be signed by the writer's real name.
-

Read More About
Category: All