The Rugby World Tens Series Cup is set to take place tomorrow [Nov 7] at the National Sports Complex.
A spokesperson said, "With the World Tens Series League wrapped up by London Royals earlier in the week, attention now turns to the WTS Cup this Saturday 7 November at the National Sports Complex in Hamilton, Bermuda.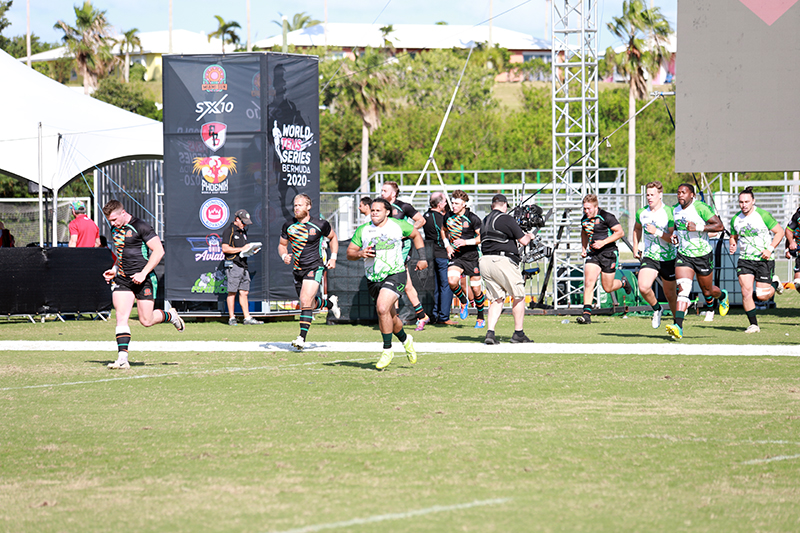 "Where each team finished in the World Tens Series League has played a part in the draw for the WTS Cup. As a reward for finishing top of the table, London Royals have received a bye through to the semi-finals where they will meet the winner of quarter final one between Ohio Aviators and Miami Sun which kicks off at 10am local time.
"Both Ohio and Miami have been very evenly matched throughout the World Tens with their two contests in the league both making for fascinating viewing. The Sun edged to an 11-10 victory in round one, before a late Nick Feakes try and Ben Cima five-point conversion levelled the scores in round two and took us to our first World Tens shoot-out. Mat Turner won the battle against Cima to give Miami Sun the win. Two very evenly matched sides should give us an exciting start to the day's play.
"Rhinos and Phoenix meet in the second quarter final of the morning session. The team from Southern California topped the table after round one of the World Tens League and, following a disappointing day three of league action, returned to winning ways on day four to end round two with three wins from four and cement their positions as league runners-up.
"Rhinos prevailed 38-10 in round one against Phoenix, before a full Phoenix squad lost out 18-5 in the second fixture between the sides in round two. Phoenix got a win against Miami which will give them confidence going into this match-up with the Rhinos.
"SX10 have only played four World Tens Series fixtures thus far, but were formidable when they made there entrance, winning three of their four matches, only narrowly losing out to the Aviators in their third match of the day. Asia Pacific Dragons finished third in the league table but will be buoyed coming off their win over the London Royals in the final match of round two. The WTS Cup quarter final will be the first meeting between the two sides.
"London Royals will play the winner of Ohio Aviators v Miami Sun in semi final one, with the winner of the Rhinos v Phoenix quarter final coming up against either SX10 or Asia Pacific Dragons in semi final two."
WTS Cup Fixtures
10.30 Aviators v Miami
11.00 Rhinos v Phoenix
11.30 Asia Pacific Dragons v SX10
13.30 SF1 Royals v Aviators/Miami
14.00 SF2 Rhinos/Phoenix v APDs/SX10
16.00 Cup Final
WTS Cup Squad Lists
Ohio Aviators: 1. Brad Tucker, 2. Eric Howard, 3. Chris Baumann, 4. Kyle Baillie, 5. Riekert Hattingh, 6. Tesimoni Tongauiha, 7. Dylan Fawsitt, 8. Pat O'Toole 9. Christian Rodriguez, 10. Ben Cima, 12. Bryce Campbell,13. Tiaan Loots, 14. Will Magie, 15, JP Smith, 16. Spencer Krueger, 17. Shawn Riley, 18. Shalom Suniula, 19. JP Eloff, 20. John Sullivan
V
Miami Sun: 1. Wesley Sione Teo, 2. Anthony Parry, 3. Josh Larsen, 4. Mike Brown, 5. DTH Van der Merwe, 6. Matthew Hughson, 7. Marcus Satuva, 8. William Vakalahi, 11. Tyrie Allen, 12. Luca Tani, 13. Moses Lalasava, 14. Nolan Tuamoheloa, 15. Joey Sok, 16. Mark O'Keefe, 17. Troy Lockyear, 18. George Buck, 19. Nick Bowyer, 20. Janry du Toit, 21. Mathew Coore, 22. James Stokes
Rhinos: 1. Zach Bonte, 2. Adriaan Jacques Rabe, 3. Ollie Nott, 4. Jurie Van Vuuren, 5. Patrick Regan, 6. Eric Naposki, 7. Carl Meyer, 8. Mikey Te'o, 10. Courtney Winnaar, 11. Jake Campey, 12.Cyrille Cama, 13. Christian Holmes, 14. Conor Kindregan, 15.Luyolo Dapula, 16. Jack Casey, 17. Jake Hidalgo, 18. Nicholas Taylor, 19. Julian Dominguez Widmer, 20. William Leonard, 21. Tyler Fujimoto
V
Phoenix: 1. Gareth Heidtmann2, Edmund Ludick, 3. Aaron Brody, 4. Denis Coulson, 5. Carel Coetzee, 6. Lewis Berg, 8. Patrick Holman, 9. Gavin Mills, 11. Robbie Chalmers, 12. Jonas Mikalcius, 13. Stefan Ungerer, 14. John Poland, 15. Harry Barlow, 16. Dean Murphy, 17. Andell Loubser, 18. Zygimantas Radzius, 19. Corey Jones, 20. Aki Raymond, 21. Scott Bickerstaff, 22. Josiah Twum-Boafo
Asia Pacific Dragons: 1. Api Naikatini, 2. Thretton Palomo, 3. Maikeli Naromaitogo, 4. Villi Tolutau, 5. Jamson Fa'anana-Schultz, 6. Miles Wakelin, 7. Chris Eves, 8. Tomasi Alosio, 11. Kurt Morath, 12. Nafi Tuitavake, 14. Rowan Gouws, 15. Tommy Bell, 16. Faafetaia Teo, 17. Dominic Akina, 18. Jerome Nale, 19. Alex Khutsishvili, 20. Elden Schoeman, 21. Jamil Robinson, 22. Lino Saunitoga, 23. Hemaua Samisoni
V
SX10: 1. Frikkie De Beer, 2. Andrew Amonde, 4. Gary Porter, 5. JT Jackson, 6. Harry McNulty, 7. Oscar Ouma, 8. Thinus Van Zyl, 9. Luke Treharne, 10. Craig Hunt, 11. Collins Injera, 12. Willy Ambaka, 13. JP Du Plessis, 14. Connor Wallace-Sims, 15. Oscar Dennis, 20. Cecil Afrika, 22. Cory Daniel
London Royals: 1. Andrew Duratalo, 2. Sean McNulty, 3. Aldo Campbell, 4. Devante Onojaife, 5. Stephan Coetzee, 6. Richard de Carpentier, 7. Max Northcote-Green, 8. Ross Neal, 10. Tom Mitchell, 11. Tom Bowen, 13. Zinzan Elan-Puttick, 14. AJ Davis, 15. Ben Foden, 16. David Busby, 17. Tom Emery, 18. JP Aguirro, 19. Gio Douyon, 20.Dan Norton, 21. Colin Hughes, 22. Jimmy Haley

Read More About