The Bermuda Entertainment Union has postponed its AGM until further notice "due to the recent increase in positive cases of Covid-19."
A spokesperson said, "On Monday, December 7, 2020, the BEU Executive and Trustees unanimously voted to postpone their AGM until further notice due to the recent increase in positive cases of Covid-19.
"Individuals are encouraged to join or renew their annual BEU dues at the 50th anniversary rate of $50 for persons 18 and over and $25 for persons under 18.
"Members who joined or renewed in 2018 or 2019 must renew their dues before or at the AGM once it is rescheduled.
"Financial members in good standing are encouraged to consider being nominated for a position on the Executive Committee or nominate a member to serve on the Executive. New members who have recently joined the BEU, with under one year's membership, are eligible to be nominated for the Executive Committee, but will only be allowed to serve as a member-at-large.
"If additional information is required, please contact us at info@bermudaentertainmentunion.com or 338-8029."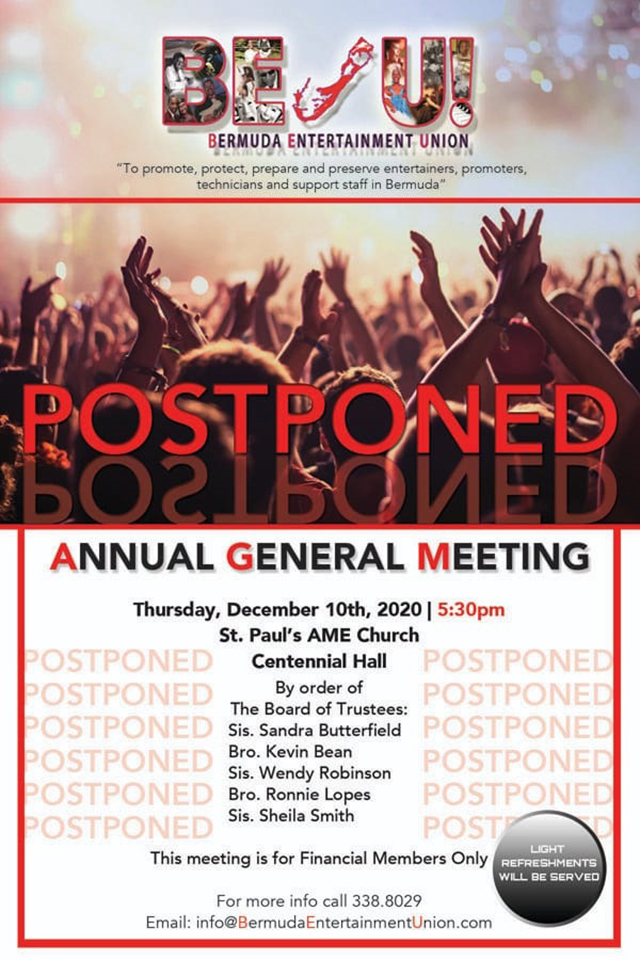 As the island and world deals with the Covid-19 pandemic, we are doing our best to provide timely and accurate information, and you can find more information on the links below.
Read More About
Category: All