Boulevard Café served up its last meals yesterday [Dec 8] as the restaurant, which was previously located at the airport, closed after almost 20 years of service.
A spokesperson said, "Boulevard Café at the 'old' LF Wade airport served up its last meals yesterday, December 8th, after almost 20 years of service faithfully taking care of passengers, airport and airline personnel, US Customs, Bermuda Customs and Immigration and all those passing through the airport."
Head Chef Angelo D'Amato and General Manager Nicola Russo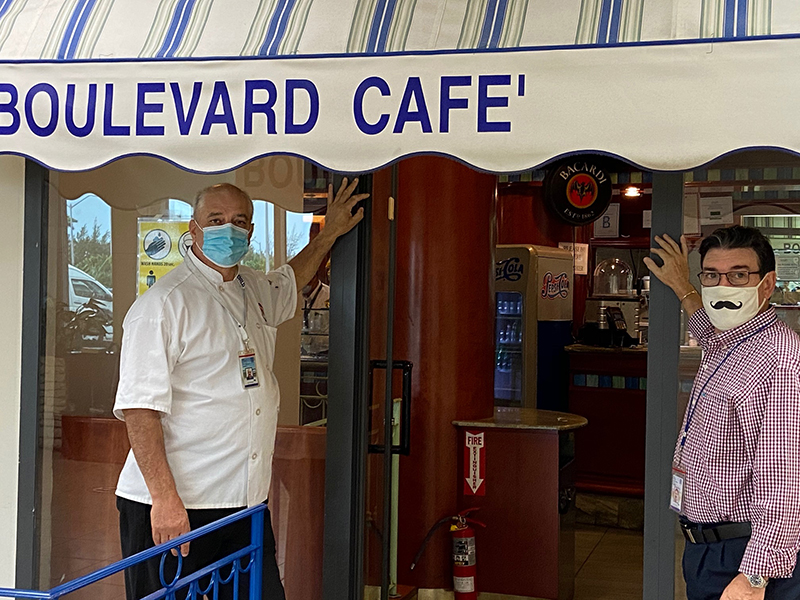 Nicola [Nicky] Russo, General Manager of the Airport's Food and beverage concessions, and Angelo D'Amato Executive Chef said they were "fortunate to have a phenomenal team that never faltered when there were delays or diversions.
"The many Bermudians who worked there over the years are too many to mention and all were offered ongoing positions with us although some have elected to go and work for the new airport," the company noted.
Dale Butler, a former director of the company stated, "Every time Nicky and his team were asked to come to the wicket they did and over the years handled delays and late night diverted flights whenever needed."
Nicola Russo and US Customs officer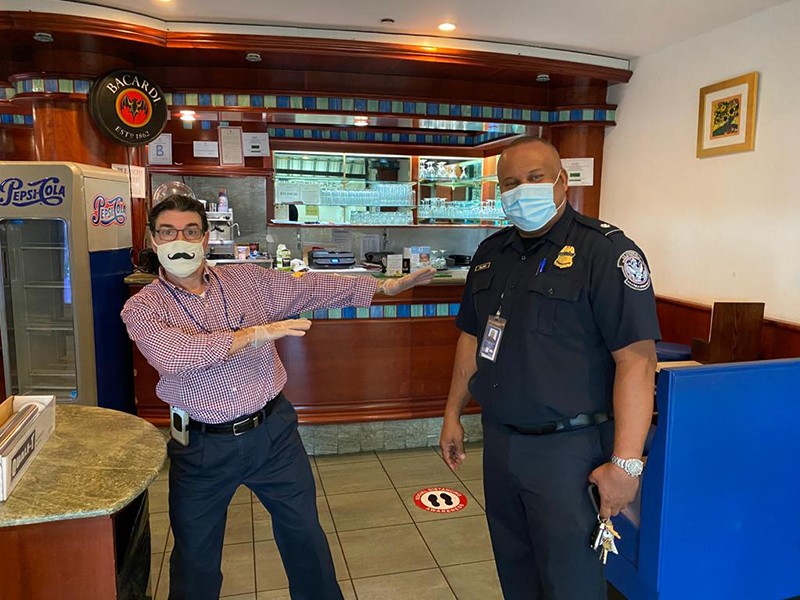 Airport Duty Officer, Charlotte Bosch De Noya said, "I have had the pleasure of working with Nicky Russo and his Cafe Boulevard and Sportbar teams for the past 14 years.
"Over that time I have not only enjoyed countless meals myself, but also come to appreciate them as an amazing asset both to the entire east end, and of course the airport community. Running a restaurant in an airport environment is entirely different than other locations and Nicky and his team have always gone above and beyond to make sure that staff and passengers were well looked after."
At the free breakfast provided yesterday for all airport personnel, Wesley Trott commented that "they were all grateful for the service over the years and along with others present wished Nicky all the best in his endeavours going forward."
"Nicky [but especially his wife] is grateful he will no longer be receiving calls after midnight from the airport and whilst he will miss all of the camaraderie with the airport staff, he will not miss the daily trek from Southampton to the airport! In the meantime, he wishes all the best to the entire airport team in their new home across the way," a spokesperson said.

Read More About