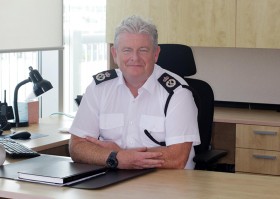 [Christmas message from Commissioner of Police Stephen Corbishley]
Dear Community,
Well, it's Christmas! Even though it's been a year the likes of which we would all agree hasn't been seen before, nor would we want to experience again.
However, it is the time of year when I hope all of us can spend some time with family, friends and loved ones, to enjoy some merriment and festive cheer.
I do recognise however that some of us may find this season difficult for any number of reasons. Many partner organisations, including the Bermuda Police Service [BPS], are there to help, so if anyone does feel vulnerable they can pick up the phone to speak with someone who cares and can help.
Additionally, as this is a time of reflection and for many religious spirit, we can all check in with those we know [or the neighbour we do not] to see that they are ok.
There have been so many good things that have taken place over the past 12 months.
The BPS has had its challenges, with sadly, incidents of homicides, to which my thoughts are with those families who have experienced tragedy. We also continue to pursue with vigour the search for Chavelle and to bring those responsible for what has happened to her to justice.
However, yet again the BPS has adapted, not least with the challenge of supporting Government's agenda to protect us from COVID-19, and delivered once again fantastic safety to our communities.
The incident the other day involving our officers rescuing a lady from almost certain death after her car went into the sea, is an excellent example of why the BPS is the first and last blue light organization for many issues, working 24/7/365.
The BPS is a team, tied together as public servants.
This service is something I know our officers and staff are proud of as it is the reason why we do our jobs.
Next year we are going to focus heavily on a range of strategic issues to make the BPS better in addressing the varied challenges across our island; from serious and organised crime through to community policing.
I hope everyone finds a way within the varied regulations we now follow to have a period of happiness this Christmas time.
I finish though with a sincere thank you to our communities.
This thank you reflects the support we receive each and every day from those we serve. Policing is not just about the BPS. It involves us all doing our little bit to ensure Bermuda is a safe place to live, work and visit.
I therefore raise my glass and wish all our diverse communities the BPS' best wishes at this time of year.

Read More About