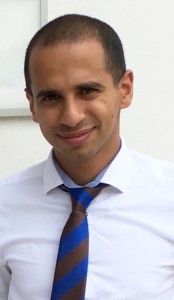 [Column written by Dr Amir Mohareb]
Every year, millions of people get the flu, a respiratory illness that causes cold-like symptoms that can range from mild to very severe. In recent years, the Bermuda Ministry of Health has reported 'above normal' spikes in flu cases and this year's flu season is especially unique as it intersects with the coronavirus pandemic, which can cause similar symptoms with a range of severity.
So how can you tell the difference between the flu and COVID-19? When should you get your flu shot? Will the flu shot help protect you from the coronavirus?
Kathryn Bowman, MD, Jennifer Reedy, MD, PhD and Jacob Lazarus, MD, PhD, in the Infectious Diseases Division at Massachusetts General Hospital, answer questions about what to expect from the flu this year and what precautions you should take.
What is the flu?
The flu is a contagious respiratory illness caused by a virus called influenza. It can cause mild to severe illness. There are two main types of influenza virus: Types A and B. These viruses routinely spread in people and are responsible for seasonal flu epidemics each year. Some symptoms of the flu include:
fever or feeling feverish/chills
cough
sore throat
runny or stuffy nose
muscle or body aches
headaches
fatigue [tiredness]
While most people with the flu recover at home, occasionally people have serious complications that require hospitalization. Some people—such as older people, young children and people with certain health conditions—are at high risk of serious flu complications.
The best way to prevent flu is by getting vaccinated each year.
What does the flu shot protect against?
There are many benefits to getting the flu shot [also called the influenza vaccine]. First, it can prevent you from getting sick with the flu for the upcoming season. Second, even if you still contract the flu, it can prevent severe complications and hospitalization. Studies have shown that people who receive the flu shot tend to have less severe illness compared to those who do not. Third, the flu shot helps protect more vulnerable people around us by decreasing the likelihood that the influenza virus is transmitted from person to person.
When is flu season? When is the best time to get your flu shot?
Influenza can occur year-round, but it is most common during the fall and winter, which is known as the "flu season." The flu season typically peaks in January in Bermuda.
Why is it so important to get the flu shot this year?
The viruses that cause the flu and COVID share some similarities in how they spread from person-to-person. They also share many of the same symptoms: cough, fever, headache, fatigue, muscle aches, runny nose, etc. Perhaps most importantly, getting the flu vaccine this year could help to alleviate strain on the local hospital and healthcare providers if there is a large resurgence of serious coronavirus cases.
Are the flu and coronavirus similar viruses?
The viruses that cause the flu [influenza] and COVID-19 [SARS-CoV2] are different viruses. However, they are both contagious respiratory illnesses with many of the same symptoms. It is hard for a doctor or patient to tell the difference between the flu and COVID-19 without a test.
There are key differences between the flu and COVID-19:
Sensory loss: Some patients with COVID-19 lose their sense of smell and taste. This does not happen to everyone, but it suggests that COVID-19 is more likely
Ability to spread: There are subtle differences between the flu and COVID-19 in how long a person can spread the infection to close contacts. Flu symptoms usually develop one to four days after infection. Symptoms from a COVID-19 infection usually develop five days after infection but can appear as early as two days or as late as 14 days after infection
Treatment options: Most importantly, the treatment for these two infections are very different. People with confirmed flu may receive prescription anti-viral drugs against influenza that can shorten the duration of symptoms and prevent severe complications [these drugs are not effective against COVID-19]. Treatment for COVID-19 is tailored to the severity of infection and are constantly being updated as new information is becoming available.
The CDC website includes an easy-to-read description of the similarities and differences between these two infections.
If you have any of the symptoms of a viral respiratory illness this year [such as cough, fever, runny nose, fatigue and muscle aches], it is important to tell your doctor and do not assume that you have either flu or COVID-19 since the treatments may be different.
Will the flu shot protect me from COVID-19?
The flu shot will not protect you from COVID-19 because these infections are caused by different viruses. There is limited worldwide availability of new COVID-19 vaccines that have shown to be safe and effective in clinical trials. These are currently being rolled out in different parts of the world. Importantly, there are other preventive measures to take that can protect against both infections:
Keep your distance from other people
Wash your hands frequently with soap and water or hand sanitizer
Stay home if you are feeling sick and encourage others around you to do the same
Wear a mask in public, especially when indoors and around many other people
If I feel like I am getting a cold during flu/COVID season, when should I reach out for medical help?
If you develop any symptoms of a respiratory viral infection, you should call your doctor's office for advice and possibly testing. It can be important to make a diagnosis early in case you have underlying medical problems; and if you do have COVID-19, it is important to know so that you can isolate yourself appropriately and you can be monitored in case your symptoms worsen.
If a person has had COVID-19, should they still get the flu shot?
Yes. It is safe to get the flu vaccine after recovery from COVID-19.
- Amir Mohareb, MD, a physician in Infectious Diseases at Massachusetts General Hospital and an Instructor at Harvard Medical School.

20 Most Recent Opinion Columns

Opinion columns reflect the views of the writer, and not those of Bernews Ltd. To submit an Opinion Column/Letter to the Editor, please email info@bernews.com. Bernews welcomes submissions, and while there are no length restrictions, all columns must be signed by the writer's real name.
-

Read More About
Category: All